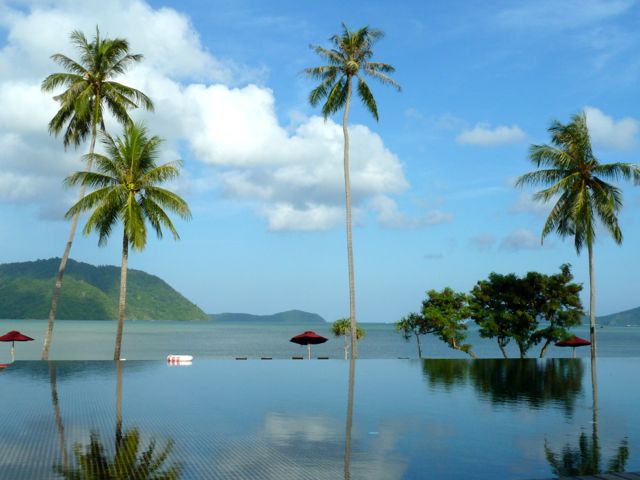 Thailand is called The Land Of A Thousand Smiles but they could have boasted that it was The Land Of One Thousand And TWO Smiles while we were there.
It had everything we love… beautiful beaches, palm trees, warm weather, unbelievably nice people and of course… seashells.
 With a trusty map in hand, we searched high and low on every beach to find a few goodies. Between the two of us, we found the key and unlocked the Thai treasure chest containing lots of seashell loot. Go ahead…click on the next photo of a beach in Krabi to enlarge to see all the shells scattered on the beach. Cyber Shelling!
Trying to identify all of these shells is a bit more time consuming and tedious than I expected. But! The fun thing that we realized when we were finding most of our shells… was that we basically knew what family each shell was a part of. "Hey Clark! I just found this beautiful SUNDIAL!". And he'd shout back… "Look at all these COWRIES!". So now I get to show YOU!
Hey y'all! Look how beautiful these SUNDIALS are!
Look at all of these different COWRIES!
 Gorgeous MARGINELLAS…
 So many varieties of TOP SHELLS…
 We loved finding these little LIMPETS and FALSE LIMPETS.
 I love this little tiny LIMPET but in my research found that it looked more like the FALSE LIMPETS (that's as far as I got with the research on these guys)…
 I know I've already showed you some of these SEA COOKIE SAND DOLLARS but they are so darn cute I think you might have to look at them on every Thailand post. I can't get enough of them!
See? Already I have to show you how itty bitty this one is…
 The AUGERS we found are huuugah! Most of them are around 3-4 inches long.
 These are some of the CONCH shells we found… well I assume they are all in the CONCH family but I could be wrong. There are just so many different species! I'll try to identify them later. Cuties, right?
 Clark is dieing for me to show you his 2 major finds but I still haven't gotten good photographs of them yet so that will be my next post. I promise, Clark! Next post!  ;)  … จนกว่าจะแล้ว (Until then)