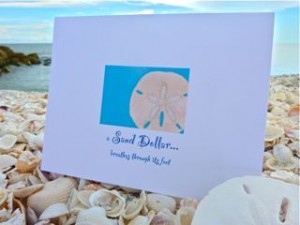 I have been combing the beaches all my life finding seashells and beach treasures, viewing sea life and beach birds. This summer I was so inspired by all of these beautiful beach creatures I photograph and blog about that I decided to pick up the paint brush again. One thing led to another and before I knew it, I had 16 designs that I packaged into notecard gift packs with FUN FACTS about each sea creature for a fun twist. Check a few out…..
They really do! Half of their brain sleeps while the other half is awake…. so the half that's asleep- the eye closes.
They are HUGE!
Here's what the front of the Sea Life box looks like…
There are 4 designs (2 each) in each 8-pack box of Seashells, Beach Treasures, Sea Life and Birds.
So now you know what I've been up to when I'm not blogging. I am very excited that some of my favorite retailers already have them in their stores- check them out!
AND now for the GIVEAWAY!……
UPDATE: THIS CONTEST IS OVER.
A WINNER HAS BEEN CHOSEN- congrats to Karen Wells!
Win 4 boxes of Write From The Beach notecards as a "thank you" for your inspiration….
i Love Shelling Seashells
Sea Life
Hello, Birdies
Beach Treasures
Free Shipping in U.S. (outside U.S.?- We'll work something out)
Here's how to win……
Go to WriteFromTheBeach.com to look at all 4 boxed notecards and photos of each individual card, then come back here to make a comment HERE ON THIS POST (comments on Writefromthebeach.com will be disqualified-sorry!). Just tell me which ones you like best…or any comment will do because the pick will be random.
That's it! Just make a comment HERE on or before Friday, September 3, 2010
If you don't know how to make a comment- Click on the Title of this post (Write From The Beach GiveAway!) and scroll to the bottom then follow directions. Or you can click on the number in parenthesis (for example (1) or (0) ) after where it says "By pam – Comments" under the post title.