Home
»
Green flash sunset
Posted by pam on Oct 10, 2010 in Blind Pass, Captiva, Green flash sunset, Sunsets, Video | 14 comments
Have you ever seen a GREEN FLASH? It's a phenomenon that occurs on clear evenings when the sun disappears on the horizon then a small green flash appears for just a second. It took me a long time to become a believer but after I saw my first one (I've only seen 3), I know it does happen. I've never been able to catch it on video but I thought I caught it this time, so tell me what you think.
[youtube]http://www.youtube.com/watch?v=skBz0oTDwMQ[/youtube]
As you can see by the picture below, no shells at Blind Pass but I did get this pretty picture of our friends Missy and Gary. So cute!
Read More
iLoveShelling
Our Sponsors
Search
Follow the tracks in the sand
Email Newsletter
Weather
Wentletrap Trapping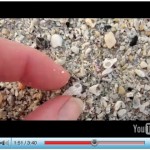 Recent Comments
Archives
Archives
Categories
Useful Information