Archive for Cones and Conchs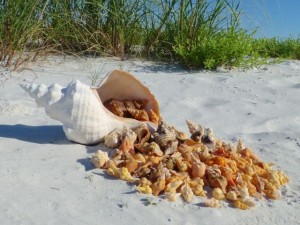 On this Thanksgiving week, I'd like to give thanks to each and every one of you who have touched my life by hanging out with me here at iLoveShelling. I'm grateful to you for making me feel a part of your lives in this amazing community we've created together to share our passion for shelling.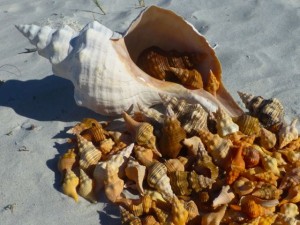 Just in case you are a newbie here, my "harvest" scene is filled with some of the beautiful HORSE CONCH shells Clark and I have collected through out the years on Sanibel. The smaller horsies are orange with a white tip which look just like little candy corns to me… hence the name of this post "Candy Cornucopia". Get It? Ha!
Anyhoo, I promised I'd show you a few low tide shells that we found at Little Hickory. You are right Kim, it's been a Cone-acopia (Ha!) lately and Little Hickory didn't disappoint. See how to find half buried cones at low tide in my next video.
Happy Thanksgiving!
Thank you again and enjoy the video!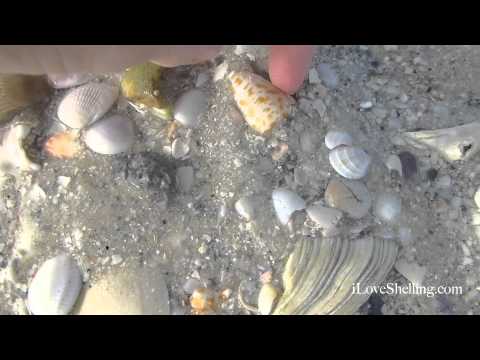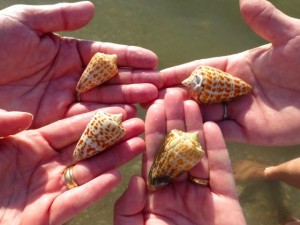 Hand A, hand B, hand C and hand D all have something in common. Can you "spot" the similarities? Yep, you guessed it! A,B,C and D all are displaying ALPHABET CONES found at Gulfside City Park! hahaha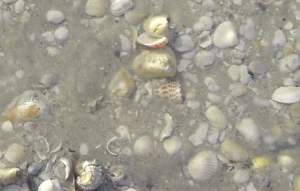 I found my ALPHABET CONE (Cone B in the first photo) by spotting a small portion of its spots peaking out of the sand in very shallow water. The morning tide was a crazy low yesterday at a -0.7′ (any negative is a good low tide) so much of the beach was exposed to explore areas we normally don't get to see. I made a video of how I found this spotted beauty but before you look at it… take a look at the photo above again and check out the double SPINY JEWELBOX in the bottom left corner. I completely missed it because I was so excited to find the ALPHIE! Geez! Anyway, you'll see it again in the video so without further ado…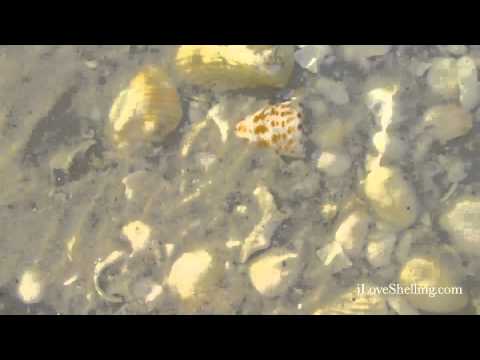 I still can't believe I missed the SJB but hey, that's what makes shelling fun. There are enough shells for everybody because not one person can see everything. Just like the ALPHIE I found, I was amazed nobody else had found it yet. Cheri and "Hubby" found theirs (CONES D and A in the first photo) the same way…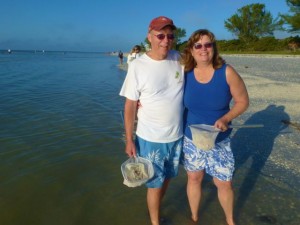 Just after talking to Cheri and Hubby, Marilea from Seattle showed me her ALPHABET CONE (CONE C in the first photo) too then was tickled to show off more of her treasures but was a little too shy to have her photo taken so I took her hand again.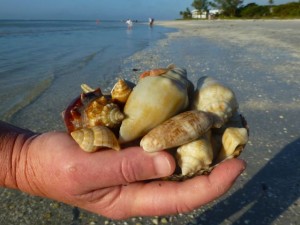 As I've been saying for the last few weeks, east of Gulfside City park has been the best spot on Sanibel to find shells but now it is shifting. But we found all of our ALPHIES  and goodies walking west of Gulfside City Park. See, Mother Nature is tricky! Every day is different so we have to keep exploring. Do you want to shell on a low tide too? Check out the link to the TIDE CHARTS. Click on the image…

Sunday afternoon we were out in the cold and howling north west winds watching the shells start to pile up on the sand bar at Blind Pass on Captiva. I know I've been talking so much about this new sand bar….. but when it's good, it's super shellacious! There were too many FIGHTING CONCHS and OLIVES to count with TULIPS, CORAL  and CONES mixed in too. My favorite part of the video is when I found the biggest FLAT I've ever found and then I saw Melinda ( it was so windy, I hope I heard her name right) find her sa-weeet ALPHABET CONE.
Come along on this shelling trip with me ….without getting cold and wet!