Archive for West Indian Sea Egg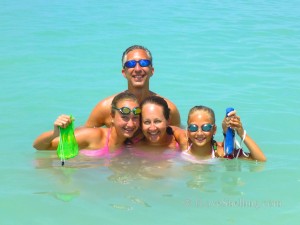 The beach at Captiva's Blind Pass near the jetty rocks was an absolutely gorgeous aqua blue yesterday… and that's where SaraBeth, Todd, Pati and Kate from Texas were finding their turquoise pot with golden treasures.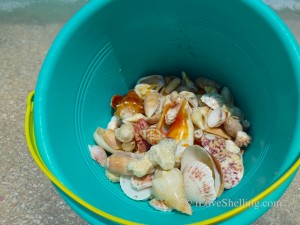 Danielle from North Carolina found this bucket of golden shells in the water too along with her family in the background. See how close they were to the jetty rocks? It was calm and clear- so completely different from last week when TS Andrea came through.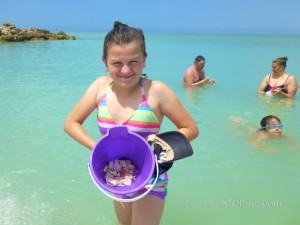 All of the shelling action was in the water so Mikey, Linda and Mike from Tampa, FL were chest deep in the water too having a ball scooping up CONCHS, WHELKS and a variety of shells. They know if the shells arent on the beach… get in the water to look for them! Most likely you will find something golden and you'll have a great time looking.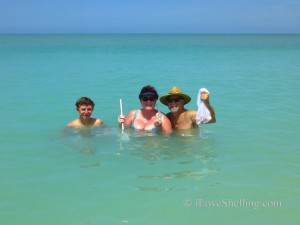 I also want to show you all of the live creatures that are around Lighthouse Beach this week. Michael R found this WEST INDIAN SEA EGG (URCHIN) in one of the tidal pools at low. It really doesn't show up well in this photo but the spines were a beautiful pink tint. Thanks for showing it to me Michael before you put it back in the water.
Its always a treat to see such a laaaarge healthy TRUE TULIP scooting along the shallow waters. I thought he wanted to be in a little deeper water so I put him in a tidal pool that just covered his shell but he made a "U-ie" and went right back to shallow water. Okay, dude- I get it. I'll leave you alone next time.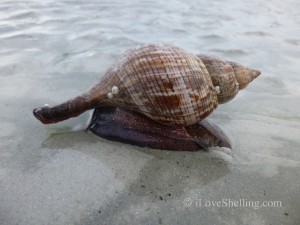 There were thousands of live SAND DOLLARS everywhere! I thought this one was so interesting since it was so light in color but very much still alive… And that he had repaired himself from an injury.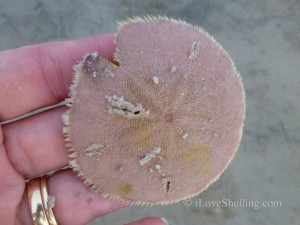 We normally don't see SEA ANEMONES like this one laying on top of the sand like I found this one. Weird, huh? But it was still alive so I hope he survived after I put him back in the water.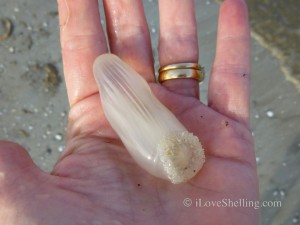 We've had rain on and off this whole week so it's been fun to see so many RAINBOWS! This one stretched along the horizon to remind us that Southwest Florida is an amazing pot of gold.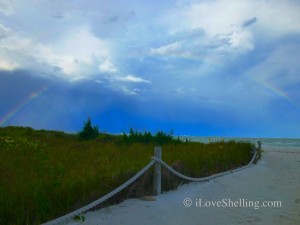 I've got some fun news…  We reached 6000 "Likes" on our iLoveShelling Facebook Page! Wahoo! Thank you Lisa Rothman for being our 6000th shelling friend!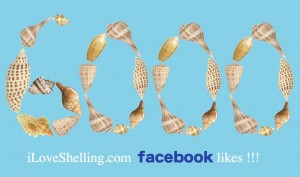 One more thing…Only a few days left to enter to win a shelling vacation on Sanibel! Enter now so CLICK HERE!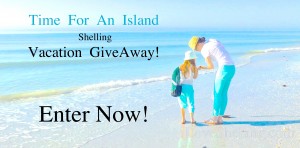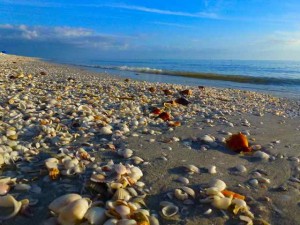 What? Christmas is here in just one week? Even in paradise it's just such a busy time so I've fallen down on the job of getting out the shelling news in the last few days. I'm so sorry! The photo above is Blind Pass Captiva this past week with a nice wrack line of shells on the Pass side of the jetty where I met Marie, Jack and Alberta…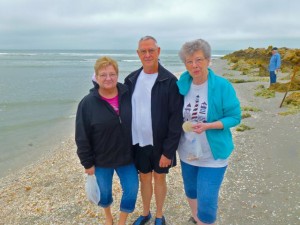 Jet and Laura were tickled with their treasures of COCKLES and FIGHTING CONCHS…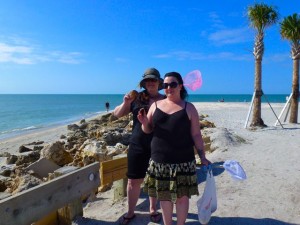 On the Sanibel side of Blind Pass is where I saw Shelling Sistahs Sandi and Ginger - look at her full on shelling gear!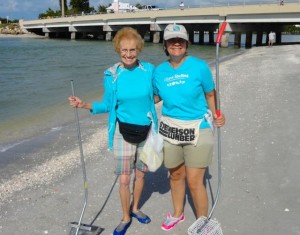 Then I met SS Eileen who joined in on the fun of talking shelling. Did you notice the SS before Eileen's name? It's Shelling Sistah! This will be fun! When I introduce people who know us here on i Love Shelling, I'll add the "SS" so you know they are Shelling Sistahs or Shelling Siblings or Stock (for the guys?). I know I'm silly but I really do feel like we all have some sort of kinship or kindred sprits….like we all have the same sand running through our blood.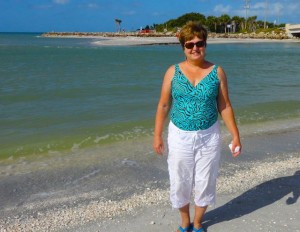 This is an unedited video of the changes of Blind Pass taken on the Captiva side last week. (Sorry it's a little/lotta belated!) I can't believe I lost a BITTERSWEET but I'm glad I didn't fuss about it too long because there is always something else that washes in. Enjoy the vid then I have a few more photos for you…
A long West Gulf Drive I found another WEST INDIES SEA EGG URCHIN…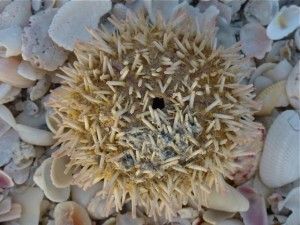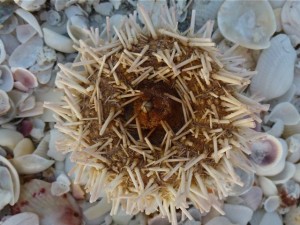 I always enjoy the PELICANS, but to see them fly directly above me in vee formation is always spectacular.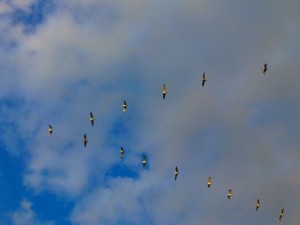 PELICANS and palm trees….. ahhhh… paradise.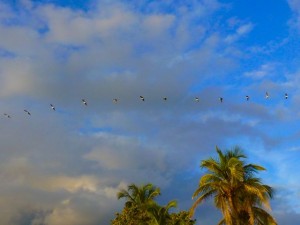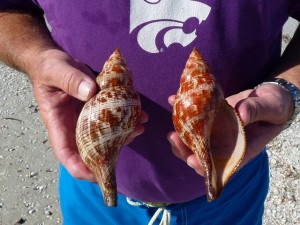 I got a call from friend and shelling guide Captain Brian about this guy Nick Hahn who comes to Sanibel every year and is a shell magnet. This year in only one week, he found these two huge colorful TRUE TULIPS! He found one at Cayo Costa (on one of the out islands on a shelling trip) and the second one he found in between Blind Pass Sanibel and Bowmans Beach. He said he even found a few more but they were alive so he had to put those back.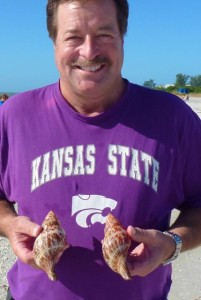 He also found a white spined SEA URCHIN that someone told him was special. Hmmm. I've seen a few of these on the beach but I just assumed they were just bleached by the sun. So when I saw this one with all of his other beach combing  treasures, I looked it up. Sure enough, there is a WEST INDIAN SEA EGG found in Florida (but mostly more south in the Caribbean) with white spines.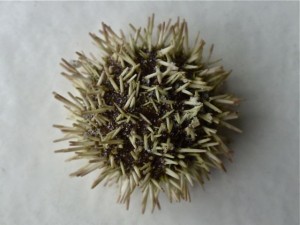 After looking closer, the test is of this URCHIN is almost black instead of the purplish color of the PURPLE SEA URCHIN that we often see after a storm. I'll have to add this to my Beach Bling Identification page!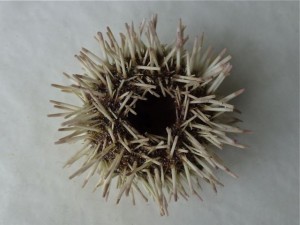 Isn't it so appropriate that he also found this very unusual pattern on a FIGHTING CONCH with the letter "H" on it ….. for Hahn? Congrats on all your special finds, Nick!