Archive for Turrid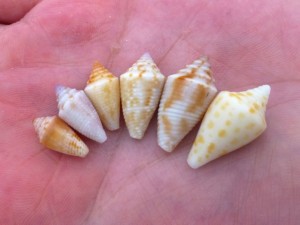 Having a hard time finding ALPHABET CONES? Refocus your eyes on the miniature shells where the DUSKY CONES hang out. If you are reaaallly lucky, then you'll find a juvie ALPHABET CONE  mixed in with the DUSKYS. In the photo above, you'll see five cute little DUSKYS on the left then the tiny juvie APHIE on the right end all nestled rainbow style in the palm of Deseray's hand. She found all of the CONES! I met Deseray's grandad Fred, her mom Mary Ann and her just west of Lighthouse Beach this weekend. Three generations of shellers…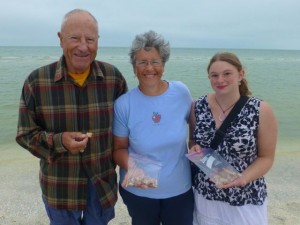 I could have talked to them for hours about their exquisite mini finds. Deseray has an exceptional eye in finding tiny gems since she has been shelling all of her life and she knew most of their names right away. The only one that stumped us was the TURRID. I thought it was a TURRID but it looks a little different than most we find so I looked back. Yep… most of ours are Pyrgospira tampaensis and I think Deseray's is the Zonulispira crocata. So let's just go with the basic iLoveShelling style and just call the really cool shell in between the KING'S CROWN and the LETTERED OLIVE …. a TURRID!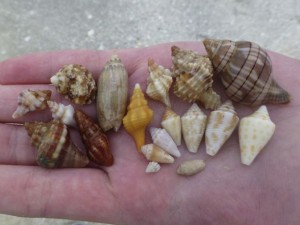 And yes, she also has a little teeny tiny WENTLETRAP on the bottom too. This is just one of many that she found! Here's are Mary Ann's mini finds. She had to put an AUGER in her "fave shells" photo since Deseray has always called them "Unicorn Horns". That is so cute! It DOES look like a Unicorn's horn!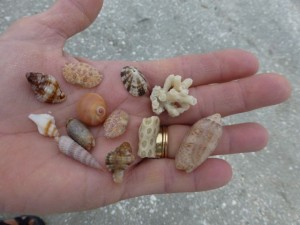 Did you see those two fabulous little CRAB shells? I love all of the cool stuff they collect! I hope yall can name all of the other minis they collected but if not, look them up on my SEASHELL IDENTIFICATION page. CLICK HERE!