Archive for Slipper Shell
Sanibel is the perfect canvas to paint sensational sunsets, beautiful beaches, wonderful wildlife and of course, bountiful beach treasures.
Clark and I walked the beach around the lighthouse late yesterday afternoon in search of some minis. I was looking for KEYHOLE LIMPETS for a picture for my Seashell Identification page. I looked in all of my bags, jars, buckets and drawers of shells and couldn't believe I couldn't find a good LIMPET to photograph.
I found one! …..and another and another. Then Clark joined the hunt and found a few too.
My eye was focused on the pattern of these LIMPETS but I kept seeing the SPOTTED SLIPPERS so I picked them up too.
Since I was focused on the minis I even found TUSK SHELLS which are only 3/8 of an inch long. I was tickled to find them since I'm just learning to have the eye for them. I found three hanging out with a WENTLETRAP and two DWARF OLIVES.
Clark found this teeny tiny TURKEY WING. So to show how small it is, I put it next to the other minis.
I think I've been having miniatures shells on the brain because I just can't believe how sweet this little beautifully framed piece of shell art is I received last week from Sanibel Sister Judith. You have to remember her! She is one of the sisters that uses those giant sized tweezers to pick up the minis at the lighthouse when they come to visit. This is what they make after picking up all those sweet little shells. Talk about a beautiful canvas for those mini shells. I absolutely love it! Thank you Sanibel Sister Judith!
Judith should enter her work into the Sanibel Shell Fair and Show…… which by the way is THIS WEEK!!! I'm so excited! It's starts this Thursday March 3 and runs through Sunday March 5. So don't forget and I hope to see you there!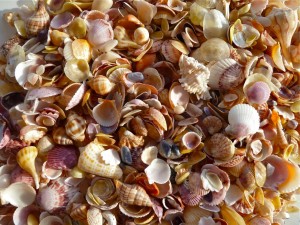 Here you go virtual shellers! Have fun identifying so many beautiful shells by clicking on the picture for enlargement to see some of the shells that Sue from Pennsylvania found from shelling the beach off West Gulf Drive.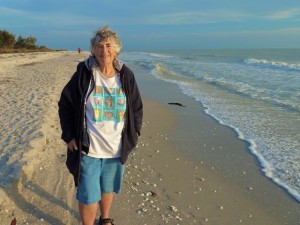 As you can see by Sue's picture above with the tide coming in there aren't many shells on the beach now, but last week there were plenty. That's when she found her ALPHABET CONES, LACES MUREX, FLORIDA CONES and so many of the other goodies you see in the virtual shelling photo. The shells come and they go. She is making a SAILOR'S VALENTINE with some of these shells along with her granddaughter Kaitlyn who found the CABRIT'S MUREX from yesterday's post. So I'd say they had successful shelling. Good luck with your sailor's valentine, Sue!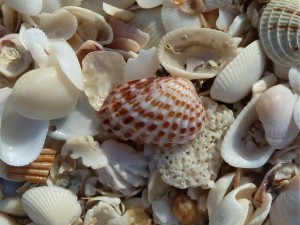 There were still a few shell piles here and there so I again started looking more at the shells I normally don't photograph. Geez. Look at what we've been missing! This BROAD-RIBBED CARTIDA is such a beauty with its animal print effect and deep lines. Could you imagine a frame or mirror made mostly of these? It would be stunning, I think.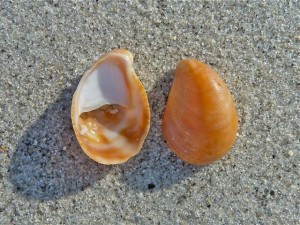 So often we see SLIPPER SHELLS but I never thought they were cute until we moved here and learned they were called "slipper shells". The name gives them the cute factor because you can see they are in the shape of a slipper by looking at the inside view. Growing up, we called them TOE NAIL SHELLS. Yep- by looking at the outside of the shell, they do resemble a toe nail. EEEW! No wonder I didn't like them.