Archive for Live Shark's eye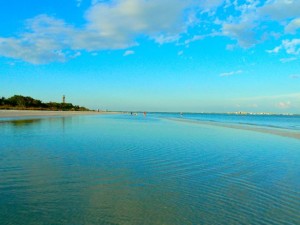 I love to travel… but more than anything, I love to come home to my beautiful island of Sanibel. Sanibel is like getting to finally sleeping in your own bed or taking your first good breathe of fresh air.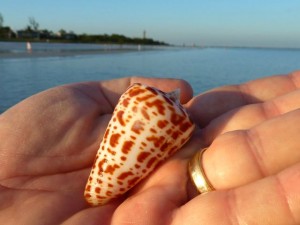 Yep. Super Sheller Clark found this beautiful ALPHABET CONE last night at the Lighthouse beach. We just couldn't wait any longer to see our own contented beach. Clark was looking at this CONE like it was a long lost friend.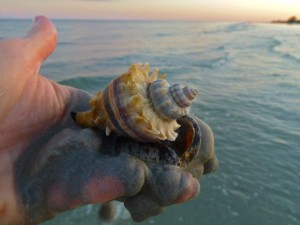 I was enjoying all the signs of a beautiful life on our islands. I picked up this gorgeous KINGS CROWN (above) then realized it was full of life and health so I was happy I scooped up so much sand with "him". He went right on his merry way when I put him gently back where I found him. The Gulf of Mexico was so full of life! I found a live SHARK'S EYE too…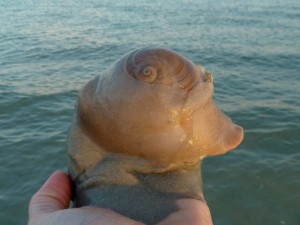 There were lots of live PEAR WHELKS too…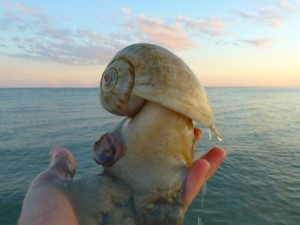 And live KEY HOLE SAND DOLLARS. Did you notice I put the whole common name of this SAND DOLLAR? Sine we found those cutie tiny SAND DOLLARS in Thailand, I've been trying to figure out what type they are… when I realized that I've never said which ones ours are that we find here in SouthWest Florida. KEY HOLE SAND DOLLARS!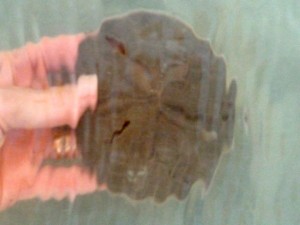 And live LIGHTNING WHELKS…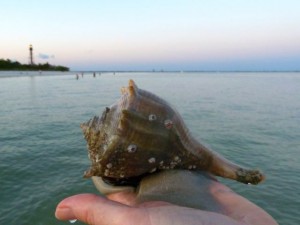 In the next photo of this same LIGHTNING WHELK, I wanted  show you how much lighter the other side was but do you see that little string on my left hand ? While on our trip to Thailand, we were blessed by a Monk who wrapped this string with a knot around our wrists. I was told it was called a "spiritual line" and we are to wear it until it falls off and not to cut it off. It is for good luck, good health and to remind us every day that today is special so live it that way. I immediately thought of those strings I used to tie around my finger to remind me to do something. So every day now when I look at this string on my wrist I am reminded that today is a gift.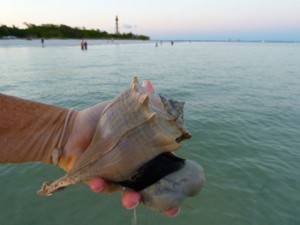 We even saw MANATEES wallowing in the shallow water just a few feet from us. Talk about a welcome home! Oh I love this place. Check out the video…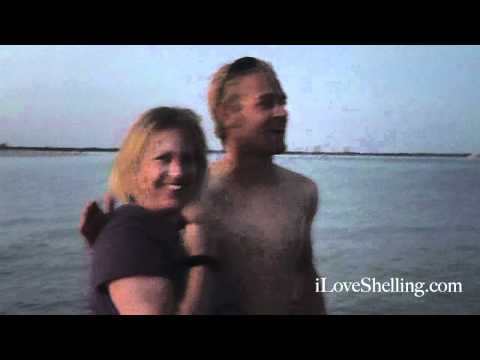 I hope the spiritual line this Buddhist Monk blessed us with rubbed a lot of luck onto these full of life MOLLUSKS and SEA LIFE to live an even longer healthier breeding life.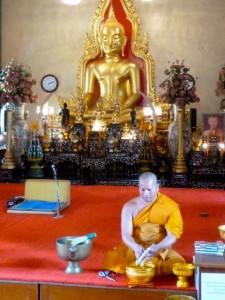 PS- I'll show lots of more photos of Thailand soon!
I saw something unusual halfway buried in the sand near the Sanibel lighthouse in front of Seaside Inn at low tide. I reached down to find a large ball of meaty slime… which turned out to be a SHARK'S EYE MOON SNAIL very much alive.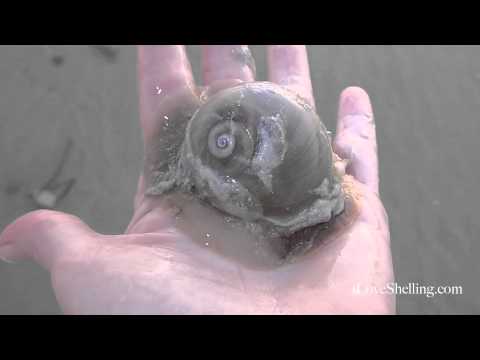 Instead of following the yellow brick road, Julie is following the track of a live yellow BABY EAR at low tide. She sees the path on the sand bar and then follows the trail, digs in the sand and gently pulls up the yellowish mollusk. Are you ready to see what they look like? This is the first time I've ever seen a live one in person! Ready? Here you go…..
Really…this isn't a photo of a handmade ravioli or smooched ball of wet dough. It's a baby ear mollusk that practically surrounds it's whole shell…..and it's very slimy!
I saw Leigh and her niece and nephew, Julie and Jack (Ft lauderdale), having the best time playing out on the sand bar in front of Holiday Inn on Sanibel. They were digging around, giggling and running back and forth. I had to see what all of the fuss was about. They also found live SHARK'S EYES and SEA ANEMONES.
On the right hand side of the PEN SHELL is the egg casing collar for more baby shark eyes. It was Mother Nature's huge touch tank out there last night. Now meet Leigh's nephew, Jack. He loves the sea anemones.
Leigh and her family come to Sanibel a lot – every time the tide is really low. Of course, after they are done looking and learning about the mollusks and sea life they find, they gently put them back where they found them.