Archive for Sparse Dove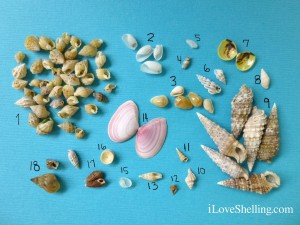 Looking at this top picture you will see most of the shells I found last evening at Fort Myers' Bunche Beach. Can you identify most of them? While you try to figure out each of the shells… Wanna go on a little CYBER SHELLING hunt for shells with me? All righty then let's play a little "I Spy"! Don't mind the "dirty" bling (a mix of peat and other good stuff that gives food to so many living organisms)… just look for some of those sweet little minis that we all love by clicking on the next image to enlarge…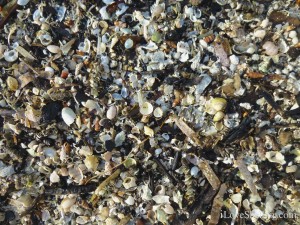 This will give you an idea of how "big" those little gems are by looking at my handful of sweet somethings…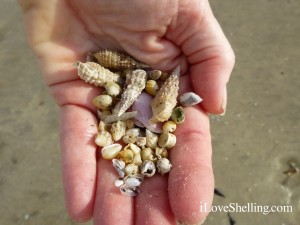 As much fun as it was collecting minis, I was tickled pink when Clark showed me his fave find… A ROSEATE SPOONBILL FEATHER.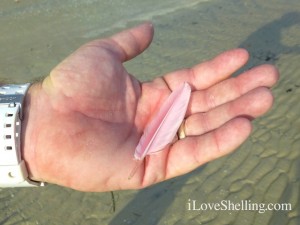 We didn't see any ROSEATE SPOONBILL birds but we did see immature WHITE IBIS birds. Ibis juveniles are mostly brown but these guys have started molting out of their plumage becoming adults.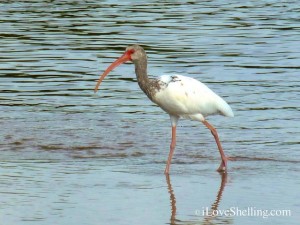 Here are four immature WHITE IBISES hanging out with a SNOWY EGRET and a BLUE HERON.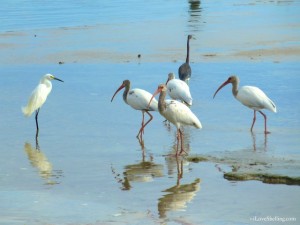 It was a bird lovers paradise last night. I even saw the dance of the REDDISH EGRET…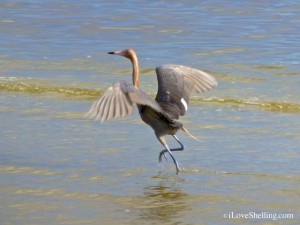 Before it got dark, we stopped at Sanibel Lighthouse Beach just in time to catch a beautiful RAINBOW…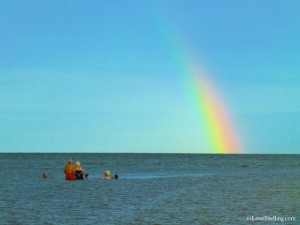 Samuel, Sheila, Gene, Freida (Cape Coral, FL) and their family in the photo above must have hit the pot of gold under the rainbow. They found all of these in the water…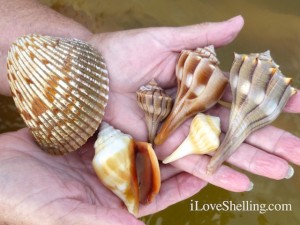 I found another pot of gold under the rainbow when I met Bill, Jody, Brooke, Brandon, Laura Beth and Gramma Kaye. A golden family of shellers from Alabama.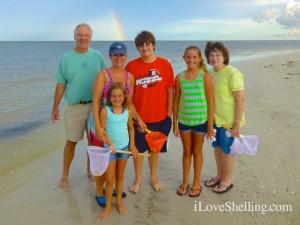 Okay, did y'all identify most of the shells in the top picture? Errrr….I have to confess, once I got going on my own I.D.s (and put my reader glasses on), I realized that some of these shells weren't as obvious as I thought. There were a few that I had to look up… like the PAPER BUBBLE and TURRET. I failed my own test! hahaha I hope you do better than I did! I know the photo doesn't show both sides of the shell, but if you know what #8 is by looking at this photo or you have a better idea if I misidentified anything, please let me know. Whoops! How embarrassing! LOL (blush, blush)
8.   Ummm. Why did I put that in there? I have no idea what it is. LOL Best guess?
10. Pitted Murex
11. Turret
12. Oh geez- I'm just going with baby whelk so cute!
16.  Fish Vertebra
Do you love shelling? Would you like to meet other shellers who love the beach and its treasures just as much as you do?  Do you want to learn more about shelling in Sanibel and the out island islands? Join us for Shellabaloo 3!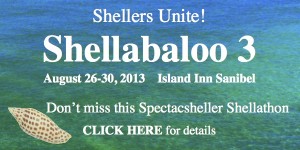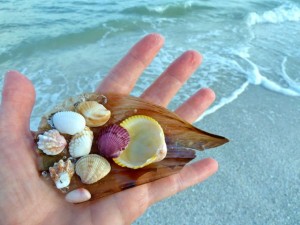 A relaxing walk on the beach with Clark this evening at the lighthouse end of Sanibel was exactly what I needed this evening. I was happy just to find the most common of shells like KITTENS PAWS, ARKS, SCALLOPS, COCKLES, SLIPPERS, JEWEL BOXES, CROSS BARRED VENUS and COQUINAS.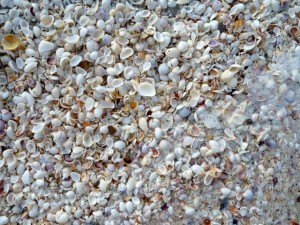 The island is finally slowing down so I can finally get back to taking a quiet, casual stroll on the beach so I could look through the minis.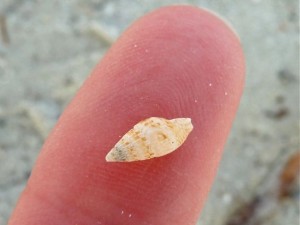 I found three SPARSE DOVE shells…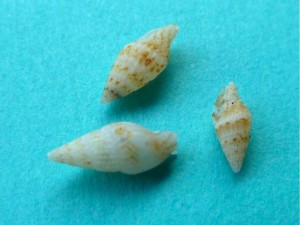 I even got a little giggle along the way after I found the funniest little half eaten pacifier washed up in the beach bling. I decided to keep it to add a little color in the odds and ends jar instead of throw it away.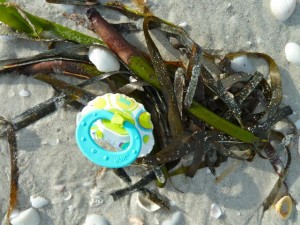 The lighthouse beach looked a little more eroded exposing large chunks of brick and concrete along side the those concrete slabs we've sent through the years. I'm going to do some research to hopefully find out where these aqua colored pieces came from. If you have any idea, please let us know!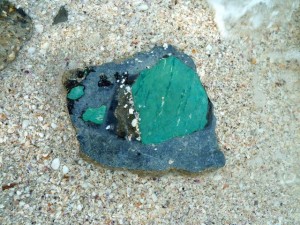 I needed a little peace and quiet this evening because I didn't get much sleep last night. I had a very exciting early morning adventure starting at 4 am. Nope, not shelling. I went to the first annual Immokalee Hot Air Balloon Festival which started at 6am. It was awwwesooome! It was too windy for the balloons to launch but to see dozens of brilliant balloons bunched together on the ground in Southwest Florida was so thrilling. It was well worth that 4am wake up call. I can't wait for next year!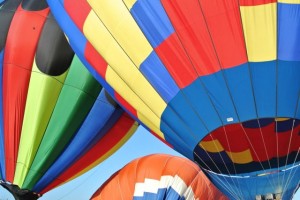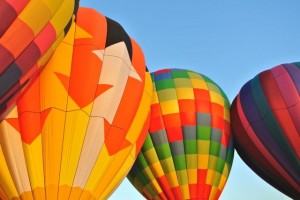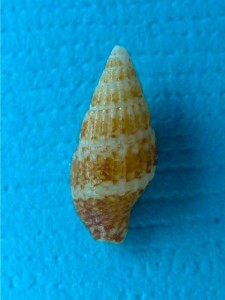 I think the east winds blew those PEN SHELLS I talked about tuesday back into the water so the beach was a little sparse yesterday. Speaking of sparse, a few weeks ago I found this SPARSE DOVE shell which is only 3/8 of an inch big. I'm gonna give myself a break by thinking it was a TAMPA TURRID since they both are so tiny. I could not even tell the difference between them until I put my cheater glasses on. How annoying!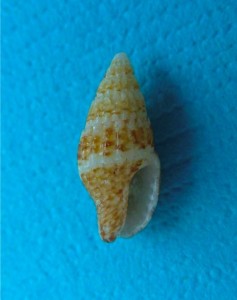 I don't even think I have many in my shell collection… or maybe I need to go through all of my TURRIDS to see if I've been mixing them all along. Here's a tiny TAMPA TURRID (say that 3 times fast). See? I have a hard time even see solids and stripes any more- geez!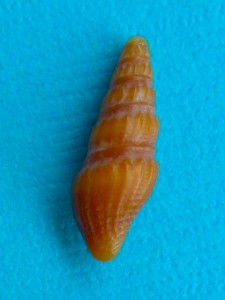 I found another tiny shell the other day at Blind Pass which I thought was a DWARF CERITH but I just found out (MK) it's a WEST INDIAN FALSE CERITH. I think I found the shell because I had just come back from Barefoot Beach looking for small black SHARK'S TEETH. I still had that shark's teeth "eye" going on because I don't see these jet black ones very often…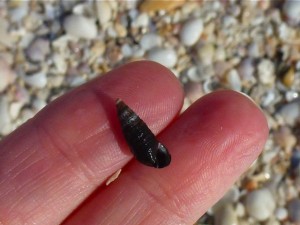 Here's a better look…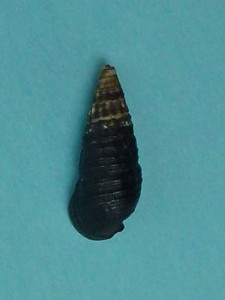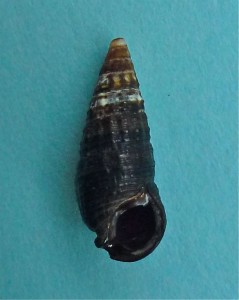 In the next photo, you'll see a common DARK CERITH that we find on our beaches every day. I think they are so common, I look right over them most of the time so this might be on my "Most common Sanibel shells" list when I make it, Susan H. I'm starting to narrow it down a bit.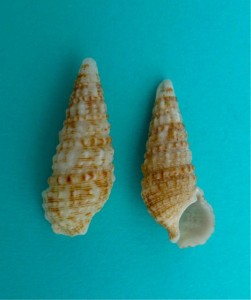 PS- Okay, and I have to tell you that Clark (he's gonna kill me for telling you this) has a nick name for TURRIDS… He calls them "turds"! LOL He'll say "Hey, I found a turd!". Boys will be boys hahaha…