Archive for Horse Conch Egg Casing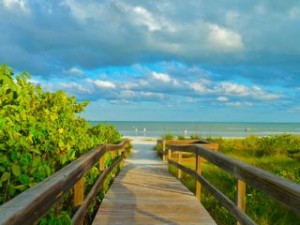 It makes me so happy when Sanibel low tides are in the evenings. It's my favorite time of day to walk the beach so low tide is such a bonus.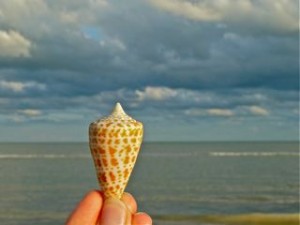 Finding this ALPHABET CONE was a double bonus! I found it right before dusk on the ledge of this little tidal pool near Donax Street beach access….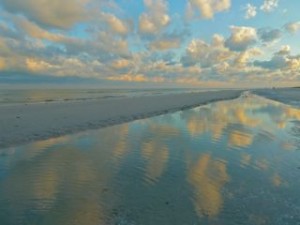 There were lots of PEN SHELLS, COCKLES, DOSINIAS and live seashells.
I met a first time sheller with all of these (unknowingly) live STARFISH in her bucket. She couldn't believe she they were still alive since they felt stiff but was very happy to now know to put all SEA STARS back unless they are completely dry. We put them back in the water where they did a little happy dance and started crawling away.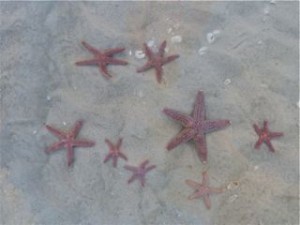 There were so many EGG CASINGS strung all along the shore line.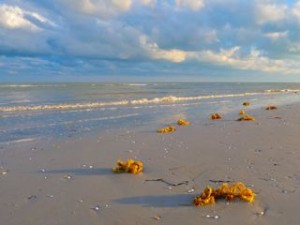 Here's a HORSE CONCH EGG CASING…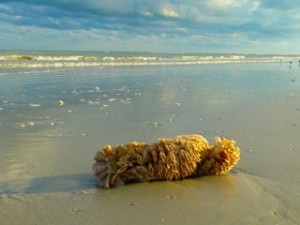 This is a WHELK EGG CASING…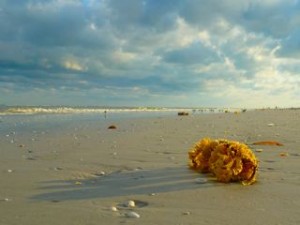 I even found a SKATE EGG CASE….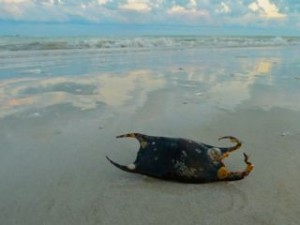 An ANGEL WING! Clark found it completely in tact floating in the surf.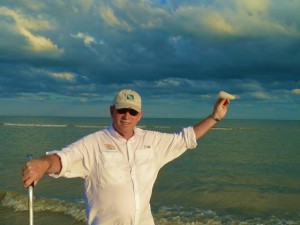 Jim (MO) found an old, pitted LIGHTNING WHELK full of character.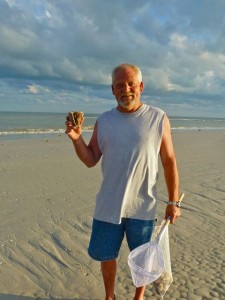 Sharon (GA) was collecting sea debris of SPONGES, a CRAB SHELL and a SEA URCHIN but she didn't have a shell bag. She only had her aqua blue flip flops to carry them on. The perfect back drop!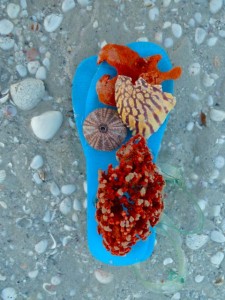 Talk about a perfect back drop….. My Shelling Sistahs Linda, Anna and Jean in their cute tees with the full moon! This was monday night at the lighthouse where we were still finding lots of minis but not many bigger shells.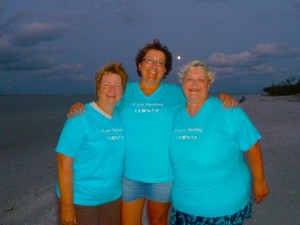 I was mesmerized by shellcrafter Jean's orange bucket swinging against the reflection in the sand of the blue and pink splashed sky.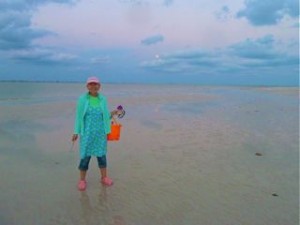 We went to the lighthouse again tonight but I haven't loaded my photos yet but I gotta tell you, we found some nice shells. Double SUNRAY VENUS CLAMS, PAPER FIGS, CONCHS and much more…. photos and a video to come!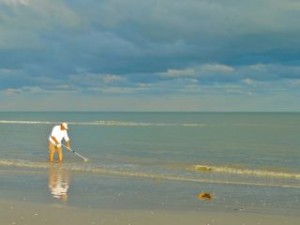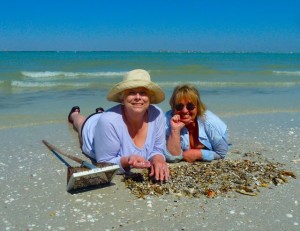 This is shelling heaven. I'm sure you understand why Clare and Robin have such great smiles on their faces as they sift through scoops of shells Clare just brought back from the water.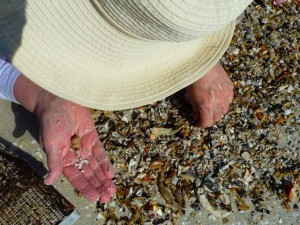 Those are WENTLETRAPS they are finding!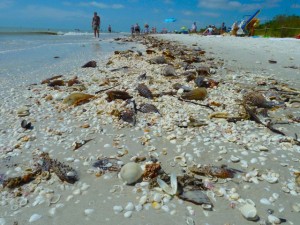 I felt so lucky all weekend to be able to sift through such a wide wrack of shells and talk to so many happy successful shellers at the lighthouse beach on Sanibel.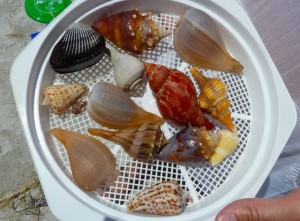 This is a day's shell collection that any sheller would smile about. It's like the top ten shells of Sanibel, isn't it? I saw Connie again (from March 30 post) with a FIGHTING CONCH, PAPER FIG, TRUE TULIP, HORSE CONCH, FLORIDA CONE, ALPHABET CONES, LIGHTNING WHELK, a little tiny KING'S CROWN, and a PEAR WHELK on her shelling screen (oh yeah, and a PONDEROUS ARK but not sure I would call that a top ten shell- haha).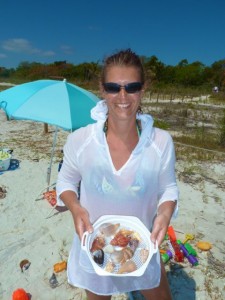 Connie with her top ten.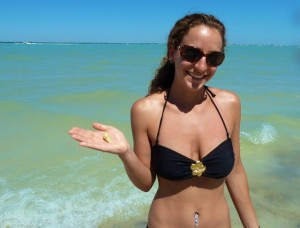 Rachael (Denver) found a FLORIDA CONE and two minutes later, she and her Aunt Joan scooped up all of these shells from the surf…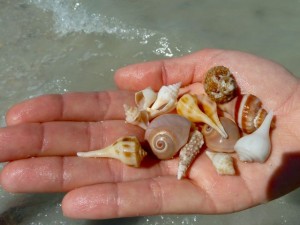 All of these shells in just two scoops!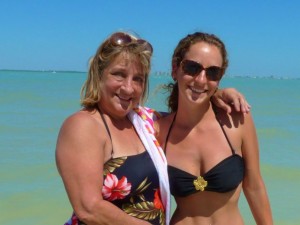 Rachael and her Aunt Joan (Rachael's mom's twin sister!) smiling big.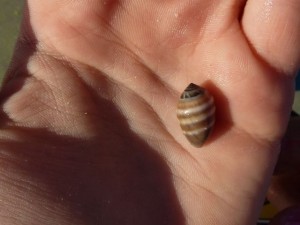 This weekend you could find big shells but Hudson (St Pete, FL) had keen eyes to find beautiful minis too. This is a gorgeous COFFEE MELAMPUS.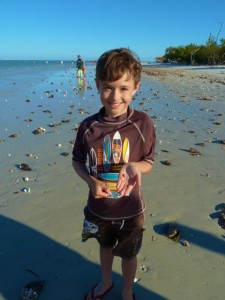 Happy Hudson!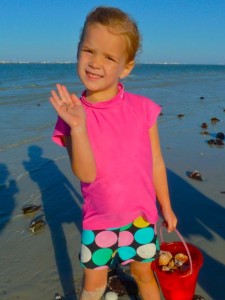 Hudson's little sister Ilene filled up her bucket with COCKLES and DOSINIAS. She even saved a STARFISH by putting it back in the water.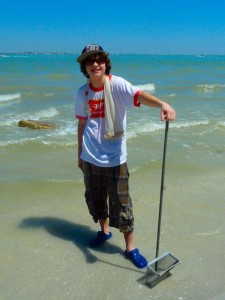 This guy is a malacologist in the making if you ask me. When I started talking to Mitchel (MI), he told me he was a scientific shell collector. I watched him scoop up a few good scoops of shells out of the water to take back to the sand to sift through them. Every time he'd dump the shells out, he'd draw a crowd of people to see what he found….. most of them were girls. Smart guy.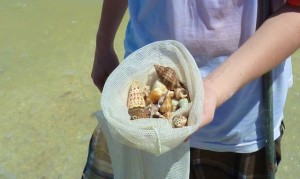 Nice Conus spurius (ALPHABET CONE), Dr M.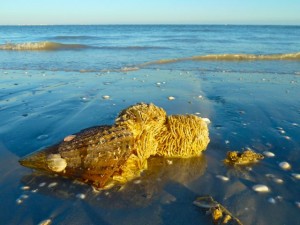 There were so many different things  like this HORSE CONCH EGG CASE with a PEN SHELL washing up on the beach that I could talk about it for days….. and I think will. I'll have to show the rest of my photos tomorrow since I've run out of time. I have so many more good ones …. like this
SEA ANEMONE flower…..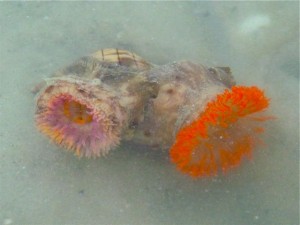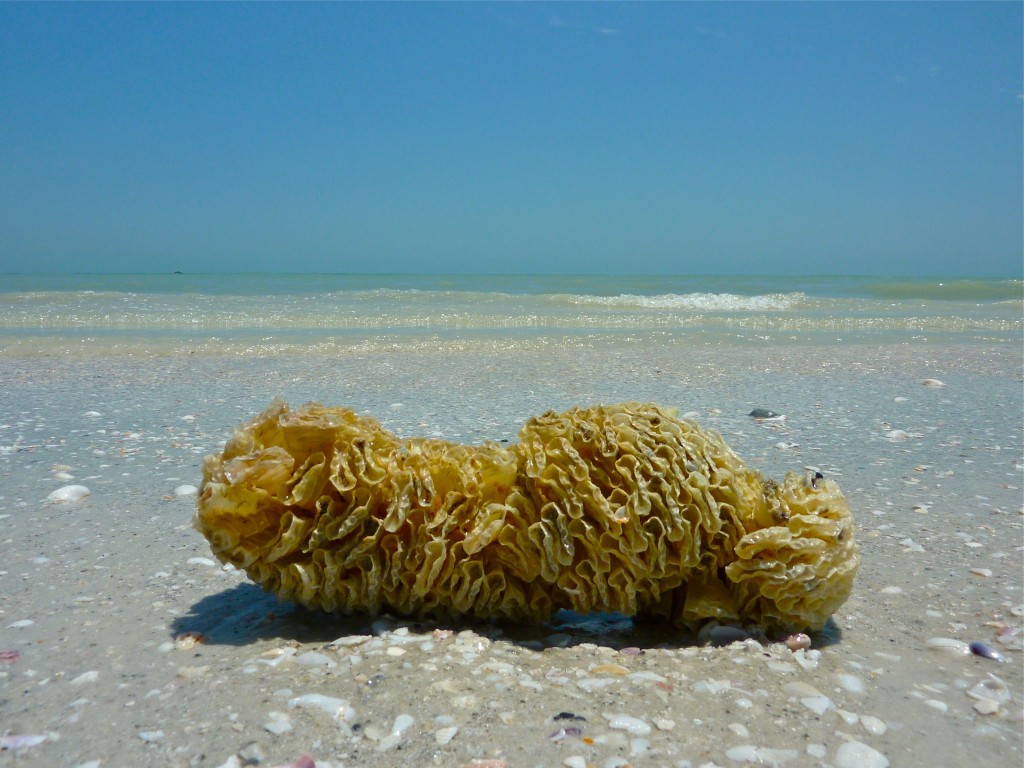 We normally see lots of WHELK EGG CASES on most of the beaches but we only see bits and pieces of HORSE CONCH EGG CASES and not even every day. This one is so huge I had to take a picture to show you that inside each of those little folds (that look like smooshed waffle ice cream cones) are our treasured HORSIE shells. I found this today at the lighthouse. The sky is so blue and the water is every shade of aqua……and there are shell piles building up. Look!