Archive for Morton's Egg Cockle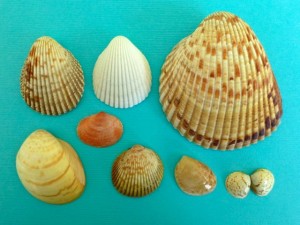 There are so many different COCKLE SHELLS that live here in SouthWest Florida! Clark even found this wonderful ALBINO FLORIDA PRICKLY COCKLE this weekend…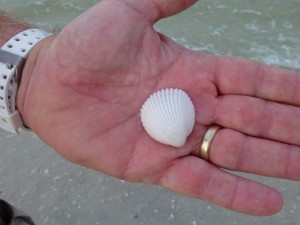 I'm sure that it's an ALBINO since the shell looks so fresh with the ribs perfectly in tact without that dull matte finish that you get with beach worn shells.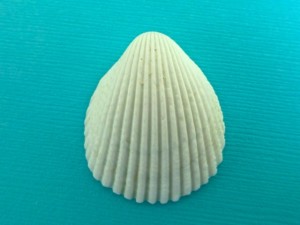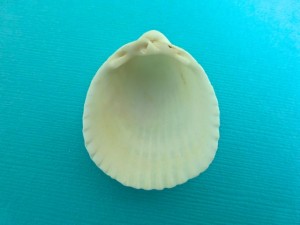 Since I received a comment from Pat Bradley on a post last week who suggested that I add the PAINTED COCKLE on my Seashell Identification page (Thank you Pat for the great suggestion!) I couldnt stop thinking about how many different COCKLES there are.  So when Clark found the ALBINO COCKLE I remembered I needed to photograph the PAINTED EGG COCKLE…
Then I realized I didn't have the very common FLORIDA PRICKLY COCKLE on my Shell Identification page either… Geez, so many COCKLES. I'm getting frazzled!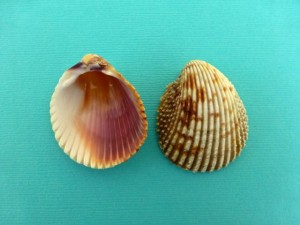 So I might as well show the whole gaggle of COCKLES we have in our collection of shells. This includes of course the ATLANTIC GIANT COCKLE…
And probably my favorite… the YELLOW PRICKLY COCKLE.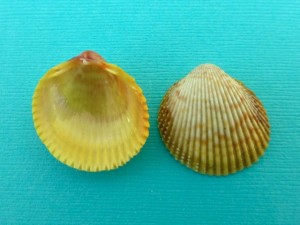 Well wait, I take that back. I think the BROAD PAPER COCKLE is my favorite COCKLE but I just don't find them often. Take a close look… have you found lots of these?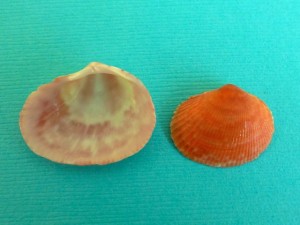 We can't forget about the tiny MORTON'S EGG COCKLE either! They are so stinkin cute!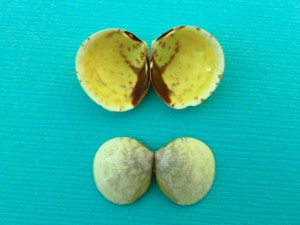 And finally, we have the VELVET EGG COCKLE (which I normally just call it a plain ol EGG COCKLE)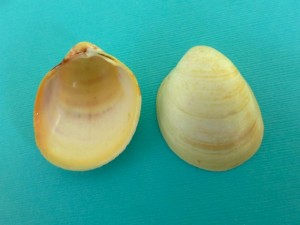 There is a STRAWBERRY COCKLE as well, but I didn't find one this weekend when I looked for COCKLES  and I can't remember ever picking one up. So when we find one, (and we will definitely be keeping our eyes peeled!) I'll let you know.
But before I sign off for tonight, I met a really nice local gal Mary Beth from Fort Myers on the beach by the Sanibel fishing pier. (yes, the water is that ice tea color again… too much rain so overflow of the lake and river - ugh. It will clear up soon)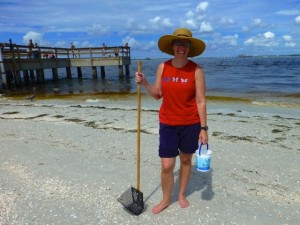 While I was looking for COCKLES, she was on the hunt for minis. She showed me this sweet little MARGINELLA along with some other excellent specimens.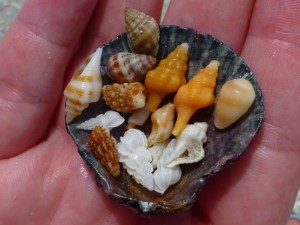 Happy hearts.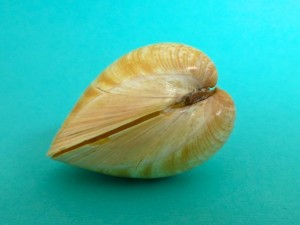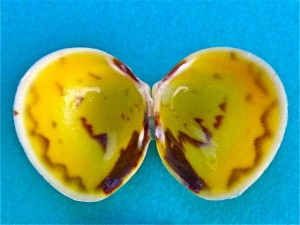 This is no yoke….. errr… I mean joke! The inside of this MORTON'S YELLOW EGG COCKLE is really this yellow! And some of the exterior patterns are just as pretty.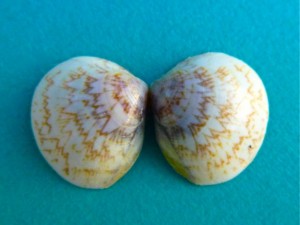 We found quite a few of these on some of the sandy mud flats at Cayo Costa.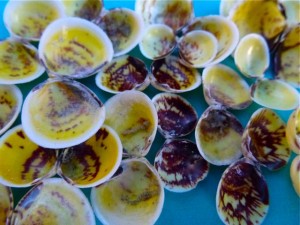 There is such a variety of patterns on the interiors and exteriors of these cutie little shells.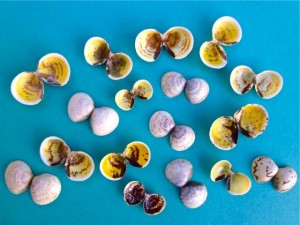 Yep, I said "little" shells. Wanna see how little they are?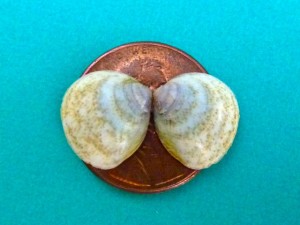 I would have completely missed these little guys if it hadn't been for MurexAlice pointing these beauties out to me. I felt so lucky to be able to beach comb with her since she showed me another cutie little shell I would have missed. This is the FLORIDA LYONSIA…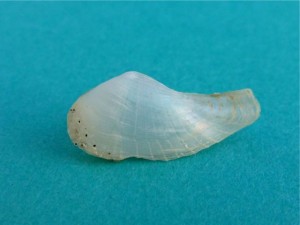 It is so delicate and paper thin I thought I would break the valves apart before I got home to photograph it. But… Yes! It made it home with both valves still attached. I rinsed the shells off but those little grains of sand seem to be attached so I let them be.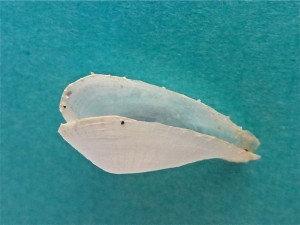 I'm not sure if you can see the iridescent shimmer to it, but it reminds me of a tiny little ANGEL WING with a pearlized finish.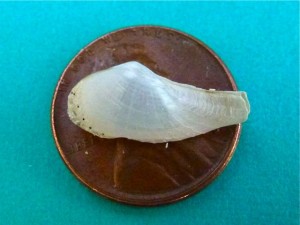 Okay, let me back up a bit before I forget to show you this….I mentioned the MORTON'S YELLOW EGG COCKLE in previous post "I'm Telling On Some Tellins" and it reminded me of an orchid plant. I got a comment from Jackie saying that it was the Oncidium orchid that it looks like. Yes, that's it! I found a photo from Wikipedia that will show you why it these shells remind me of an orchid. Do you see why now?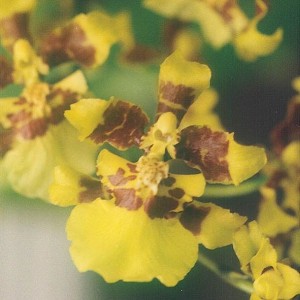 The island seashell telegraph was buzzing yesterday with the news that a rare WHITE CRESTED TELLIN was found by our shelling friend Nancy (see her on post Seashell In My Pocket) while she was shelling the out islands with her husband Dayton and their best friends Gary and Sandy. Look at the cool serrated edges on this shell- those aren't chips. This photo only shows the one side of the shell…the other side is attached as well! They took it to the shop Sanibel Seashell Industries and he said it was a rare find.
Gary found all of these ROSE PETAL TELLINS out on the out islands too.  They got out there by hiring shelling guide Brian Holaway to take them out near North Captiva and Cayo Costa.
I think it's the prettiest yellow ALTERNATE TELLIN I've ever seen. Guess who found this. Nancy! She was a hawk eye out on those flats. This shell looks similar to a COQUINA in this picture but it's about an inch bigger.
These are the color that these TELLINS normally are. Nice… but can't really compare to that yellow!
Brian surely did not disappoint this crowd. Nancy found this SCOTCH BONNET too!! This was her first time she has found a SCOTCH BONNET and she said Brian seemed just as excited as she was.
They all found MORTON'S EGG COCKLES which are another shell crafter favorite since the inside is such a bright yellow. I forget the variety, but to me, they look like orchid petals. Please help me if you know what orchid I'm thinking of.
The shelling continued with PURPLISH TAGELUS shells.
Sandy found this super big WENTLETRAP and lots of BABY'S EARS. You wouldn't believe the bags and bags of goodies the whole gang brought back.
They all could not get over how much fun they had and how many shells they found with Brian as their guide ( click HERE for info on Brian). Congrats to you all and thanks for sharing your goodies.