Archive for Bubble shell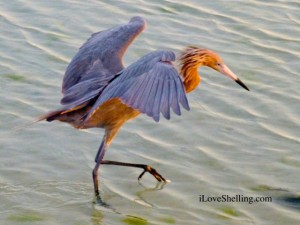 You want another reason why i Love Shelling? Seeing a site like this! This Reddish Egret was wading in a tidal pool at Sanibel Lighthouse Beach pacing back and forth stalking his prey. I could have stood there for an hour watching this entertaining canopy dance. Errrr….. wait, I DID stand there for an hour fascinated by his show of chasing minnows.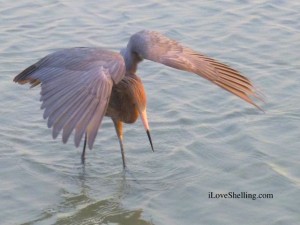 Even though it distracted me from finding more shells, I didn't regret one minute of it. To me, that's what shelling is about…. finding treasures AND drinking in nature and the view along the way. Even the man made views. How cute!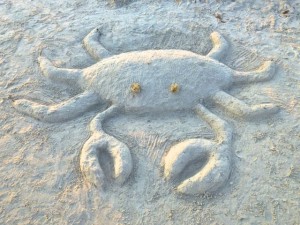 And yes, there were even shells and SAND DOLLARS too!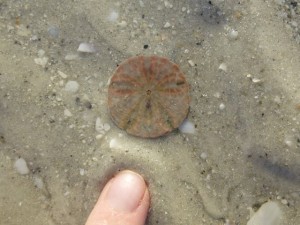 I found more of those cute little juvie SAND DOLLAR "sand dimes"! I found live ones down on the surf line which I left alone but I also found them high in the high tide wrack line to bring home. Way in the background you can see the Lighthouse so you can see how far I was from the point. It was a hike but worth it.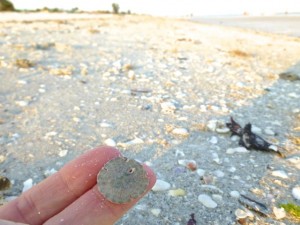 I found all sort of BEACH BLING semi hidden in the seaweed. I placed the LEOPARD CRAB SHELL on the purple SEA WHIP but I saw the SAND DOLLAR laying exactly like this…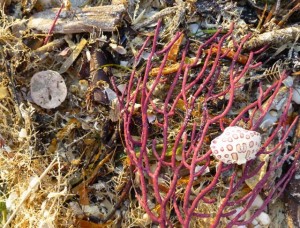 I zig zagged the beach to look on the edge of the tidal pools to find a clump of BUBBLE SHELLS…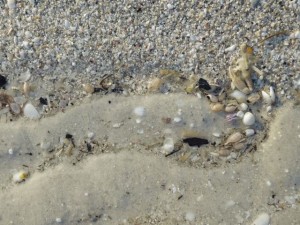 When I see lots of BUBBLES hanging out like that, I immediately start looking for WENTLETRAPS!
This is what I found…. Are you ready CYBER SHELLERS? Now after you take a little CYBER SHELLING stoop by clicking on the next photo to enlarge, make sure you scroll down even more on this post because I have another somethin to show you… a video too. Shell on!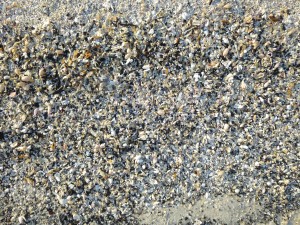 Did you find anything? Okay, before we get to the movie, I want to tell you that I've gotten quite a few requests to sell my Seashell Identification Cards online. I want to thank everybody for buying them in the local retail stores that are carrying them and would love for you to continue to support them. But for those of you who can't be here, I've added a BUY NOW button so I can send them directly to you. Check it out by CLICKING HERE…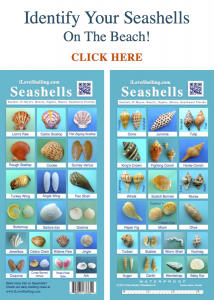 Okay, back to the movie! Now you will be able to see the low tide tidal pools I was walking through and around to see so many amazing sites during the Easter Holiday weekend. There were so many live STARFISH! They are amazing to watch so enjoy the show!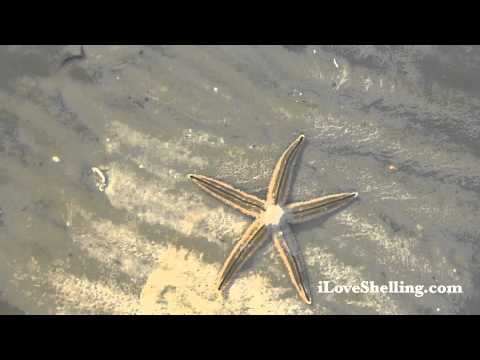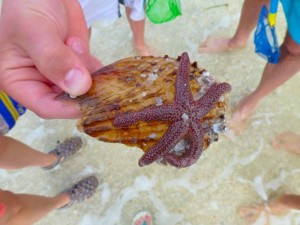 Gabriel found this live STARFISH (BROWN SPINY SEA STAR) on a PEN SHELL at low tide late this morning at the Sanibel Lighthouse beach. His whole family came over to look at it and to ohhh and ahhh so I had to find out what the fuss was about. It's just beautiful, isn't it? Yes, I mean the STARFISH is beautiful but also to hear the excitement and amazement of finding life and treasures that come from the sea. That's beautiful too.
It was such a pleasure to meet this family! They were trying to learn the names of all the shells they were finding so I was thrilled to help them. This was our best find…. an ALPHABET CONE that was semi buried in the sand.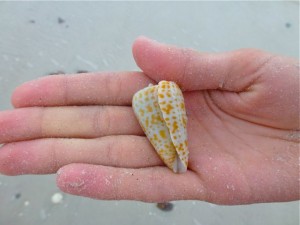 I don't have photos of all the shells we were finding but here are some of the shell they found that  I help identify…
Oh how I've missed my walks at the lighthouse  beach on Sanibel. Ever since the day light savings time change, I've been discombobulated. I like my walks with Clark in the evening but now it gets dark too early for me to wait until he gets home from his office. But now after meeting such an amazing family on the beach today, it got me right in my beach combing time zone again. Here are a couple of my finds….
Most of my finds today were half buried in the sand like this half buried perfect ANGEL WING.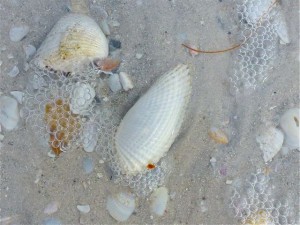 This LIGHTNING WHELK was perfectly empty too but I almost missed it since only this much of it was showing. More buried treasure.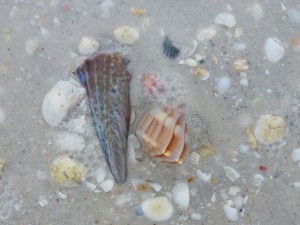 This morning started off my weekend with a smile so I  hope I can pass it along to you too. Have a great weekend!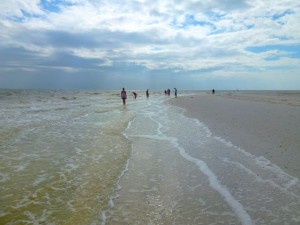 That's The Wentletrap Wonder…. The Mini-shell Master…. The Shelling Superman…uhhh, ok, it's just my husband, Clark, shelling for the mini shells. But we found 61 WENTLETRAPS this afternoon! And lots of other really good minis. We always find a lot of BUBBLE shells but this one was a little unusual- it's an ANTILLES GLASSY BUBBLE. It is so paper thin that it's see-through.
We ended up  finding (and keeping) 4 more BABY'S EARS, a bright orange baby HORSE CONCH, WORM SHELLS, PEAR WHELKS, a bright orange FALSE DRILL, 2 FLORIDA CONES and of course our 61 WENTLETRAPS.
Can you guess who was back at the Lighthouse too? "Flipper", that crazy dolphin!