Archive for Sea Fan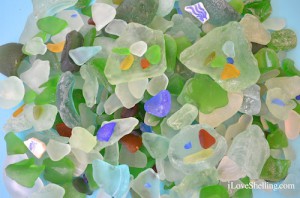 Do you get excited when you find SEA GLASS? Me too! It's another beautiful gem most beachcombers love to collect while looking for shells and other BEACH BLING on any walk on any beach. Oddly enough, lots of our friends don't really get why we travel the world in search of beach treasure… until I tell them we found a honey hole for SEA GLASS. Then their ears perk up! LOL Well, since it's impossible to bring back enough SEAGLASS in our suitcase for everybody who wants some from Guantanamo Bay, Cuba… here is a CYBERSHELLING (CYBER-SEAGLASSING) photo from last week's adventure on Glass Beach in Gtmo (CLICK HERE for the history of this SEAGLASS). Just click on the next photo to enlarge it so you can find your own SEA GLASS. Fun! Then I'll show you some of the other cool BLING we found.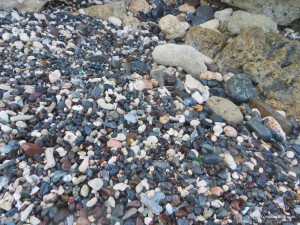 In my last post (CLICK HERE), I showed you some of the beautiful shells and areas we combed but couldn't really explain how much fun Clark, me, Lee and Susan had picking through the high tide dry wrack lines in search of Bling. See that incredible SEA FAN Susan found? Un-beee-liev-able!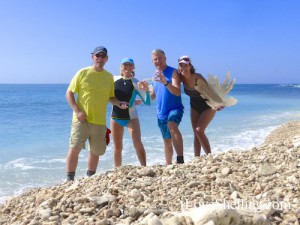 I just loooove me some Bling! I'm trying to identify all of the different SEA URCHINS we found but it is not so easy. I'll try to get close up photos of each one but oh lawd, I need more time. So … I'm almost positive we have…. WEST INDIAN SEA EGGS, VARIEGATED URCHINS, LONG-SPINED URCHINS, CLUB-SPINED URCHINS, ROCK-BORING URCHINS and SEA BISCUITS. We could  have picked up hundreds of the CLUB-SPINED SEA URCHINS that had probably gotten tossed up by a storm weeks before. They were in the highest wrack line and completely dried and preserved. Cool!
We also brought home SEA HEARTS, HAMBURGER BEANS (SEA BEANS), a few pieces of CORAL, 2 small SEA FANS, a few VERTEBRAE, PURPLE CRAB shells (haven't looked them up yet), OPERCULUMS, old turquoise CUBAN TILES and… you see that piece of striped POTTERY on the bottom right? Lee told me that piece probably dates back to the Spanish- American war era circa 1898. Amazing, right?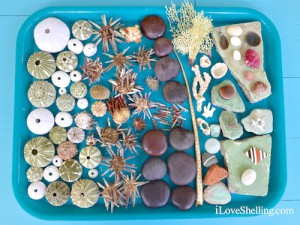 Lee found these pieces of POTTERY from the same era. Wow- Its almost a complete plate! He said he will donate some of the pieces to the base for history and environmental research.  (Errrr…. my piece came home with me- it's way too cool! heehee)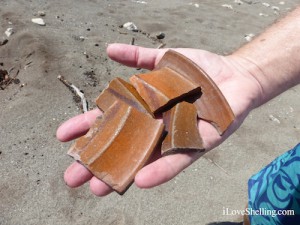 Talk about cool… I found two complete old Cuban Hatuey beer GLASS BOTTLES made in the 1950s. These were so popular, Bacardi is now making this beer again.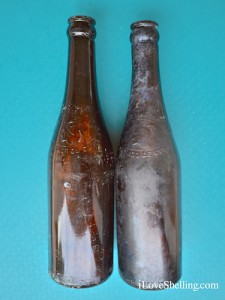 More awesome BLING on the beach! Lee found this WWII US Navy uniform button while he was picking through the rock and pebbles looking for SEAGLASS like in the CYBERSHELLING pic. Whoot Whoot!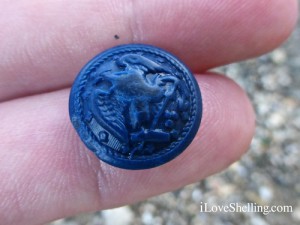 Let me show you just a few more shell photos before I sign out for the day…. Clark found these spectasheller THORNY OYSTERS that haven't even been really cleaned up yet. They are gorgeous. We find these in SW Florida but most times they are only fragments.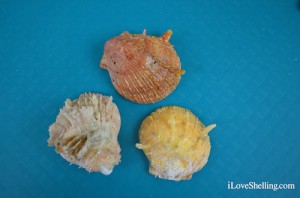 Here's the interior of one…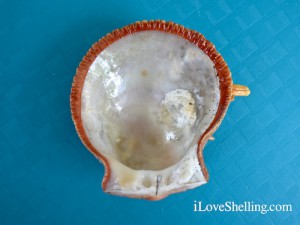 Lee found the mac daddy of the THORNY OYSTERS- it's huge and with some good spines…. Both sides!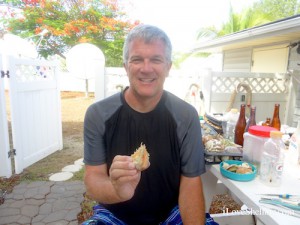 It was completely packed with hard mud and limestone so it will take a little work to get this baby cleaned up but it will be well worth it. It's a beauty!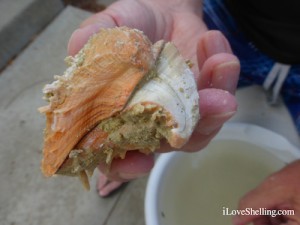 I always think these are so funny…. the BLEEDING TOOTH. Shall I say more?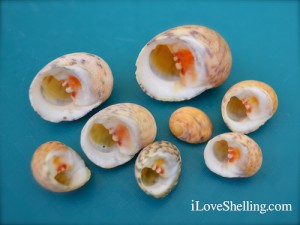 These are some of my favorite minis we found this trip… BEADED MITERS.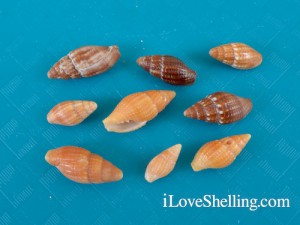 Clark was excited (and me too) to find this HEXAGONAL MUREX since we've never found one before.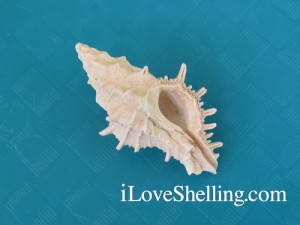 It's always a thrill to find a new shell!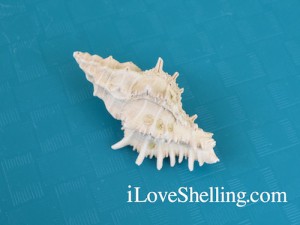 Again, we have to thank Lee and Susan for sponsoring us, being our shelling guides and letting us share this extraordinary place with everybody to learn what types of shells we can all find in the other Caribbean Islands. We are forever grateful.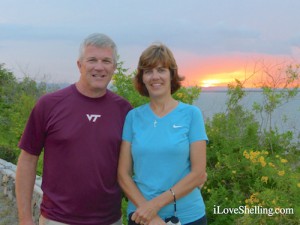 I will get more shells cleaned up and photographed soon but the FLAME HELMETS are so shellsational, I had to add show you these before I go out and hit my home beach. It was fabulous finding shells in Guantanamo Bay, Cuba but it's always so wonderful to be back home on Sanibel Island… especially with a cool evening low tide. Have a nice weekend!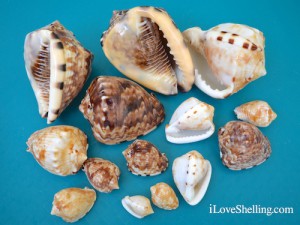 AUGERS must inspire creativity. My friend Jane got inspired to make these auger rings to surround her candles……but wait…..there's more. Jane only needs a little inspiration because her creative juices start flowing just looking at any type of shell she picks up on the beach.
She picked up this box at a second hand store and covered the lid with PEN SHELLS and OLIVES for the handle. She uses hot glue to keep everything together and she says she rarely has problems with them falling off. If they do? She hot glues them right back on.
Lots of people ask how they can display their shells. Did you ever think of making a mermaid picture? Me neither, but Jane did. She used WHELK casings for the mermaid's hair and pen shells for her scales. Adorable!
She designed left-over tile pieces in the shape of Sanibel and surrounded it with small white shells (mostly clam shells) and added bits and pieces of red CALICO SCALLOP shells where the red mangroves are around Tarpon Bay.
She puts her nicer shells in glass vessels and adds SEA FANS.
Of course all of her best finds go into a special display, the Best Box.
She adds shells to any shelf to make it feel like home.
If she finds an olive shell without a tip, she keeps it to make olive garland for her chandeliers and Christmas tree.
Her husband collects the unusual beach treasure while they walk on the beach. Bones of any type and TURKEY WINGS are his favorites. Whatever makes you happy, right? Hahaha No, really those bones are pretty cool.
This is just a SMALL sampling of the art Jane creates. I havent even shown her frames. I'll have to save those for another post. Here's a sample…want more?
I started shelling around West Gulf Drive #7 this morning but didn't see much until I came back down in between #2 and #3. As I was getting there, I asked a few shellers if they found anything good yet and they told me about a gal that was there around 9am found 5 CONES. The tide was getting higher and bringing in some good shells but I think she snagged all the CONES. I saw lots of LIGHTENING WHELK, MUREXES, CONCHS, COCKLES, URCHINS, TULIPS and OLIVES. They were just rolling in with the surf. "Easy pickins"…and fun!
I blogged about Judy who found 13 JUNONIAS on me January 10 post…….well, I met her husband (and JUNONIA partner in crime), Jim, out there today. He knows his shelling and he thought it was looking good for some good shelling in the next few days. He likes that north west wind and says it's the best wind conditions for this area of the beach. I tried to get the secret to finding all of those JUNONIAS…..and he said "it's a lot of luck and a good NW wind on the high tide". OK. I'm hoping this will be my year.
After I left West Gulf Drive, I headed down to the Lighthouse area. I actually couldn't find any parking in the public lots…..all 3 were completely full! ….So I used my local's sticker to park on East Gulf Drive by the Colony Condos. The shelling is really good there too! I only took videos down there so I'll get that together and post that in a bit so you can see how wild it looks with all of the crazy stuff. It's like the pictures from around Christmas. It looks like the bottom of the sea got pushed up on the beach….SPONGES, SEAWEED, SEA FANS, PEAR WHELKS, PAPER FIGS, URCHINS, STARFISH, MUREXES galore, huge old CONES…just a mixed bag of stuff. Cool!