Archive for Rainbows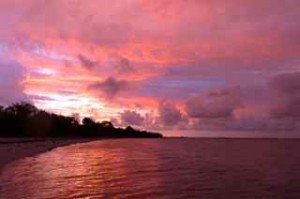 Summer skies on Sanibel are fantastic when the storm clouds quickly roll in and out changing the colors in an instant.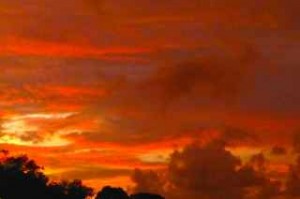 I snapped these photos throughout Saturday and Sunday when I saw an extreme color change.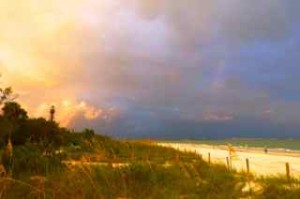 I'm always in awe of Mother Nature's paint brush.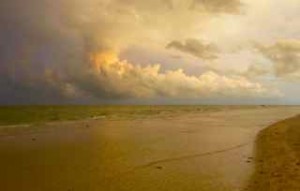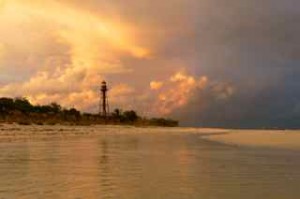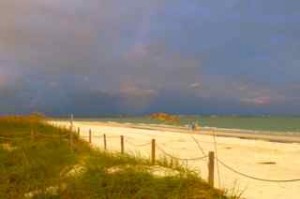 Storm skies can be so beautiful… until the cracks of thunder make us head for shelter.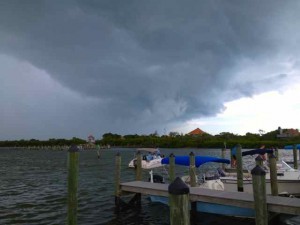 Then after the rain dies down and the lightning passes…. chasing the rainbow begins!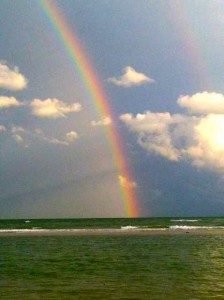 But it fades so fast…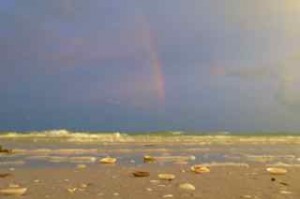 But no worries, just when you least expect it, a little piece of hope pops out again.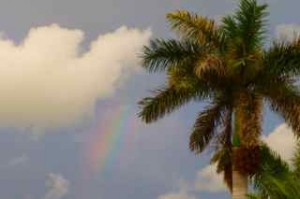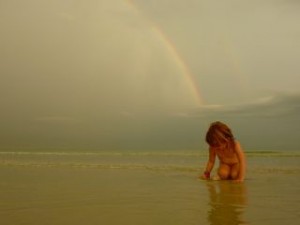 This little angel with the rainbow is one of my mom's favorite photos I took last summer so I wanted to show it again since she isn't feeling well right now. I left Sanibel after the July 4th parade to stay with her in Virginia Beach so needless to say, I don't have any updates on the shelling. Oh but wait! Clark just called to tell me our Junonia Jalopy won runner up for the parade's "Junonia" category which is Most Original/Best Overall. Woot! Woot! What an honor!
A few days before I left, the COQUINAS were covering the beach again which reminded me of this video I took last summer June 25. So let me leave you with this for a few days until she's back on her feet and I'm back on the island again.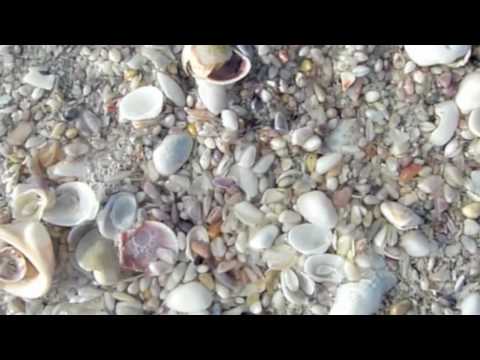 PS- I miss seeing squirrels! We don't have squirrels on Sanibel so I am enjoying seeing so many  in Mom's backyard. They are so cute! …… except when they eat all the bird seed- ha.
We headed to the beach after a nice, well needed rain shower on Tuesday evening.  When we started walking down the path to the beach, the sky seemed to get a strange yellowish tint …….then the rainbow. But wait…..a double rainbow!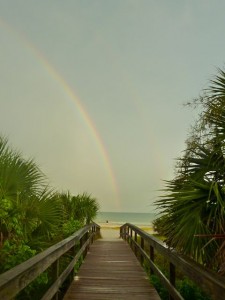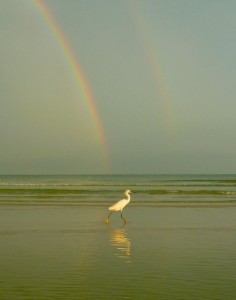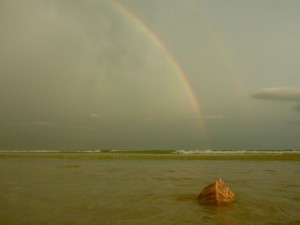 As I took a picture of this live LIGHTNING WHELK (for you Barbara!), a man out of nowhere plops an even bigger live whelk right beside it. It looks like I staged those 2 whelks in the first picture but that's exactly how he put it down…..perfect! Not 5 seconds later, a sweet little girl came running over to see those 2 whelks. Her grandparents Janice and Ted saw that I was photographing the shells and told her to leave them alone………I felt like I was in slow motion…..snapping away and telling them Kayleigh (from yesterday's post Cherub Under the Rainbow) was quite alright if it was okay if I photographed her. She is aaaddorrraable! A little seashell cherub has come to inspect the whelks to make sure they are happy and healthy.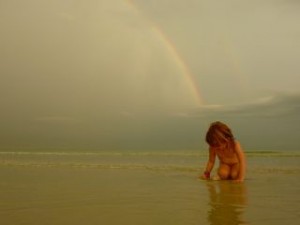 This one is MY little seashell cherub under the rainbow…….teehee