Archive for One-Tooth Simnia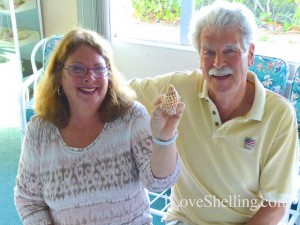 After you enjoy feeling the excitement of finding shells on the beach, you get to enjoy the excitement all over again when you show them to someone else that "gets" what you found and knows how you feel. That's why our Shellabaloo 2 "Shell 'N Tell" was one of my favorite days of the whole week during Shellabaloo. Do you see what Michele (Ohio) is holding in her hand in the first photo with her husband Bill? She found a JUNONIA! But that's not it… she found what she calls "The Trifecta!"… A large HORSE CONCH and a large WHELK along with her JUNONIA. Do you think she was a happy girl or what! So happy for you Michele!
Here are some of her other finds (minus the JUNONIA since she was showing it to the others when I took this) …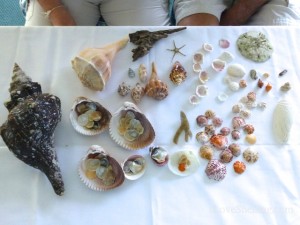 For the week of Shellabaloo 2, I made up another Shellinger Hunt. The hunt is really meant to just have fun learning about different shells and not to overlook some of the common shells like JINGLES and KITTENS PAWS because…. well… because I think they are beautiful too! So you will see some of the displays with a dozen JINGLES in a COCKLE SHELL because that was point for the Shellinger Hunt. It wasn't about who could find and take the most shells off the beach- it was all about enjoying the shells that were found… and some bigger points for finding things like The Sanibel Six or finding the rarer shells. It was so much fun to see these shellers find shells they've never found before and to rediscover the ones that can easily be overlooked.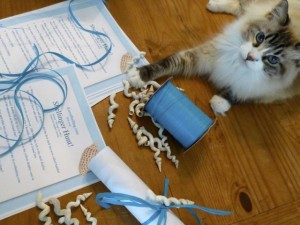 On our last day, I asked everybody to bring their fave finds and/or their entries for the Shellinger Hunt at our home base at Island Inn so we could all see what everybody else was collecting. We set up tables for each person to display their shells and it turned out to be a mini Sanibel Shell Show!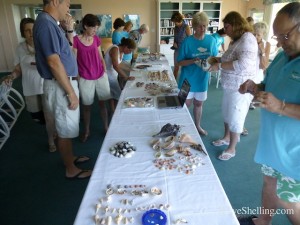 Terri (NY) made a beee-uuuteeeful display of her favorite finds.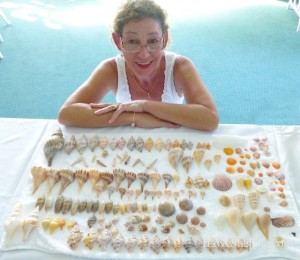 Lee and Susan (Cuba) narrowed down their favorite finds on a cooler tray for the Shellinger Hunt…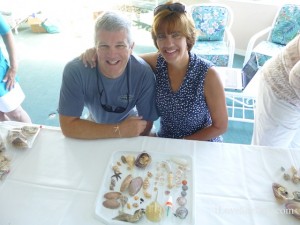 Of course I added a BEACH BLING category on the hunt ( i Love the BLING!) so it's so funny they added a dried up fish tail that looks just like a MERMAID and a washed up fishing bobber as the faves in that category. LOL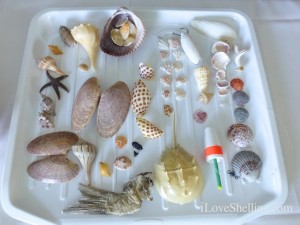 Rick (Texas) brought a plate of his fave shells… the miniature shells. I just love how everybody organized their shells so creatively!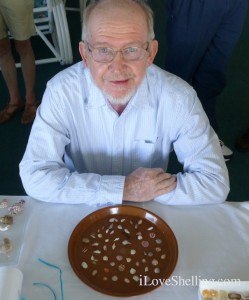 Rick's wife Murfy showed her faves along with her favorite vintage shell book…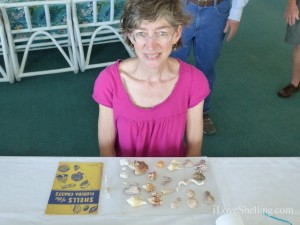 There is one shell in the middle of the others that is a little different. It looks like some sort of a TURITELLA… which I dont think is native to this area. I think it is either a FOSSIL shell that found it's way to the gulf on a high tide from sidewalk fill or it was left over from a party or wedding after someone bought shells to decorate with. Hmmmm.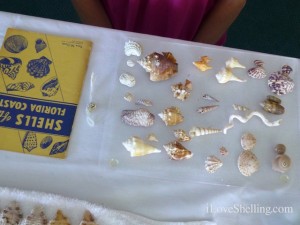 If there was a prize for being creative…  Sharene and Tom (Ontario) would have won for creativity!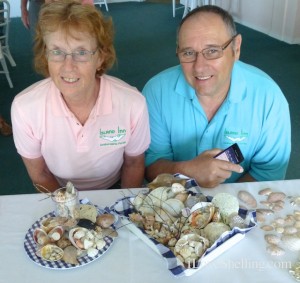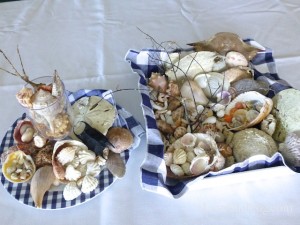 Rusty and Donna (Apopka, FL) narrowed down the favorites and of course it included an ALPHABET CONE and the SEA WHIP that had the ONE-TOOTH SIMNIAS I showed you in the first Shellabaloo 2 post.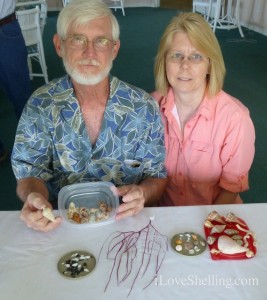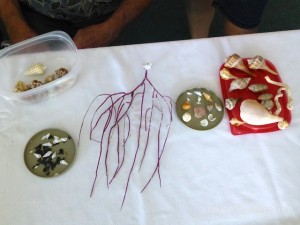 Roger (MO) told me that his favorite shells were the minis he found at Lighthouse Beach. It was his first time finding WENTLETRAPS, RICE OLIVES and TUSKS so it was really fun to find something new.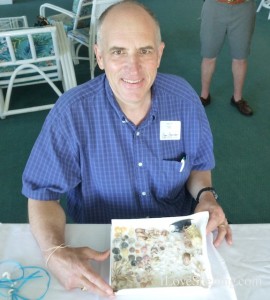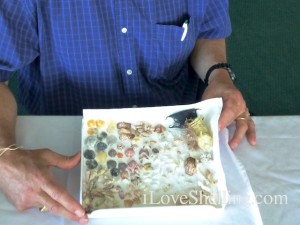 Margie (AL) is so adorable! Her favorite shell was the PONDEROUS ARK because she loved the black PERIOSTICUM (the shell's "skin") on the white shell so that's all she collected. She is going to make a black and white frame for a mirror when she gets home so I hope we get to see it!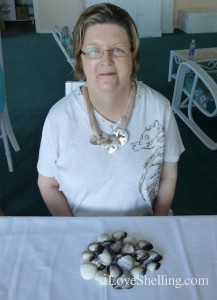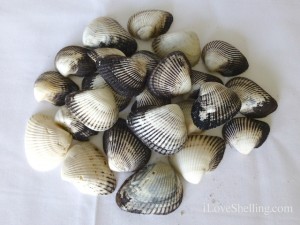 Cutie Pie Becka needed her own table to make room for all of her newly found treasures.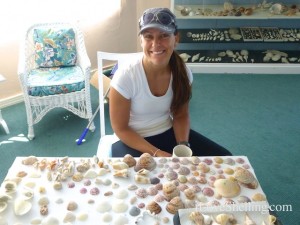 Kendra (IN) had a sweet organized display of her favorites but also for the Shellinger Hunt.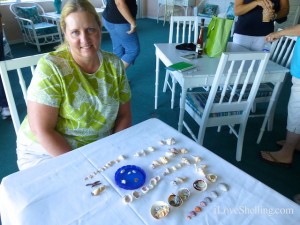 She was so afraid she was going to lose her first TUSK SHELL so she wrapped half of a bandaid around it so she would know where it was (on the blue plate). LOL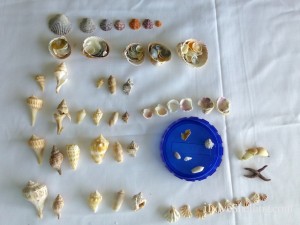 Pat (Boca Raton, FL) had an amazing display of shells and BLING for the Shellinger Hunt.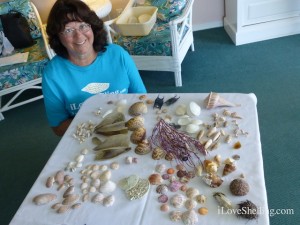 While I was oooohing and aaaahing at all of her finds, she pointed out a piece of BEACH BLING that she wanted to know what it was. Whoa! Pat! You found the OPERCULUM to the SHARKS EYE! Clark just found our first ones just last month so I was absolutely thrilled for her that… A) she saw it and picked it up… and B) that she knew it was something special to show at the Shell And Tell. See why I love these shellers? Who else would think this thing on the beach was cool…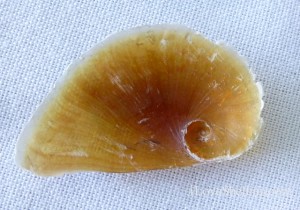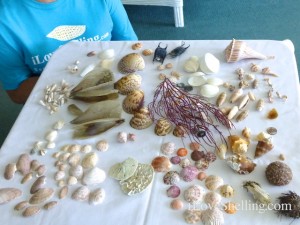 Speaking of awesome shellers, unfortunately, Gina couldn't come to the Shell 'N Tell but I still have to show you one of her exshellent finds… Gina found a yellow SEA WHIP. We find the purple ones a little more often but not the perfect yellow ones like hers. And no, I couldnt get her photo either because she was a little camera shy but Ha! I took a "long-arm shot" with me in it so we could get her picture and the SEA WHIP. LOL    And yep, you guessed it! There were two ONE-TOOTH SIMNIAS on it!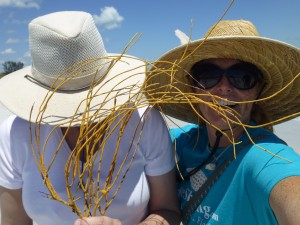 I have found yellow SEA WHIPS before but never one with the yellow ONE-TOOTH SIMINAS on it. Yahoo! Gina did! Such a treasure!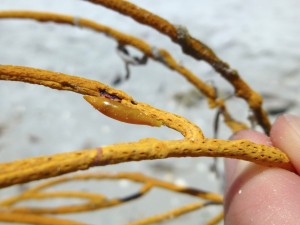 Okay back to the Shell 'N Tell with the rest of the awesomeness…. Here's Cindy with her huge HORSE CONCH I showed you in my last post! Now you can see all of the other fabulous shells she found as well.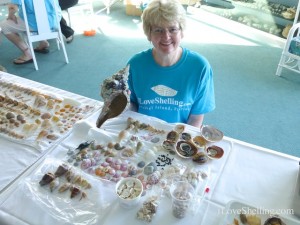 She also found a big ALPHABET CONE …which is part of 2 sets of The Sanibel Six for her Shellinger Hunt finds. She found a FLORIDA CONE to make her other set. And look at all of the SHARKS TEETH!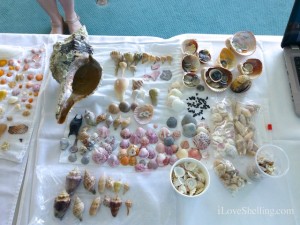 Okay… It's time to announce the winner of the Shell And Tell and you won't believe this prize! The winning sheller went home with a silver JINGLE SHELL necklace made by Sealife By Congress. It is beautiful! This new Sanibel jewelry store in Periwinkle Place Shopping Center is filled with seashells, SEAHORSES, DOLPHINS, STARFISH, SAND DOLLARS and every other sea life in gold, silver and with tasteful gemstones as well. I was thrilled they wanted to give our winner this perfect shell necklace.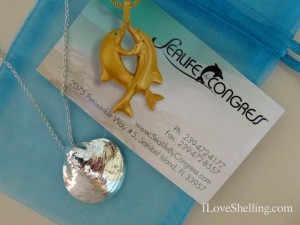 After much laughter and ado, we narrowed the winners down to Michele (with her JUNONIA and  HORSE CONCH) and Cindy with her HORSE CONCH based on their points score…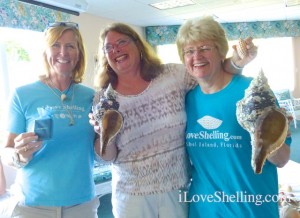 Before we announce the winner, Cindy and Michele clicked their CONCHS as if it was a toast. Cute and so much fun!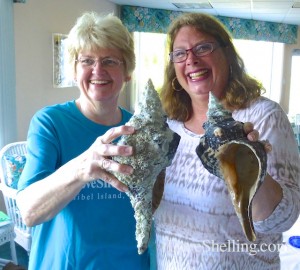 Drum Roll Please! …. wait for it…… The winner is Michele! Her JINGLE necklace is perfect for her! Congratshellations, my friend!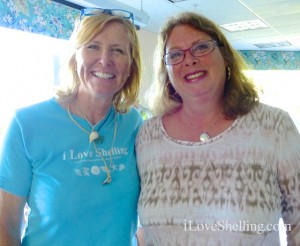 I can't even begin to tell you how much fun both Shellabaloo 1 (in January) and this Shellabaloo 2  have been since it really brings amazing people together with not just shelling in common but we all seem to be like-minded in so many other ways. It's quite a bonding experience, I must say. Thank you Island Inn for hosting such a great Shellapalooza. I'm sorry to say that I don't know when the next one will be- no dates of been set yet for this 4 day Shellathon but as soon as we've come up with a plan, you will be the first to know.
But wait!  I'm gathering a group of shellers for an afternoon of shelling at Cayo Costa next Sunday May 19 from 1-4pm on a Captiva Cruise. Join us! CLICK HERE for more info or call 239-472-5300 and ask to come along for the next iLoveShelling cruise!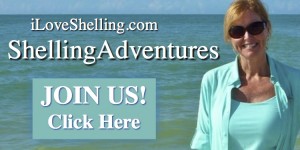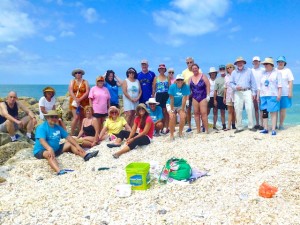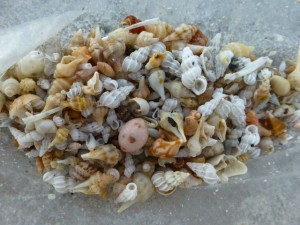 After talking to yall about WENTLETRAPS in my last post, I met Dena from St Louis at Gulf Side City Park with a baggy filled with WTs (thanks Kaybe for the obvious shortcut I never thought of… haha- so much easier!) and minis. Notice that round shell on top (pictured above) with the spots… it's a COFFEE BEAN TRIVIA.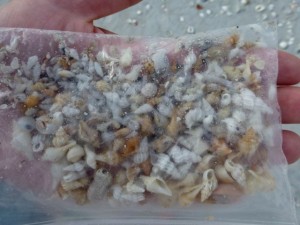 I asked her if she knew if she had different varieties of WTs in her baggy besides the ANGULATE WENTLETRAP. Yes, She knew right away! Dena is my kind of sheller! She showed me her BROWN BAND WENTLETRAP…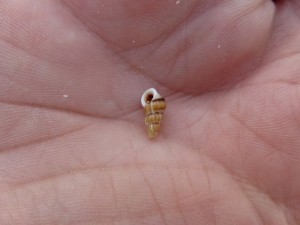 Okay, so this is even a bigger deal to me than the WTs. Dena found 4… count 'em, F-O-U-R  CARRIER SHELLS!!! And if you look closely, you'll also see she found a ONE-TOOTH SIMNIA. All 5 of these shells are really hard to find!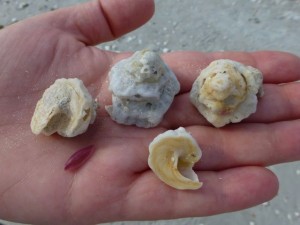 Dena is quite a focused sheller to have found all of these shells which are really difficult to spot. She's Dena the Dynamo!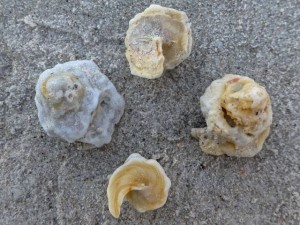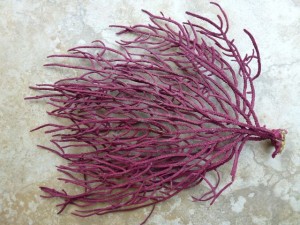 While sifting through the BEACH BLING on the east end of Sanibel this past week, I found a purple SEA WHIPS. I've collected a few over the years because of their beauty but now I look very carefully at them because at times, I'll see little surprise hitch hikers on them. Take a closer look…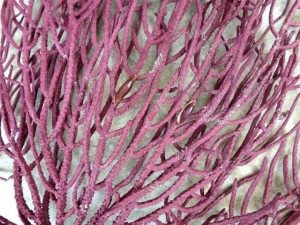 Did you see the two shells attached to two different branches? They practically camo themselves on the branches, don't they? They are called ONE-TOOTH SIMNIAS.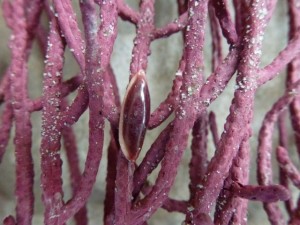 On this SEA WHIP I found last week, there are two ONE-TOOTH SIMNIAS attached to this one as well…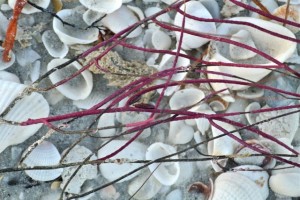 I plucked one of the shells off the branch. Look at how sleek it is.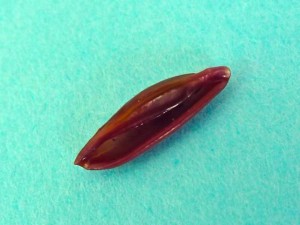 I never find these washed up on the beach… I wonder why? I'm sure they are there so I'm going to keep my eyes peeled for them. Here is the other view…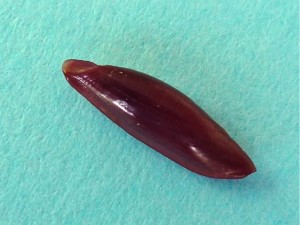 Since this is a miniature shell I wanted to show you how big the ONE-TOOTH SIMNIA was in relation to a quarter. Unfortunately, all I see in this picture is George Washington getting comfy with one of those travel roll pillows around his neck. I hope you have better luck focusing on the size of the shell instead of the neck roll. ha!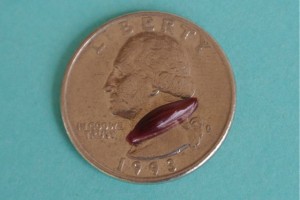 I learned to look closely at SEA WHIPS because I saw a few displays in the scientific division of the 75th Sanibel Shell Fair and Show this year of interesting things that find homes on SEA WHIPS. Here is a very impressive display of a WEST INDIES CHANK SHELL EGG CASE attached to a SEA WHIP with the baby CHANK SHELLS coming out.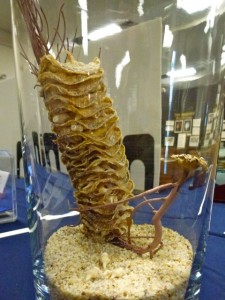 Awesome, right? Expert sheller Marilee describes her exhibit as…
"Egg case of Turbinella angulata    On sea plume (Pseudopterogorgia) Found on beach after storm near Jack's Bay- Eleuthera Bahamas"
This was an "Aha moment" for me since she left the egg case attached to the SEA PLUME. Now I always look at what's attached to the SEA WHIPS or SEA PLUMES mixed in with all the BEACH BLING. Thank you Marilee! It was such a pleasure to meet you at the show.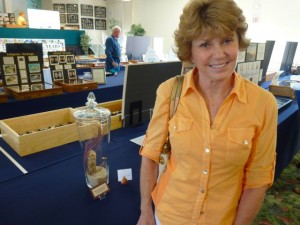 I have another surprise to show you on my next post about SEA WHIPS. I found another cool shell attached to them! Until then, take a look at another hitchhiker….a BRYOZOAN COLONY hanging out on this purple lovely.