Archive for 4th Of July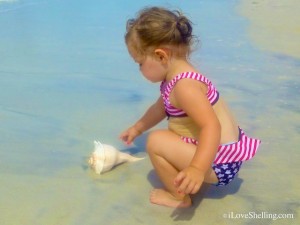 Happy  Independence Day! Hope you are enjoying your 4th of July as much as little stars and striped cutie pie Jaylen visiting Sanibel from Missouri.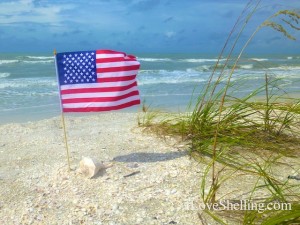 I know lots of other people who are happy after finding seashell treasures like these under the bridge at Blind Pass on Sanibel.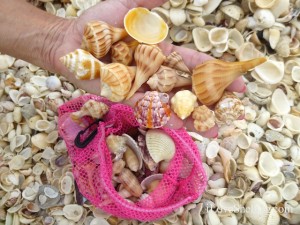 Like Barbara from Merrit Island, Florida…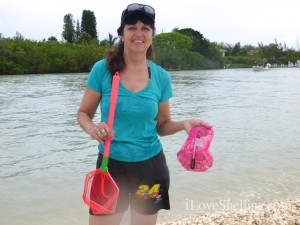 Who wouldnt be happy finding a FLORIDA CONE, WORMIES, MUREXES and LIGHTNING WHELKS?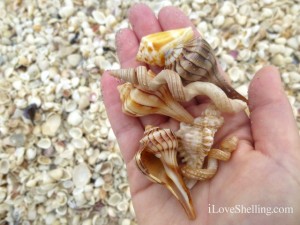 That's why Brenda and Missi from Ohio were so tickled…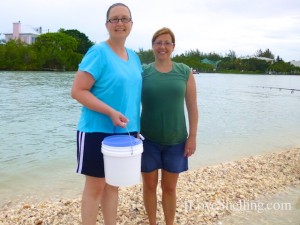 This awesome bag of shells were found by newbie shellers Julius and Liana…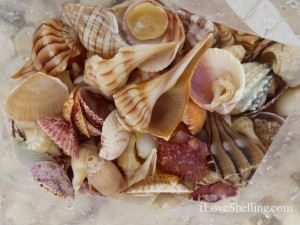 This Dad and daughter shelling "team" were visiting from Ohio as well…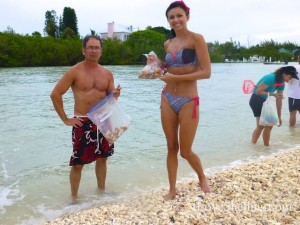 Oh and another cutie petutie shell baby! This is Sarah… from Ohio too! I should have gotten all of these Ohio peeps together!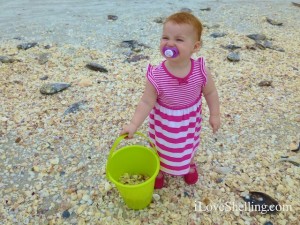 Look at this Patriogator! Nancy and Mark from Ohio (I know, right? Ohio!) and Frank and Linda from Cape Coral made this exshellent beach art using PEN SHELLS…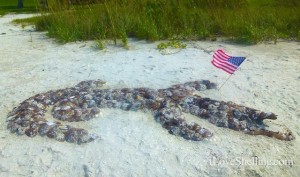 Have a wonderful 4th and be safe!
PS- We are still cleaning up our shells from Guantanamo Bay but when we are done I cant wait to show you more photos from our tremendous trip and more Caribbean seashells and BLING we found.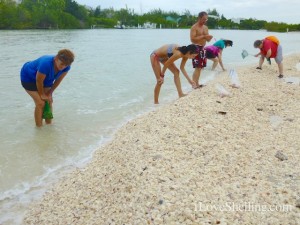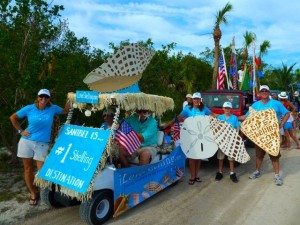 Happy 4th Of July! It was a beautiful day for the Junonia Jalopy to make an appearance in the Sanibel parade. And even more exciting was that our friends Susan (soul sister), Berringer, Jacob and Daron wanted to walk along side Clark and me in the Junonia Jalopy to show off their love for shelling too!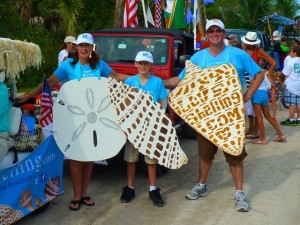 So Susan and I had a blast making seashell costumes…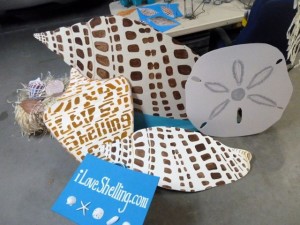 We started by painting seashell designs on foam core board then cutting them out…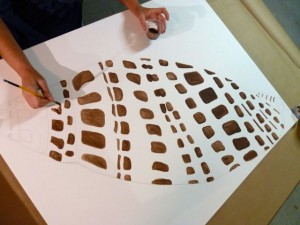 We made these to fit as a sandwich board type costume so we needed to make signs for the back side attached with ribbon (we found aqua ribbon with white stitching!) … so we made iLoveShelling signs and embellished them with a few shells of course…
We even found  aqua buckets to hold our shells that we handed out to the crowd. How cute are they!!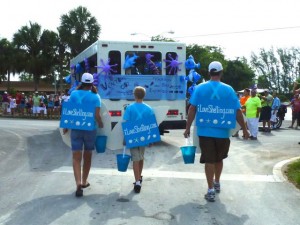 Since the theme was "Sanibel #1 Vacation Destination" from the Frommer's rating in this year, we decided to remind everybody that Sanibel is #1 Shelling Destination too!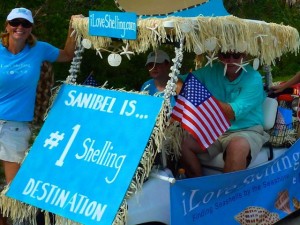 Here are some other fantastic floats in the Sanibel parade like the Captiva Island Yacht Club float…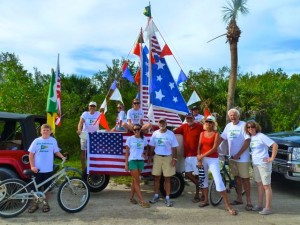 Cip's restaurant…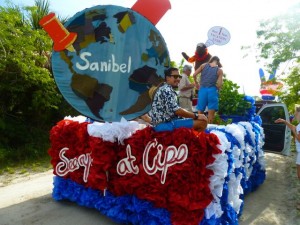 I loooove this float by Tammie's Total Care!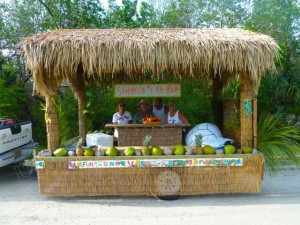 Take a look at this huge castle on Congress Jewelers float…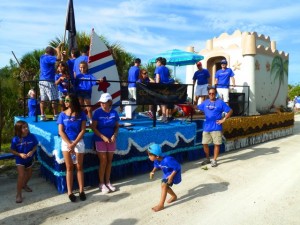 Bailey-Matthews Shell Museum had their float sporting their Great Cowrie Roundup…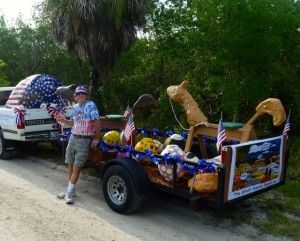 Here's Doc Ford's float…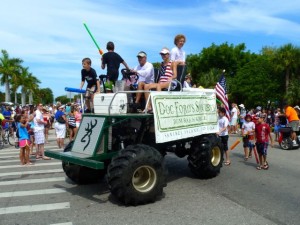 I wish I could have seen all of the floats because I heard there were so many creative ideas and lots of fun. Thank you Sharon from Cottages to Castles for sending me this photo of Susan walking the parade in her SAND DOLLAR costume… So cute!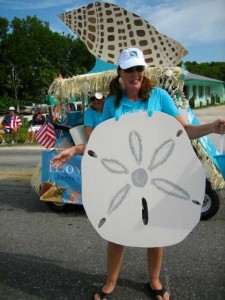 We think we handed out around 700 shells this year. Now you know what we do with all of those shells we collect! Okay, did you notice something about the ALPHABET CONE Daron had on? Do you see letters?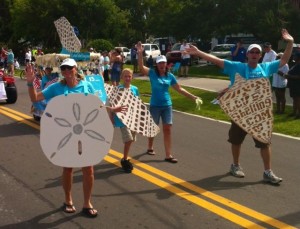 Thanks  Captain Brian for sending this last photo! Happy 4th!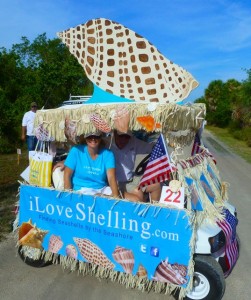 Happy Independence Day, y'all!  This year's theme for the Sanibel 4th Of July Parade was "Shellabration" …. so we couldn't miss out on a shelling theme, now could we?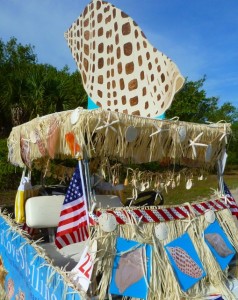 We plopped that big honkin JUNONIA right on top of our cart, added some shell garland, mixed in our patriotic colors then revved up the "Junonia Jalopy" and headed to Periwinkle Way to shellebrate our country.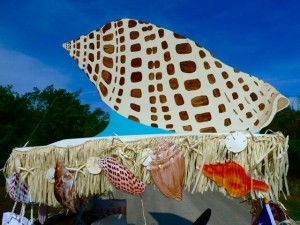 Oh yeah, AND we threw out over 500 shells (CONCHS, WHELKS, OLIVES, MUREXES, COCKLES, etc) to the crowds along the streets. Everybody loved getting real shells!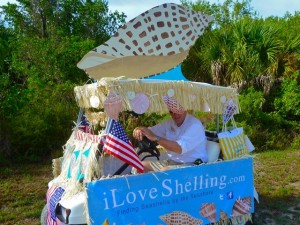 There were 55 other "floats" that were having just as much fun as we were…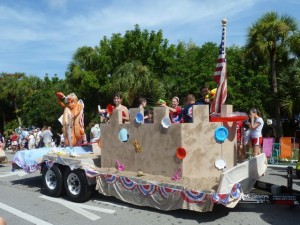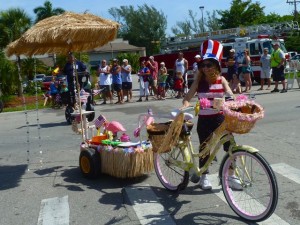 The "Shellabration" theme was to kick off the 75th Sanibel Shell Fair and Show that will be held March 1-3, 2012. Yep! That's SEVENTY FIVE  years the Shell Fair has been on Sanibel so this next one will be a doozy. This is the fabulous poster designed by local artist Pam Brodersen.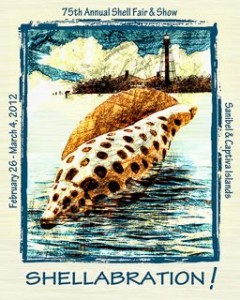 Speaking of Pam Brodersen, she sent me pictures she took of our cart in the parade today. Thanks Pam!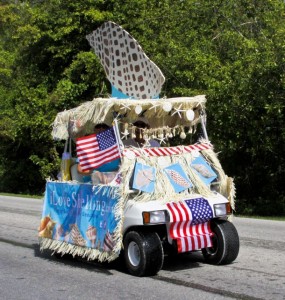 The Junonia Jalopy is taking a short rest to take us on to the next stop…. Fireworks!