Archive for Hermit crabs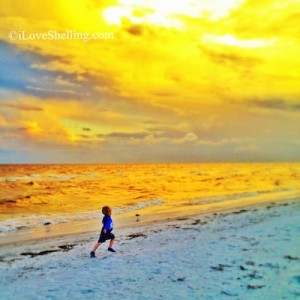 The Sanibel sky after sunset last night had an amazing effect on the clouds and reflection on the water. My lens caught this little boy raising down the beach like he was running for the gold in the sky as it changed colors. This morning I felt like I was running down the shore line at Lighthouse Beach  trying to find my seashell gold. I finally found some!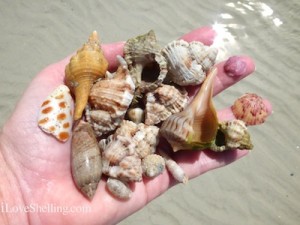 I started at the tip of the island at low tide to find just a few beautiful SCALLOPS…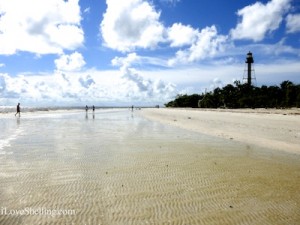 After walking a 1/2 mile or so, I started to find a few shells like this little HORSIE (HORSE CONCH) and another perfect BANDED TULIP but htey both had cute little HERMIT CRABS in them so I put them back where I found them in the water.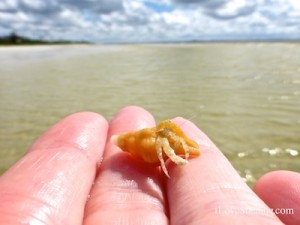 I saw plenty of shells in the high tide line dried out on the beach so I walked over to see if there was anything there besides white bivalves like ARKS and bleached out CROSS BARRED VENUS CLAMS (not that there's anything wrong with those! ha). I spotted spots! OOOOO I found little piece of JUNONIA.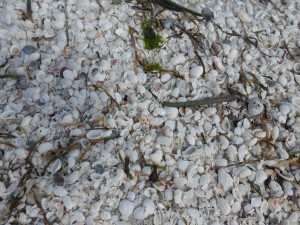 That's when I met Robin and John from Texas…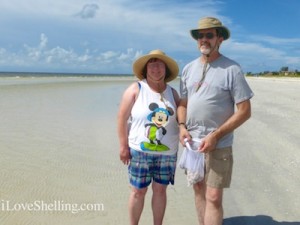 They found some nice shells like a double SUNRAY VENUS, LACE MUREX, APPLE MUREXES, FIGHTING CONCHS, a juvie TRUE TULIP and a couple of PEAR WHELKS.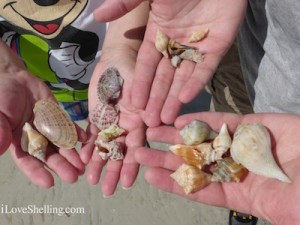 After seeing that JUNONIA piece, admiring their shells plus seeing that horsie I couldnt have, I knew I had to put a move on it and start searching a little harder. Ha! Thats when I saw those pretty APPLE MUREXES AND that bigger orange HORSE CONCH half buried in the sand. I rinsed them off when I got home to see how pretty they are. Yup! Not too shabby…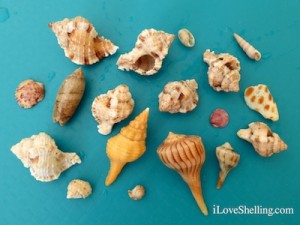 But I still have to show you some of the other photos from last night afterglow of sunset…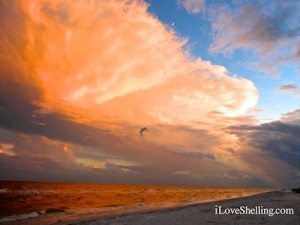 It was dreamy…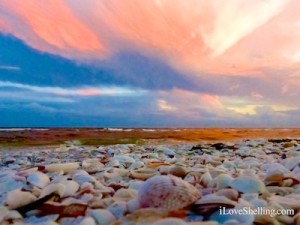 We just had to stand there and stare at the brilliance…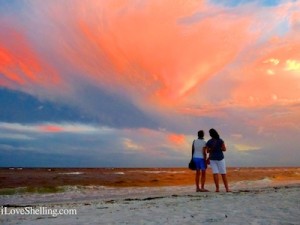 If you are in the area of Sanibel, Florida, join us tomorrow (Thursday Sept 12, 2013) for the iLoveShelling cruise to Cayo Costa! FYI- We are now leaving from the dock at South Seas Resort instead of McCarthy's so be at the South Seas entrance gate by 12:30 to catch our 1pm boat launch. Hope to see you.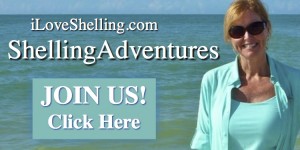 Also, this is the final day to enter the Shelltastic SW Florida Giveaway! So if you havent entered yet, CLICK HERE!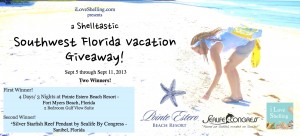 I took a little video of how far I walked from the tip of Lighthouse Beach and how I found that nice HORSE CONCH. It's just raw footage but at least you get to see what I saw this morning. If you want to walk along with me, here ya go…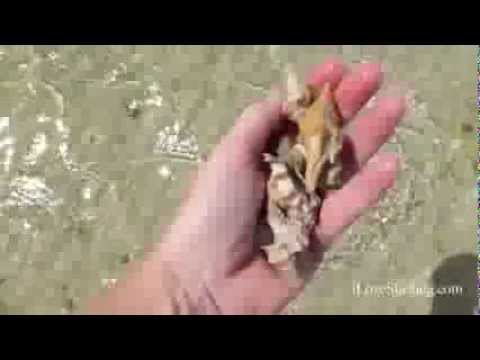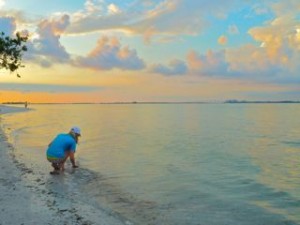 The week started out with beautiful sunset skies at the lighthouse beach with some serene Sanibel Stooping…..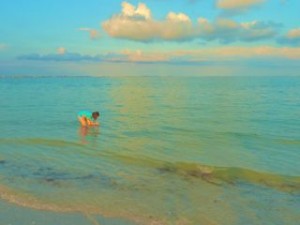 Tiny shell finds….
Beautiful families with some Shelling Sistahs! ….
Live critters….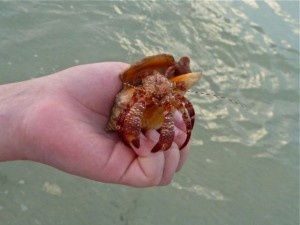 A few keeper shells like this double JEWEL BOX Super Sheller Clark found….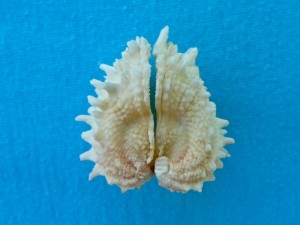 Then I moved on to Middle Gulf Drive beaches to find more Shelling Sistahs! Weehoo!
But Blind Pass has been the place to find the best finds of the week! Look who I saw again from the lighthouse beach but this time at Blind Pass finding KING'S CROWNS. McKenzie!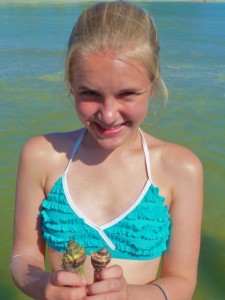 And her sister Avery was lucky enough to find a JUNONIA! Even part of one is lucky, I think. Great find Avery!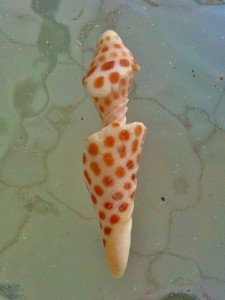 My buddies Susie and Ellen joined me at Blind Pass to see what all the fuss was about.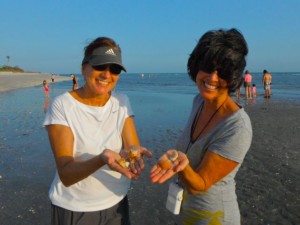 They found FIGHTING CONCHS, a PEAR WHELK  and a few more.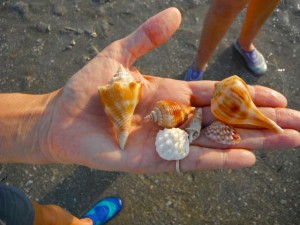 Marie from Charleston was purrrrrrfectly satisfied with lots of kitten paws…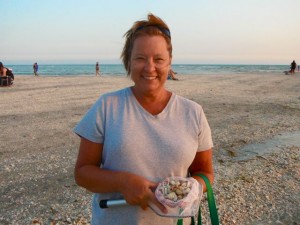 The shelling is so much fun right now because the tide is so far out you can walk on sand bars that are not normally showin….. especially at Blind Pass. On my last post Negative Low Tides, Positive Winners! , I didn't really explain what a negative low tide chart looks like so I've added the chart for today and tomorrow. To get more information on the tides for future dates for Captiva, Sanibel and Cayo Costa, go to TIDES.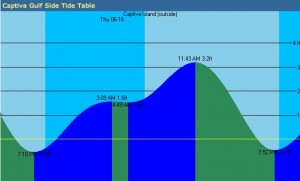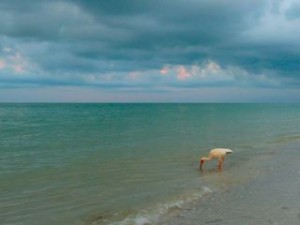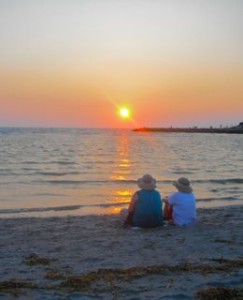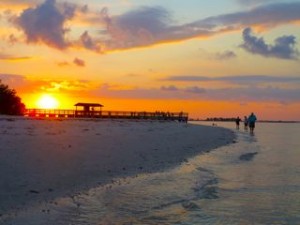 It looks like julienned coconuts, parmesan cheese or some sort of spaghetti, doesn't it? There are wash lines of MANATEE GRASS at the tip of the lighthouse beach. We finally had a beautiful day so I needed to get out on the beach whether there were shells or no shells. Unfortunately, not many keepers. There were clam shells and scallops and that's about it for shells.
And the SHARK'S TOOTH frenzy in Manasota Key continues! Our friends Joe and Manuela took a day trip down to Stump Pass and found their first shark's teeth……83 of them.
I have another video for you! I didn't do fancy editing or add any music this time. It's just a raw piece that shows exactly what I saw for 5 minutes. A hermit crab took a new home in a KING'S CROWN and was so happy that he was doing the happy dance …. Another crab in a MUREX shell peeking out .. .A pelican flying so low he was teasing the water…. the sky so rich. Enjoy.
Big, scary Hurricane Earl is headed toward the east coast and already stirring up the waters on our side so we are keeping a close eye on the weather and keeping our fingers crossed that he just fizzles out before any damage occurs.