Archive for Beautiful Crassatella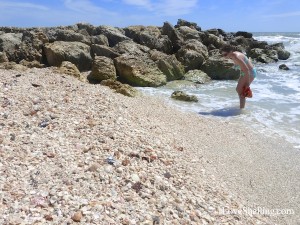 What a weekend! The shelling was pretty spectacsheller on Friday, but honestly, it was just as fun meeting so many shellers that have commented on my posts before here on iLoveShelling and on iLS Facebook. Like Heather Gray from who found the sweetest JUNONIA as it washed up at her feet. Shellzam!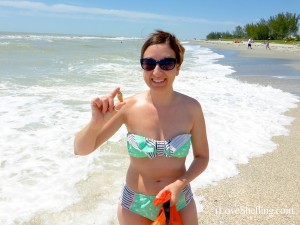 Look at these other amazing shells she found too…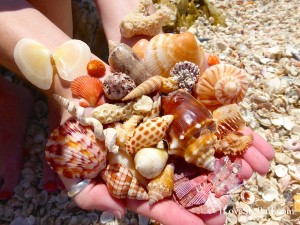 I was so thrilled for her especially since I felt like I already knew her…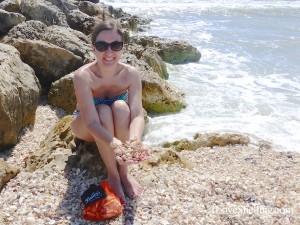 It was so much fun to finally meet Jodi from Indiana (with hubby Ted) at Blind Pass Captiva as well.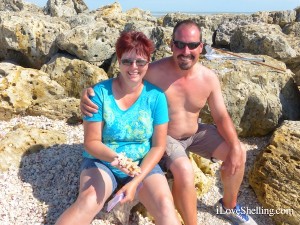 She was finding all sorts of fun shells and beach bling but the most exciting shells she found were from the Sanibel side of Blind Pass before and after I saw her. She found two CABRITS MUREXES!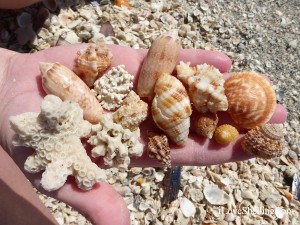 This is so cool… Annie from Jordan Minnesota found this DOLPHIN VERTEBRAE …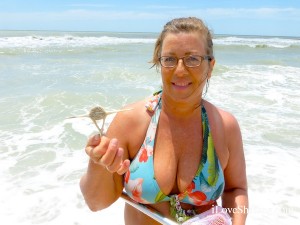 She was in the scooping water to find it mixed in with a bunch of shells.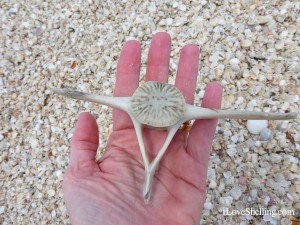 Anya from Lehigh Acres, Florida snatched up an ALPHABET CONE…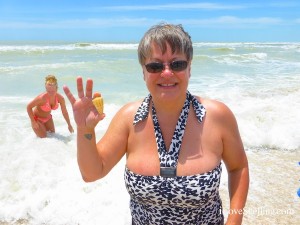 Did you notice Rae Ann (West VA) in the background of Anya's photo? Well, that's where she snagged this awesome JUNONIA cob –  in the water without a net. You go girl!
Judy from VA was thrilled to find all sorts of shells by sifting through the shells that were tossed on the beach…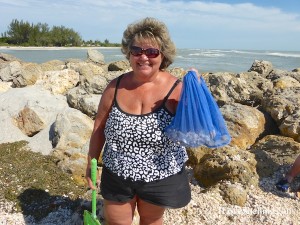 Paul and Sveta from Lithuania filled up a leftover plastic bag from Publix with all of their souviners.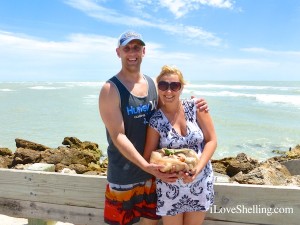 Lots of treasures to remember for a lifetime…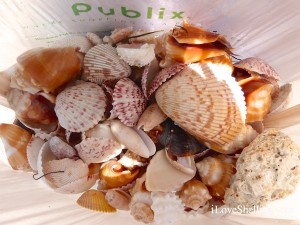 But…. Just as fast as Mother Nature can wash all of these gems up on the beach, she can take it away as well. The first photo at the top of this post was taken on Friday late afternoon. I took this picture on Saturday around noon and you can see that the waves started to bring in sand to cover up some of the shells they had brought in the day before. It's crazy to see the changes!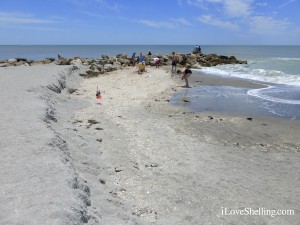 But even though the waves were bringing new sand up on the beach, there was still a huge shell pile with plenty of shells to sift and sort through. I love when I see my shelling friends just hanging out, digging through the shells and sharing each exciting new find. My shell crafter friend Audrey ODonnell was in heaven finding all sorts of great shells for her artwork but this FLAT SCALLOP was one of her favorites of the day.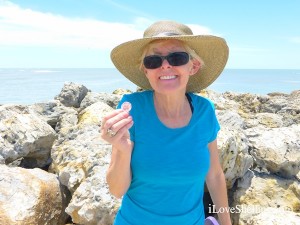 Jean Holycross was there too gettin her Sit N Sift perfected.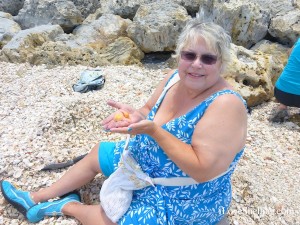 She found a shell she hadn't seen before so she called me over…it was a BEAUTIFUL CRASSATELLA! Oh and of course she was thrilled about her bright orange HORSE CONCH. Candy!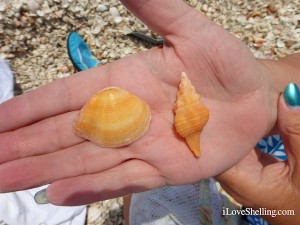 Now I gotta tell ya… this was a once in a lifetime photo-op. LOL It's very rare to see Super Sheller Clark doing the Sit N Sift  (Jean called the "Jean method") . As you can see, he was prepared for raking the waves for shells with his big, bad watershoe boots, shelling backhoe and even his knee brace just in case he "had" to be fighting waves all day. But, since he didn't find much to scoop up in the water, he decided to sit down with everybody else and dig through the pile- thats where the action was. Oh lawd, I do love this picture.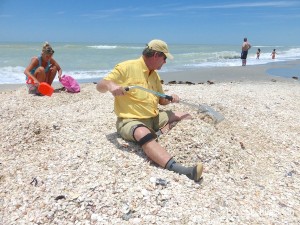 I also want to show you a few photos I received over the weekend. Cindy and Roger from Shellabaloo 2 are here this weekend and Roger found an incredibly large HORSE CONCH at Blind Pass Captiva in the evening at low tide. This rivals Cindy's monster HORSE CONCH she found during Shellabaloo!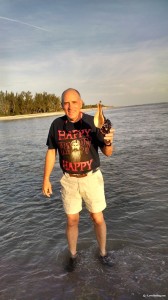 Just after Roger found his trophy, Cindy snapped a photo of sheller Celia from Texas who found a JUNONIA in the same area at about the same time! Wow!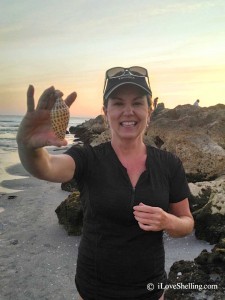 I haven't even had time to go through our loot but we found some really interesting pieces that I will show in another post. Until then, since I haven't been roaming the beaches today, I have no idea if the shell pile at Blind Pass Captiva is still there or not. I have heard the the lighthouse beach still has the minis and the middle beaches of Sanibel have had some great shell piles come and go throughout this weekend as well. Good luck and have fun!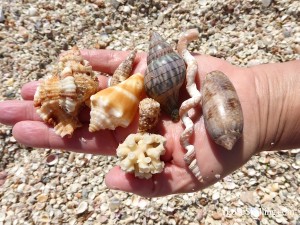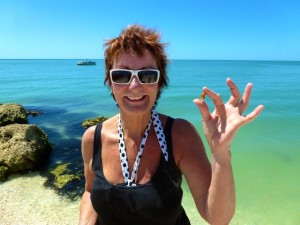 That seashell pile on Captiva's Blind Pass jetty rocks is the gift that keeps on giving. Suzanne (Ft Myers) found a tiny bright orange HORSE CONCH with that cute little white tip about the same time I found my "candy" too.
 Get ready, cyber shellers! This is the shell pile I saw my little treasured "candy". I was doing the Sit 'N Sift in that big pile when I saw a little sliver of orange peeking through. Can you find it too? (Click the pic to enlarge. It's a big file so it might take longer to download)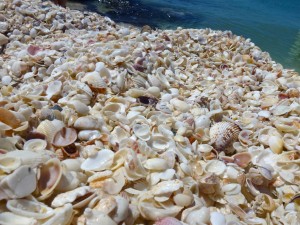 You got it!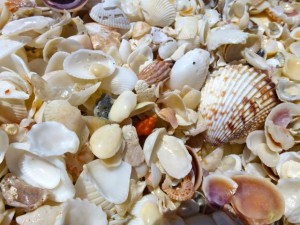 Dave and Colleen (PA) were practically digging to China to strike buried treasure.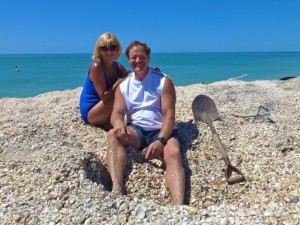 Eureka!  They struck gold! He pulled out a golden HORSE CONCH and said "There are 2 famous lines for shellers. The first one is… 'Oh my gosh that shell is absolutely gorgeous!' and the second one is…'Awwww. If this shell were whole, it'd be perfect!'" hahaha How many times have we all said those line??!!!!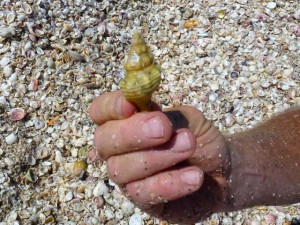 While I was on the shell pile digging around, Clark was in the water with his infamous shelling backhoe…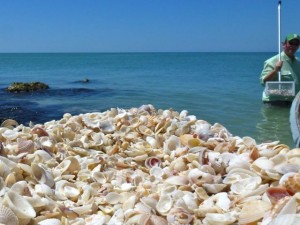 I knew he had something unusual when he came up to give me a shell. A BEAUTIFUL CRASSATELLA! We don't often find these on Captiva.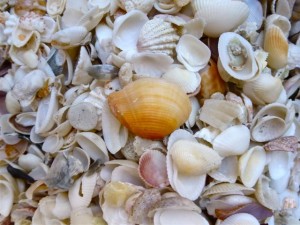 Another beautiful day in paradise!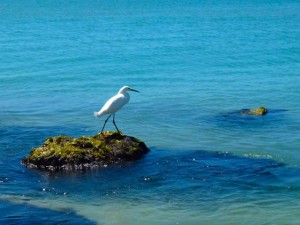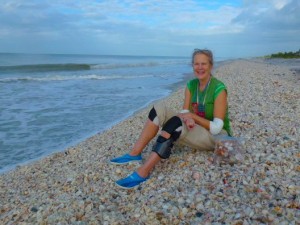 I first met Susan (NY) on this gigantic shell pile a couple of weeks ago about a mile east of Bowman's Beach. If you have ever read some of the comments here, you might recognize the commenter "Susan H". That's her! She loves everything about seashells. She loves to collect, study, research, admire and talk about shells. IMHO (in my humble opinion) she's a Seashell Brainiac. She even donates her time to share her knowledge of gastropods and bivalves to make Wikipedia what it is now. She's a Wikipedian with over 60,000 edits! The amazing thing was, is that she offered to sort and organize my bivalves. I thought to myself "Oh, Honey, you have no idea what you just got yourself into!"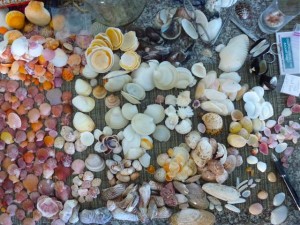 You might know that I've only recently acquired the taste for collecting bivalves other than ANGEL WINGS and a select few. So just this past year when I saw a bivalve that I never noticed before, I'd pick it up and throw it in the "bivalve jar" and lump them all together. Before I knew it, I had lots of those jars but no time to sort them or to find out what I had. Susan persuaded me to bring those jars over to her cottage at Blue Dolphin to sort and identify anything I had questions about.
She told me to bring paper, scissors, ziplock bags and a pencil to organize and ID. She cut the paper in little squares then got to work quickly sorting. She also had told me to bring my new bivalve book (her fave too) Seashells of Southern Florida by Paula Mikkelsen & Rudiger Bieler that I showed you in yesterday's post – the gift from MurexKen and MurexAlice!.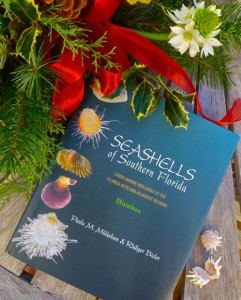 Now this is where the story gets really COOL….  Susan told me that she has been a volunteer at the American Museum of Natural History in New York since 2000. During the time when Paula Mikkelsen (one of the authors of my new bivalve book) was still at the Museum, she worked directly for her for about 9 months, and sorted shells for her. She met Rudiger (the other author) on his visits to the Museum working with Paula. Susan is actually listed (with her last name misspelled as "Hewett" instead of "Hewitt") in the acknowledgements section of that book on page 410. To me, that's so cool- I was having a ball!!!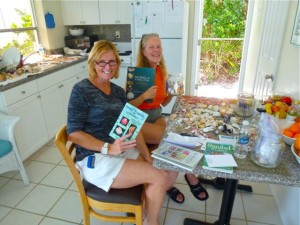 Most of the bivalves I had in the jars were ROUGH SCALLOPS, CALICO SCALLOPS, BUTTERCUP LUCINES, COMMON JINGLES and the other shells you saw in the second photo. I was so happy when I heard her voice get a little excited when she found something other than the common shells. "Oh look, here's a BEAUTIFUL CRASSATELLA!"
She didn't mind at all this BROAD PAPER COCKLE had a chip in it. She was still excited to see it.
I don't pick up many broken shells any more but when I find shells that I don't normally see on the beaches of Sanibel, I'm so glad that now I pick them up. This is a CANCELLATE SEMELE…
This one isn't very attractive but now I know it's an ATLANTIC SEMELE…
Clark always laughs at me when I pick up a shell like this CHALKY BUTTERCUP LUCINE. It's just big and white and not very pretty but I thought it looked like a gigantic BUTTERCUP that lost its yellow inside. I was sort of right…it's the same family! Susan said the same thing "Oh look! A CHALKY BUTTERCUP! I found one of these the other day too!". LOL Really? Someone else who gets excited about a CHALKY BUTTERCUP?
I have more identifications to show you but I have to wait until after Christmas. I couldn't wait to share some it and to introduce you to Susan. It was like another fabulous Christmas present to have a "pro" like her help sort and identify my jumbled shells while we laughed and giggled. Thank you so much Susan!!
Happy, Happy Holidays to all of you!!
PS- I can't tell you how many times I have linked a post to WIKIPEDIA to provide more information about a  certain subject. I looked back on several of them, and sure enough, Susan had done some editing on the information (her user name is Invertzoo).  After learning how many volunteers it takes to make that sight possible, I made a donation. If you ever find Wikipedia useful and want to make a donation or add content that you know about,  you can click on this logo…