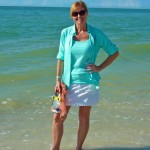 I'm a fanatic beachcomber and an obsessed artist. I am not a scientist but I write my shelling adventures so we can all learn together just as though you are walking on the beach with me so we can share this treasure hunt together. Shelling makes me happy and it makes me even happier to share these magical treasures I find on the beaches with you.
Since I am a blogger and not a "real" writer… This was written about me by my friend Susie who is a "real" writer.  ;)                       -pam rambo
"It is perhaps a more fortunate destiny to have a taste for collecting shells than to be born a millionaire!" — Robert Louis Stevenson
These are Pam's favorite words to live by, and she does her best to indulge her taste for shells every day. She combs the local beaches almost daily and shares her insights about the best shelling in the area with other aficionados.
Pam grew up shelling in her hometown of Virginia Beach and on family vacations to the Outer Banks. The whole family got involved, and her childhood home was filled with shells, sea glass, driftwood—"whatever there was on the beach to see," says Pam. "So it's comfortable to me to be surrounded by shells."
A lifelong artist, Pam was naturally attracted to shell artistry. Her home on Sanibel is beautifully decorated with the seashell treasures she and her husband, Clark, have collected over their years together: gorgeous jars of wenteltraps, sea urchins, flat scallops, an impressive 17-inch horse conch, her prized red tulip, the two junonias (which she begrudgingly admits were both found by Clark), and the notable two- by four-foot mirror frame Pam created using more than 1,000 worm shells she collected over the course of a year. She was selected to be a judge in the shellcrafting division of the annual Sanibel Shell Fair and Show in 2010.
Shelling is a family affair for Pam and Clark, who had already started his own shell collection at age 7. Their first vacation together was to Captiva where they spent their days in what would become an ongoing shelling competition over who could find the best specimens for the day. They are still at it, and go shelling together just about every day. They have taken shelling trips to Belize, the Bahamas, and the Virgin Islands, but have never found anywhere better than Sanibel, says Pam.
They became really serious shellers when they lived in Miami, taking regular shelling trips to the Keys. Their shelling passion only grew when they moved to Sanibel in 2001. Pam's background as an artist and her experience selling her own creations at regional art and craft shows soon led her to open Kirby Rambo Collections, with locations on Sanibel and Captiva, featuring works by fine artisans from around the United States. After selling that business, she had more time to indulge her passion for shells, and she hatched the idea for Iloveshelling.com for like-minded shell lovers.
"It's great to have a reason to be out on the beach—it's not complex, it's relaxing," says Pam. "Shells are nature's treasures, and shelling is a great treasure hunt."
To read more about me, CLICK HERE to see how we made it in lots of media publications!
Wanna shell together? We'll have a blast! Join me on the beach at one of these venues… CLICK HERE
I also have a line of sea inspired notecards Write From The Beach and and a Shelling Shop to help keep the pictures and stories coming (sand, salt and water aren't very kind to cameras).