Captiva's New Shelling Spot
By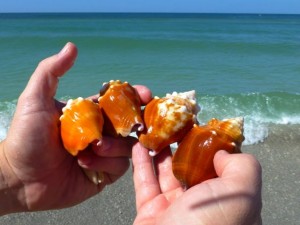 We usually see beautiful seashells rolling on to the beach next to the jetty rocks on Captiva at Blind Pass but the best shelling spot has now moved down the beach. I walked the shoreline from the jetty to find Eldon wading through the water with a hand full of seashells. He said he was only snorkeling for 5 minutes to find all of the empty gorgeous FIGHTING CONCHS pictured above. Here is Eldon with Ronda and his darling son Micah…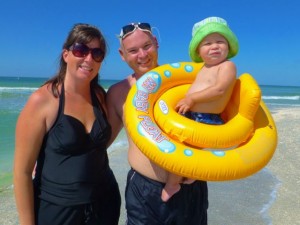 As I walked further down the beach into Captiva, I overheard Stacey telling her daughter Gracie that she just missed a good shell in one of the waves that washed in. She said " This is just like shopping at HomeGoods! If you see something you want, you better snag it up right away because it won't be there in another second." LOL It's so true! Here's Gracie and Stacey showing off some of their shells that didn't get away.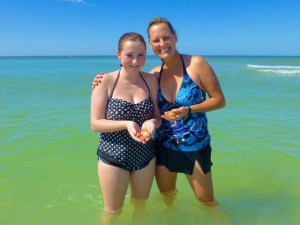 Jennifer and Cindy were thrilled to wade in the clear shallow water to find LIGHTNING WHELKS and lots of CONCHS.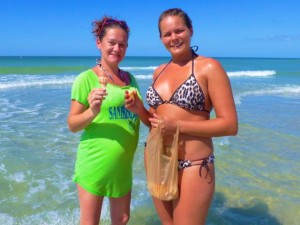 The CONCHS are so beautiful!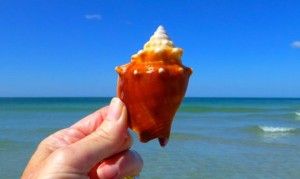 I was thrilled to find candy! A HORSE CONCH and a BITTERSWEET were my fave finds.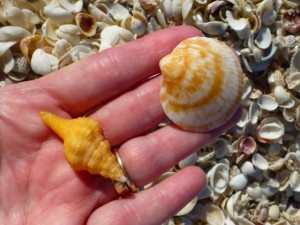 I took a short video to show you where this new spot is and how far it is from the jetty rocks at Blind Pass Captiva on this beautiful beach.