Archive for September, 2012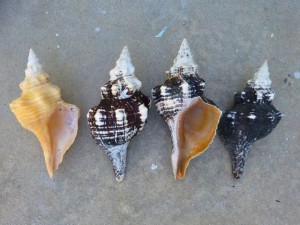 We had a beautiful full moon last night which normally means a good low tide to expose more of the beach to collect more shells. But this past week it only got down to a 0.6 which is fine but not that really low tide that you hear the major shellers getting excited about. Any tide at a 0.0 or a negative low tide like a -0.1 or lower is what we consider a really good low tide. We didn't have that this week…. nor west winds. But you know what? That didn't matter to rookie sheller Sam from Seattle. He didn't know anything about the tides, moon, winds and weather. He did it the old fashioned way… he worked hard inspecting every angle of the beach every day for an entire week. Yes, he found all of those empty HORSE CONCHS in the photo above… and more. He said he found several live ones too but of course put them back. He also found… wait…. remember I told you he was a rookie? Never has he been to Sanibel and he didn't know what this was when he found it…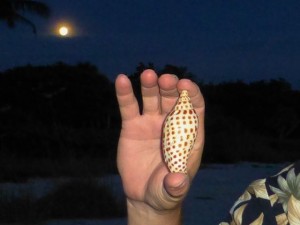 Yes, a JUNONIA. Sam (first time sheller!) found all of those HORSE CONCHS and a JUNONIA by wading in the water chest and neck high and feeling around with his toes since he wasn't finding anything on the beach. He's like Alan The Toe Sheller I talked about just this week! No wonder I haven't been finding anything on the beach. These guys are out in the water chest high digging around with their feet so these shells don't have a chance to wash up on the shore. Clever. Sam, you da shell man!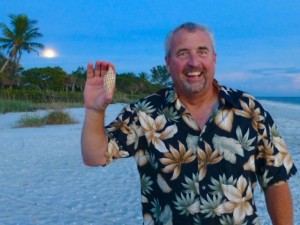 So, Clark and I went to West Gulf Drive today with our friend Jane (Happy Birthday Janie!) to do a little toe-shellin. Nuthin. Zip. Zilch. Nada. Sam probably got everything there was to get in the water for miles along Bowman's beach east to West Gulf Drive… which he soooo deserves! But… there are a lot of miles on the beaches of Sanibel… so if you aren't finding anything on the beach right now, get your piggies in the water and start a little toe-shellin. Congratshellations Sam and Nancy of all of your exshellent finds!!! Thank you so Beth at Blue Dolphin for introducing us. We hope to see you next year since your first time to Sanibel was something to shellebrate.
FYI- I now have 2013 Sanibel Captiva TIDE CHARTS available… CLICK HERE. 
FYI2- If you want to learn how to clean those HORSE CONCHS, CLICK HERE