Archive for Plastered Wentletrap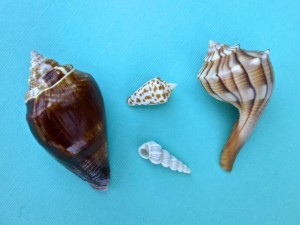 We learned about Donnie The Shellinator (it tickles me every time I write that- heehee) and his PLASTERED WENTLETRAP on my last post, but I didn't have time to mention the other shells he and Alyssa took to show the folks at the Bailey-Matthews Shell Museum…. FREAKS!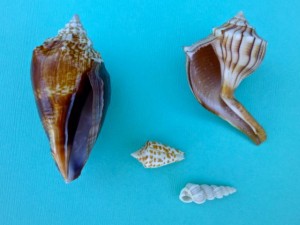 I know your eyes went right to the crooked LIGHTNING WHELK, didn't it? I know, I love a good FREAK shell too but they didn't find these last week, they collected these in the last year but since we got to see the real experts it was the perfect time to show the coolness.  It looks like this WHELK was involved in some sort of trauma that clipped his "tail" (siphonal canal) but he was strong enough to rebuild his shell any way he could… and this time it was sideways.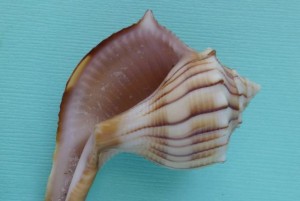 On the left of the photo is a FREAK KNOBLESS FIGHTING CONCH. But "knobless" isn't the only thing that is freaky about it. The aperture is so narrow with an unusual shape and it looks like the shoulder grew back up on the spire of the shell too.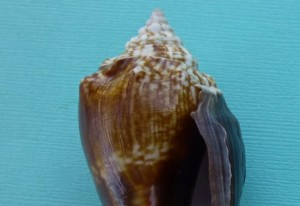 Believe it or not, we don't find many juvenile ALPHABET CONES on our beaches so Donnie donated his to Smokey of the Shell Museum who wants to complete a growth display. Nice, huh? Maybe it be added to a display like this?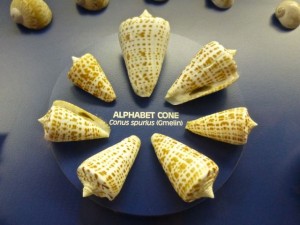 It was such a pleasure to listen to the shell experts tell us what they look for to correctly identify different seashells and how to figure out what makes them FREAKS. I caught a small part of Smokey Payson on video explaining what could have happened to this FREAK LIGHTING WHELK to make his tail grow sideways. Sorry this clip is so fuzzy and unsteady… really, it's not a great video but I really think you'll like to hear Smokey's take on these FREAKS.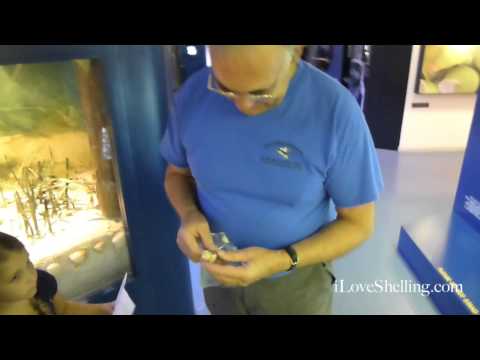 Don't forget to book your reservations to join us on an iLoveShelling ShellingAdventure!
For info, click on the next image…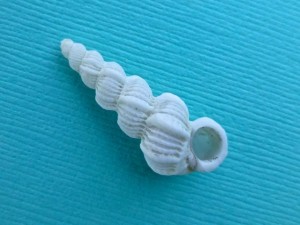 Now you can add this PLASTERED WENTLETRAP to your bucket list of "Find A Rare SWFL Shell". Isn't it beautiful?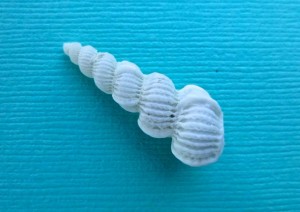 No, I didn't find it. Donnie the Shellinator is back in action! He found this WENTLETRAP at Blind Pass Captiva near the bridge. That's been a hot spot! He knew his WENTLETRAP looked different so he sent me this photo and said it was 1 and 1/8 inches long. That's pretty big for a WENTLETRAP…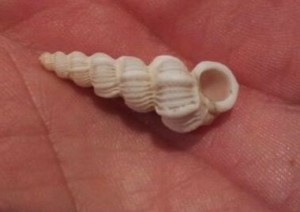 I didn't recognize it as being any of the WENTLTRAPS we've collected or the 5 different WTs I showed on my How To Find Wentletrap Shells On Sanibel post. We realized this was a special shell so a trip to the Bailey-Matthews Shell Museum was in order!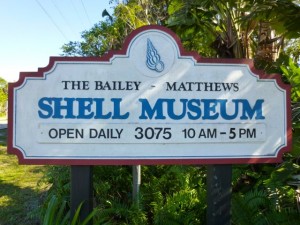 Donnie and his daughter Alyssa (who is an excellent avid sheller on her own right) were fortunate to have Dr. Jose Leal, the director of the shell museum, take a look at his special find.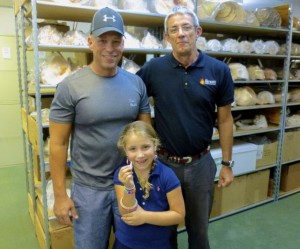 Dr Leal and shell museum volunteer Smokey Payson were very curious to see it!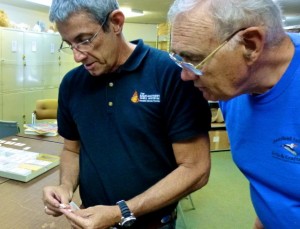 After Dr Leal inspected it through the microscope, Alyssa got to do her own investigation of her dad's WENTLETRAP as well….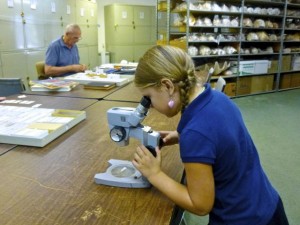 After thorough research…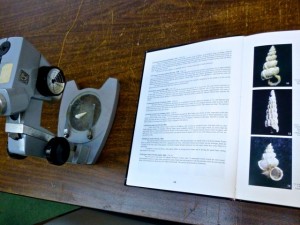 And a meeting of the minds…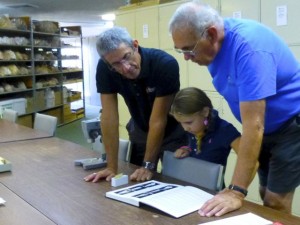 Dr Leal concluded that this WENTLETRAP is an Cirsotrema dalli and will photograph it to add to his list for southwest Florida shells. Yippee!!! Congratulations Donnie!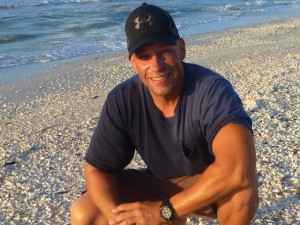 So let's do this… for us "common-shell-name-folks" like me, let's call it the PLASTERED WENTLETRAP as they do HERE. Since Dr Leal said this was an excellent and rare find, we all need to keep our eyes "plastered" for the shape of this one to see if any more show up. I'd love to find one too! And I'd love to find this book as well since this is the book Dr Leal found the correct identification on this shell. So if you have a copy of this laying around your house gathering dust, let me know so I can put it to good use to add to my research "library" (haha) too.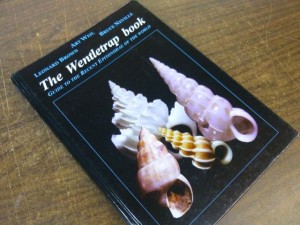 I have a few more unusual shells to show you that Donnie and Alyssa took to the Shell Museum… so stay tuned!
Oh and Hey! Don't forget to book your reservations to join us on an iLoveShelling ShellingAdventure!
For info, click on the next image…