Archive for Sanibel Seashells Surf Video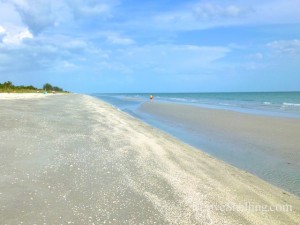 When the sand bars are exposed just off the shore line, it's so much fun to see what you can find in all the nooks and crannies of the sand barely covered by water. On yesterday's post, I mentioned that I walked quite a few beaches for the Super Moon really low tide but I didn't get a chance to show you what the beach looked like near Tarpon Beach (closest public parking is Trost Lot off Tarpon Bay Rd). Each beach looks so different! I took a quick video to show you what I found in the shallow water in between the sand bar and the shoreline…  And you'll see how I found the favorite shell of the day I showed you… the BROAD PAPER COCKLE! As I was walking, I saw the shape and color looked so different from the other fragments so I bent down to see what it was. Aha!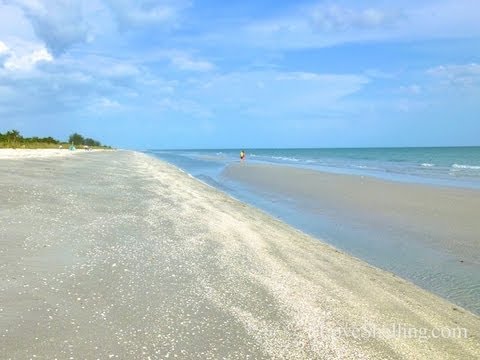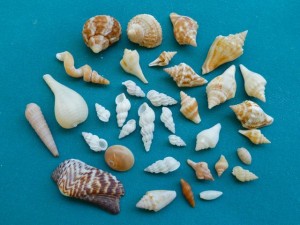 Ten minutes. This is how long it took to find these little minis in the surf line by Fulger Street yesterday evening. Yes, I have an advantage, Super Sheller Clark was with me ….but still, it's a nice little assortment. There is a beautiful sand bar visible at low tide that collects miniatures shells and lots of the big FIGHTING CONCHS, WHELKS and basically the Sanibel Six right in between the bars.
Here's a video to show you exactly where we were, what to look for and how to pick them out…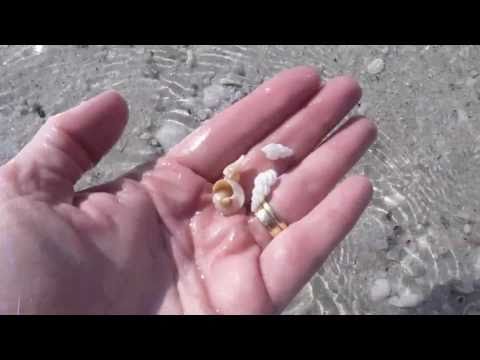 We found other goodies too yesterday …..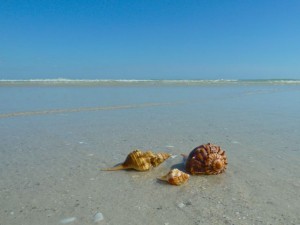 No, I didn't find these three lovelies all together like this but I found all three in the shallow water half way buried within…oh, maybe 20 yards of each other. Then a walked along to find these….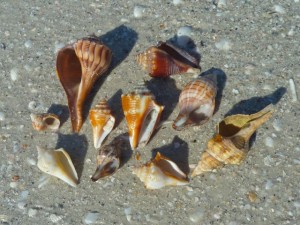 A few other finds along the way…..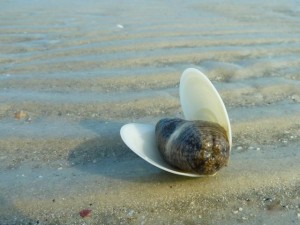 I call this the "sea cucumber sandwich". Ha! I found this SEA CUCUMBER inside a double DOSINIA. A cuke in a blanket!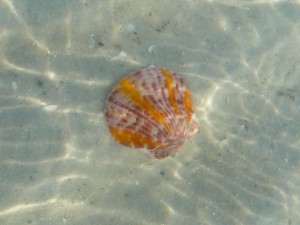 The CALICO SCALLOPS are so colorful!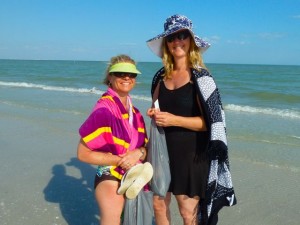 Michelle and Aggie (MI) were collecting DOSINIAS, COCKLES and FIGHTING CONCHS.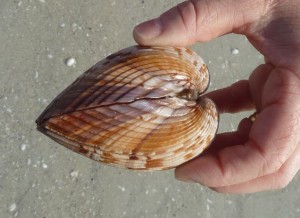 Michelle found a few empty ATLANTIC GIANT COCKLES with both sides together.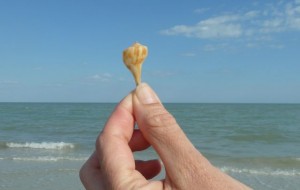 Aggie was especially happy she found this little sweet PEAR WHELK.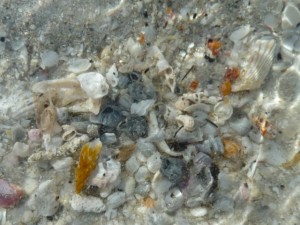 Shallow water wonderland.