Archive for Dolphin video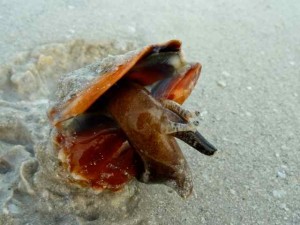 Hundreds of live FIGHTING CONCHS raised out of the sand at Lighthouse Beach yesterday to take a look around as the tide was going out.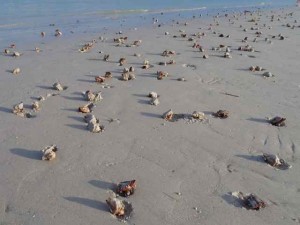 I found one of the FIGHTING CONCHS hanging out in a tidal pool… but wait… I noticed something in the water beside it…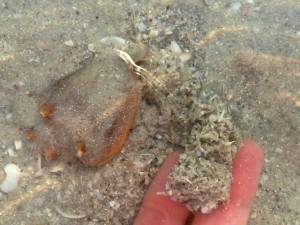 This FLORIDA FIGHTING CONCH was laying EGGS! The eggs are released in a gelatinous egg string then sand adheres to its thick jelly-like sheath.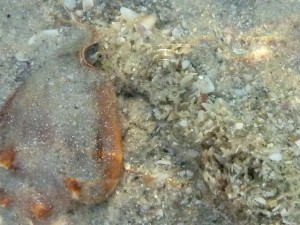 I tried to get close enough to see how the eggs are released without disturbing this busy gal. If you look closely, you can see them shooting out! It's that spout perpendicular to the eye. Go Momma! Raise some more shells!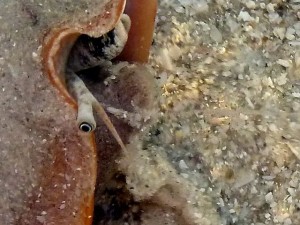 I think this is a FIGHTING CONCH EGG STRING as well…. but why would she lay her eggs without being in the water? I followed the trail from the string to a healthy FIGHTING CONCH about a yard away. Hmmm. Maybe that jelly like sheath protects them when the tide recedes. I dunno, but I hope she raises healthy shells and I sure love to find new things like this!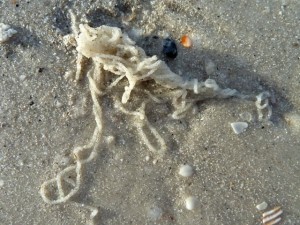 Speaking of "raising shell"…. We met the Shell Raisers (The Shell Raisers on Facebook) at Blind Pass Sanibel! These 2 brothers, Eric and Chris, have been shelling all their lives and they even witnessed a BANDED TULIP laying eggs in their live shell tank.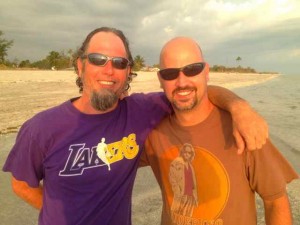 Chris found that huge WHELK but put it back in the water since was occupied by a monster HERMIT CRAB. They were vacationing on Sanibel with their family from the east coast of Florida . Here are Chris and Eric with (from left to right) their mom Cheryl, Sarah, Amelia and Ava.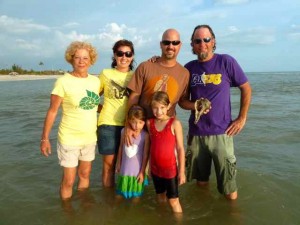 Back at the Sanibel lighthouse, Linda (Pensacola, FL) was busy finding the mini shells…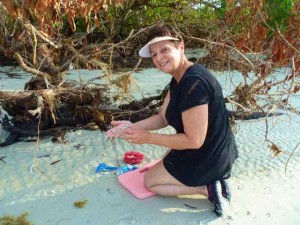 She found a mega WENTLETRAP along with some other sweet minis…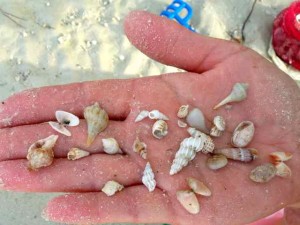 Her best find was this gorgeous MANGROVE PERIWINKLE…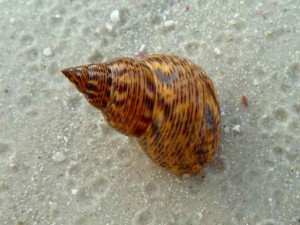 If you look closely you can see a beautiful purple lip…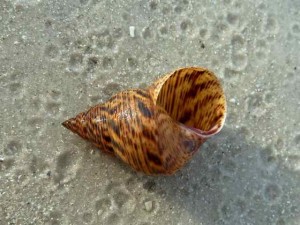 Bobby (Houston TX) finally found what he was looking for…WENTLETRAPS!!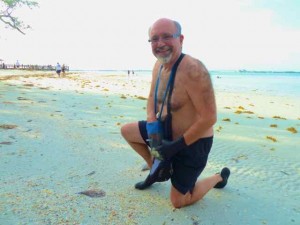 I was asked a question on I Love Shelling Facebook page by Diane F  about a shell I.D. It was that ROSE WOLF SNAIL again! I told y'all I keep forgetting the name of that shell but now that I can remember the name,  I completely forgot to put it on my SEASHELL IDENTIFICATION page. This shell keeps stumping me some how! Thanks Diane for asking about this shell and sending such a beautiful picture of it. I'm going to use photo for my I.D page- Thank you!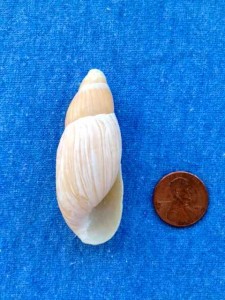 Okay, one more thing… I saw the dolphins playing near the pier last night and I just happened to video them racing along the shoreline in front of an unsuspecting family. This is no fancy video…just a little clip of our own little Sanibel Sea World…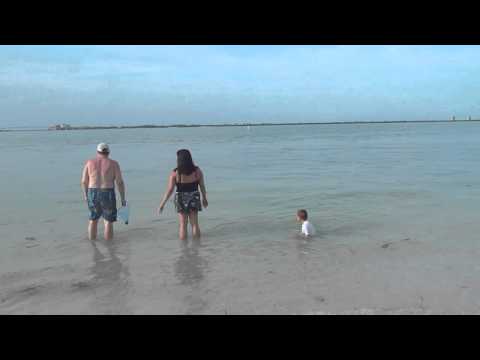 It was a super weekend with a "super moon", super sunrise, super shelling, super dolphins and super sunsets. I am still over the moon (heehee) after seeing that dolphin rushing towards me yesterday morning at sunrise so I've added that video again at the end of this post. Hope you don't mind.
The full  moon was setting over Sanibel leaving a low tide and live shells exposed on the beach. I always love to see live shells at low tide and especially when they are healthy and happy eating a scrumptious meal (sorry Mr Fighting Conch).
I was so amazed at how black this WHELK was devouring the other shell . It looked like a tar blob oozing out of his shell. Okay, let me make sure you know….this is not tar…this is a MOLLUSK!
Look how cute this live PEAR WHELK is! He's doing a great job of making his way to deeper water.
Diana got out on the beach at 5:30 with a flashlight to take advantage of the full moon low tide yesterday morning. Notice the moon setting behind her right next to her ear…. I think she is listening to what the moon has to say. She found lots of FIGHTING CONCHS, a gorgeous double SUNRAY VENUS, BANDED TULIPS and lots of other shells.
Right after I took this picture and admired the moon again, I turned around to ogle at the sunrise view again and that's when we both saw the dolphin splashing in what looked like golden water. I lost track of exactly where I was since I followed them along the beach a little ways but it was somewhere between Holiday Inn and Sundial.
It's so much fun to see Dolphin so close to the beach whether they are feeding or playing. They corral the little fish up to the beach so they can easily pick out the ones that want to enjoy for breakfast. I happen to think they have a great time putting on a show as well.
Since there were two low tides yesterday, I went back to the beach in the evening….
Todd (PA) was searching for shells in the low tide surf while his girlfriend Courtney was on the beach finding goodies.
She found a beautifully colored PEAR WHELK, CANDY (JUVENILE HORSE CONCH), TURKEY WING, LIGHTNING WHELK, NUTMEG, BANDED TULIP and a little tiny OLIVE.
So along with all of the  other super-ness of the weekend, you can see I met some super shellers.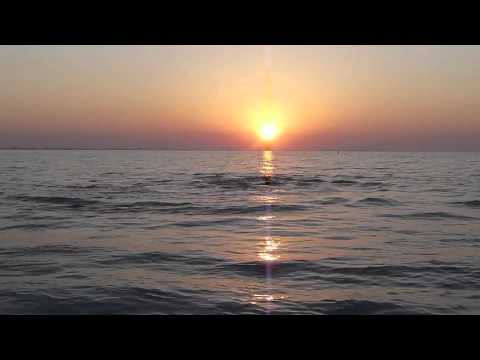 I've talked about those crazy DOLPHINS at the lighthouse beach on Sanibel but I finally got some good video of them speeding through the water to catch their meal of tiny fish (ok, I'm assuming "tiny fish" since the water wasn't as clear as it was last week). At first they looked like sharks with only their dorsal fin showing above water but no doubt, they are dolphins. You'll see how close they got to Rob visiting from New Hampshire. He got great pictures of his family just several feet from a dolphin. We were out there filming this about 7pm last night at a very low tide and full moon.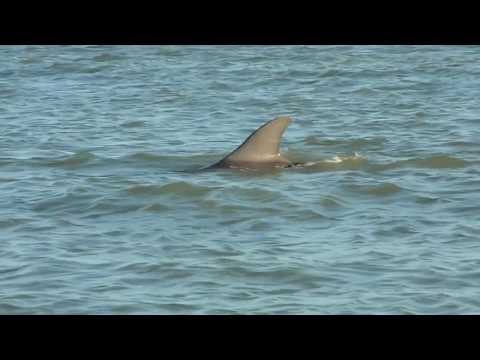 This is a thank you for my friend Lisa who is ccrrraaazy about dolphins…..she just signed up to subscribe to my posts through an email reminder . If you also want to have an email sent to you when I put up a new post, click on the link on the top right of this page or here.