Posted by pam on Apr 22, 2010 in Cownose Ray Video, Cownose Rays, Lighthouse, Video | 18 comments
You won't believe how close these COWNOSE RAYS (they aren't manta rays- oops!) got to me and the other shellers at the lighthouse! I hope this gives you some of the pleasure that we all had since we were lucky enough to have seen this in person.
update- 4-22-10 I just got news that these are COWNOSE RAYS not MANTA RAYS. Thanks Dave!
[youtube]http://www.youtube.com/watch?v=LcpARgVsmxA[/youtube]
Read More
iLoveShelling
Our Sponsors
Search
Follow the tracks in the sand
Email Newsletter
Weather
Wentletrap Trapping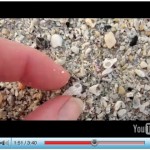 Recent Comments
Archives
Archives
Categories
Useful Information