Archive for Heart Urchin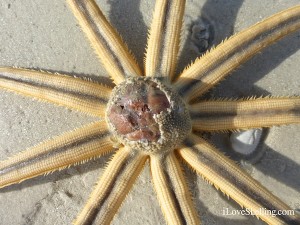 This MILLEPEDE SEA STAR ate a whole POTATO URCHIN that was entirely too big for his belly so he split himself wide open. Are you crazy, dude?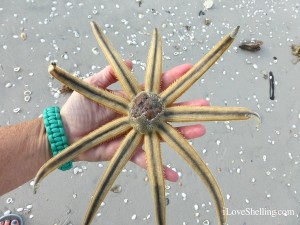 After strong west winds yesterday, Lighthouse Beach on Sanibel had some very cool BEACH BLING washing up this morning but this takes the cake… the potato cake, that is. heehee
I could tell that the STARFISH was very much alive since his little tube feet and spines on the underside were sticking out and moving around to tell me he wanted to go back into the water so he could finish this shellicious breakfast. (Of course I understood him- I talk Starfish) In the next photo, the hole in the middle of his body is his mouth so, as you can see, the POTATO URCHIN (or HEART URCHIN) that he ate is barely visible from this side.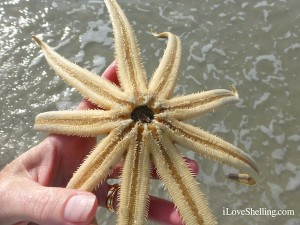 But looking at this view…. Holy Cowrie! The whole URCHIN is there but his belly wasn't big enough.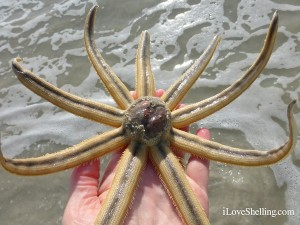 In my humble opinion, it seems to reason that since SEA STARS can regrow arms if they break off, I'm assuming once this guy finishes his meal he will be able to repair his torn body and live happily ever after. So I put him back in the Gulf to digest this massive meal and hopefully live another day.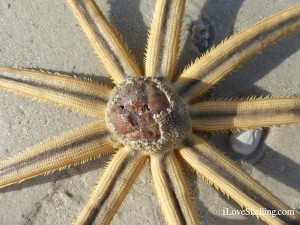 Check out this short video I took so you can see the whole dang thing!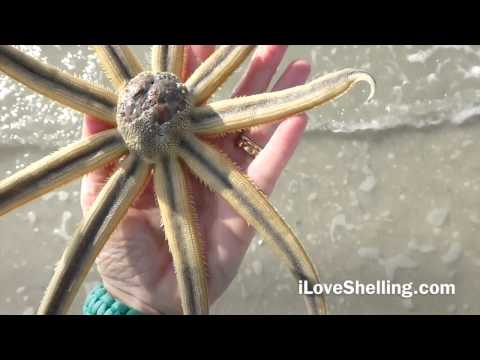 But the funnier thing is…. our friends Dick and Mary had just told us that they found a dead MILLIPEDE STARFISH on the beach that had swallowed half a bivalve. Oh my! They just sent me these iPhone photos so I could share them with you too. One valve of the ALTERNATE TELLIN bivalve shell is inside him and the other is hanging out of his mouth on the underside. This is so wild!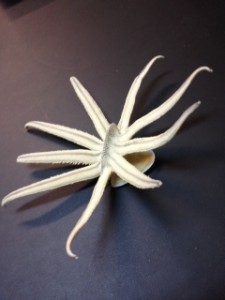 This is the other side that you can see that one valve is still hanging out. Crazy! Unfortunately, this SEA STAR wasn't the brightest bulb on the tree so neither guy made it out alive from this meal.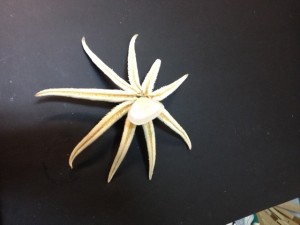 PS- I've interchanged the words "SEA STAR" and "STARFISH" a few times throughout this post. I know "SEA STAR" (I intended these to be said aloud with air quotes instead of real " " so go ahead, air quote away!) is the more socially acceptable way to say "STARFISH" these days but I'm stuck with calling them "STARFISH" since I grew up calling them that. Just so you know. :\
Along with seashells and sealife, palm trees are even washing up on the beaches of Sanibel and Captiva.
I heard from blog friend Marcy that there were hundreds of SEA BISCUITS washing up on the east end of Sanibel. What? I've never seen SEA BISCUITS (they look like fat and puffy SAND DOLLARS) on this coast before, only in the upper Florida Keys. I ran down there and found these….
Tons of HEART URCHINS! This looks like a bunch of potatoes that just spilled out of a sack, right? That's why they are also called SEA POTATOES. I've never seen so many HEART URCHINS washed up like this… or SEA URCHINS.
I took this next picture because there were so many unusual sea critters all together in one place.
Let's start with that huge STONE CRAB claw that's laying on a PARCHMENT WORM, then clockwise is a PEANUT WORM (in the middle of the picture), a HEART URCHIN, HORSESHOE CRAB, a couple of SEA SPONGES, a PEN SHELL then the black blob is SEA PORK (not an oil tar ball!!!)
Who knows what tomorrow will bring.
This is a rare photo.  I can't help it- I'm just not a morning gal so I rarely get to the beach to see sunrise. I know, I'm not your usual sheller but this isn't your usual shelling day either. Colder temperatures (low fifties this morning), high winds, new moon and very low tide make for excellent shelling so I couldn't resist being an early bird (ok, the time change helped). So check out all of the early bird specials!
Molly and Jill had to share a bucket since they were finding so many fantastic shells. I was so tickled that Molly told me that she follows my blog (!) and before they went to the lighthouse yesterday, she made Jill watch my WENTLETRAP VIDEO so she would know what to look for. She called it "Finding Wentletraps 101″.  😉
Another blog buddy, Leisa! She is another shelling sister that has contributed to iLoveShelling with her comments. She was filling up her bucket with TULIPS (BANDED and TRUE), LIGHTNING WHELKS, OLIVES, CONCHS and of course this shellicious ALPHABET CONE.
This was the 4th huge live TRUE TULIP I saw this weekend. Leisa found one too.
I met a boy named Dale that showed me this PUFFER FISH. Thank you Mr. Puffer Fish for the pretty pose for my photo. Oh, and Happy Birthday, Dale!
Look how long these arms are on this SERPENT STARFISH! Carol showed this starfish to me and also gave me one of her California SAND DOLLARS that she packages and gives away while she is in Sanibel. Thank you, Carol, I love it!