Archive for Hurricane Sandy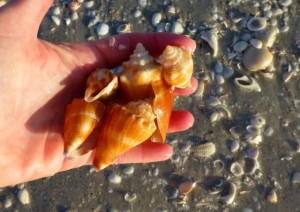 Hurricane Sandy is still wreaking havoc all along the east coast of the United States so I feel so bad getting excited about some of the shells that we are finding along our shores of Sanibel because of Sandy's northwest winds. But… we all need a little good news too in times like this… right? So if you still have power in your home, I hope we can spread a little Florida sunshine and share our treasures with you to hopefully make you smile at least once today.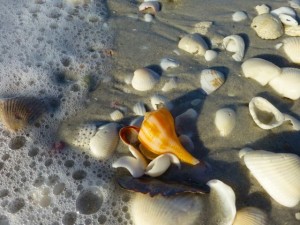 As I picked up this SHARK'S EYE in the next photo, I realized I snagged it up so quickly because it was in such great condition then realized it would be a good idea to let you know what it looked like when I spotted it so you would know what to look for if it was upside down like it was when I found it.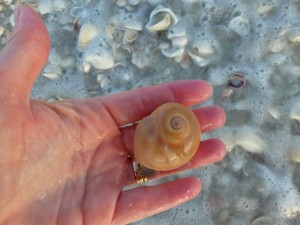 See? It is so different looking if it is laying in the sand with the aperture side up.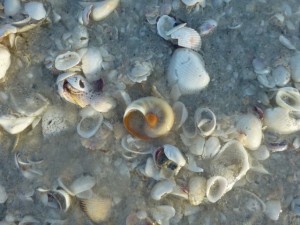 There are still oodles of PEN SHELLS lining the beach but I only found a few other shells hiding among them. Down by the water at low tide, there were FIGHTING CONCHS were everywhere!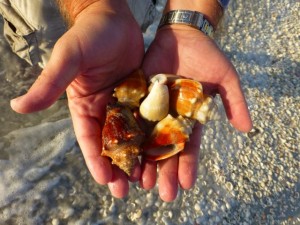 I met Eric from Ft Lauderdale scoping out the best spot on the beach scooping up handfuls of shells. Happy birthday Eric! You got plenty of gifts from the sea!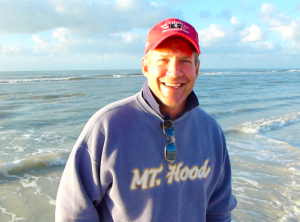 I found other fabulous treasures besides seashells at Gulf Side City Park as well… like Shelling Sister Judy from PA!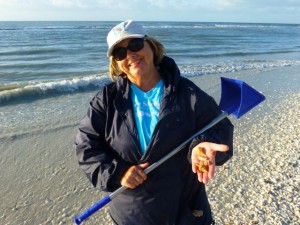 She immediately showed me some of the goodies she had found around the same spot…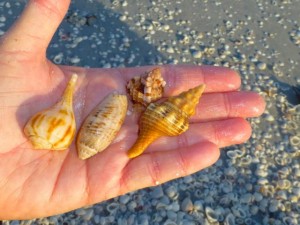 Then Cheryl showed me this big honkin LIGHTHING WHELK she had found!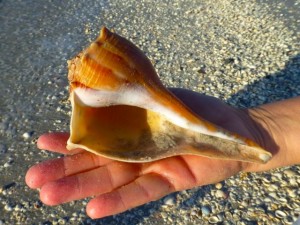 After I talked with Cheryl about her LIGHTNING WHELK, she told me that I had taken a photo of the backs of her with her sister at Blind Pass watching sunset in June 2011. I remembered that photo! They looked so cute sitting on the beach because all I could see was their backs and matching straw hats while they watched the  sun setting right in front of them. It's the 15th photo down on my post "Sunset, Seashells and Shelling Sisters"… CLICK HERE to see it. Then you will know why I took their photo this way (since they didn't want me to take their faces… silly girls!) Here is Cheryl and her sister Brenda holding their WHELKS…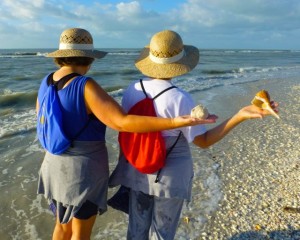 Joyce and her daughter Kristin had just gotten started filling their shell bags but were so happy to already find some goodies.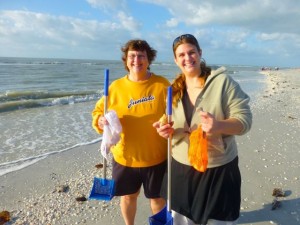 There are some good shells to be found at Gulf Side City Park… BUT, it doesn't even compare to the shells we found after Hurricane Isaac, Tropical Storm Debby or any of the other storms that brought high northwest winds like this. Blind Pass still is empty of shells- weird. I didn't find too many good shells on any other beach other than this one… Mother Nature is definitely fickle. She likes to change the rules to stay in control so we don't ever think we are smarter than she is. You've got my respect , Mother Nature!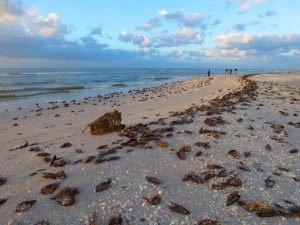 PS- I did take a few minutes of video so I'll try to get that downloaded ASAP for you to see on my next post.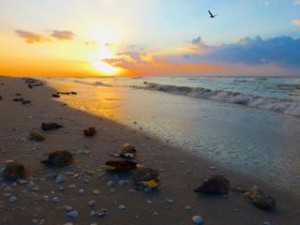 Our Sanibel and Captiva beaches were pounded by 4 to 6 foot waves for three days because of high northwest winds from Hurricane Sandy so I assumed we would have lots of shells at Blind Pass Sunday morning at low tide. I was wrong… so I kept moving.
Gulf Side City Park showed promise!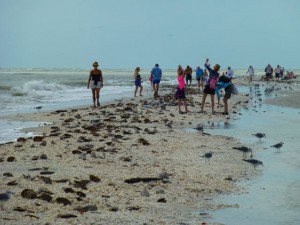 It's always a good sign to see PEN SHELLS! They get washed up first in a good storm so you know that there are better collectable shells on the way. I was lucky to see a SEA WHIP caught in this group of PEN SHELLS. I love these purple ones.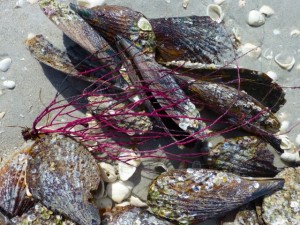 After walking east only 1/4 mile, we found a nice shell pile!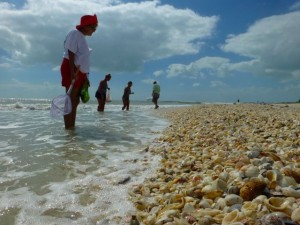 My first find… a beautiful dark WORMIE!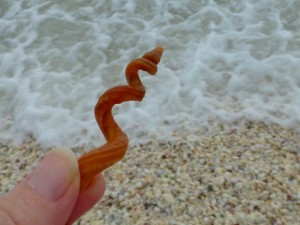 And a candy corn for Halloween. See it trying to hide?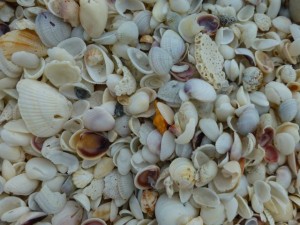 Then I found a TULIP, WHELK and CONCH…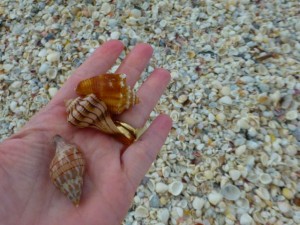 I saw Kim from Michigan find a gorgeous TRUE TULIP rolling in the surf.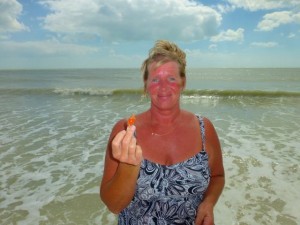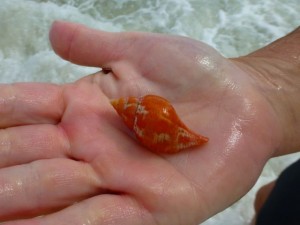 Are you ready to go shelling? Okay, then… Let's go CYBER SHELLING! Click on the next photo to enlarge this random photo I took of the shell pile. Notice how many beautiful SCALLOPS there are…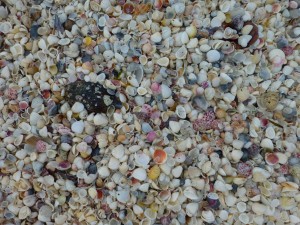 I think today will be even better but I'll never know until I get there. As we all know, the beach changes every single day but I think Blind Pass will take another day to load up with shells so I'm headed back to one of Sanibel's mid island beaches…. like Gulf Side City Park again.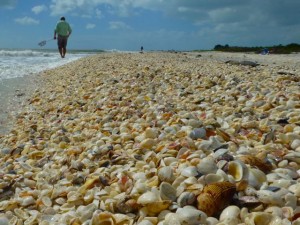 Hurricane Sandy may be bringing us a few new shells to get excited about but we are very worried about all of you and our families that are up north bracing for Sandy and the "Super Storm" (as they are calling it). Please be safe!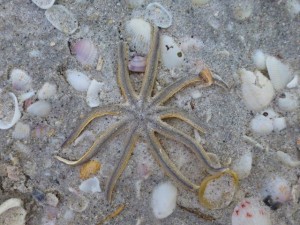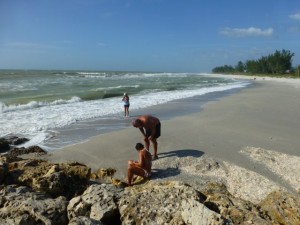 Hurricane Sandy ripped through Jamaica, Cuba, Bahamas and is giving the east coast of the United States a huge scare. All we can do here on the west coast of Florida is hope that she doesn't do any major harm to anybody else in her path… and wait for her north west winds to bring us shells. I took a short video of the winds from yesterday at Blind Pass Captiva which looks just like this today so far as well.
Ohhhhhh. For 2 days, we've had strong northwest winds up to 30mph so I can't wait to see what Sandy will bring us! She's appropriately named because all she's brought us so far is … sand… but I'm hoping tomorrow she will give us the seashell goods we've been waiting for!