Archive for Hurricane Isaac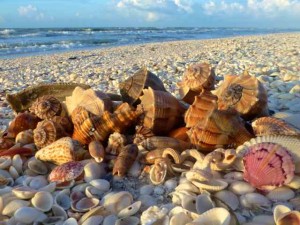 Now this is what shelling after a storm should look like! Woop! Woop! Look at those LIGHTNING WHELKS and that HORSE CONCH! But hold on… I hate to get you too excited. So before you start envisioning piles of shells washed up by the load full in the aftermath of Hurricane Isaac already, the shells really haven't made it on the beach yet. They are still in the water. That's how our buddy Donnie found all of these shells this morning. By the time I got to the Sanibel Lighthouse Beach at sunrise, Donnie had already scooped the goods. See? All by himself in the water with no other competition. LOL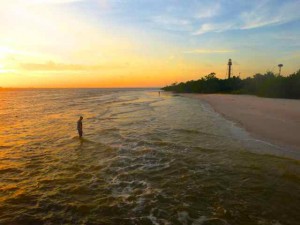 There were a few FIGHTING CONCHS and usual suspects on the beach closer to the lighthouse point but not like Donnie's finds.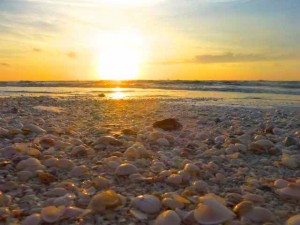 So before I get to the beach again this afternoon when the tide starts to recede, I thought I'd go ahead and post these awesome photos so you will know what to expect when these beauties hit the shore. Need help identifying any of these shells? Click on my SEASHELL IDENTIFICATION page…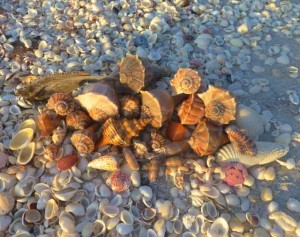 Gorgeous shells Donnie! Should I call you Awesome Sheller Donnie since "Super Sheller" is already taken? Or King Of The Dawn Donnie? Donnie The Cone King (He's found over 140 since January)? Never mind, I got it!… Donnie, The Shell Dominator! LOL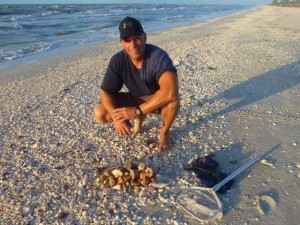 I just heard that Blind Pass Captiva had some shells churning in the surf so it's hard to decide where I'm gonna head first in an hour or so. Acckkk! So many places to shell and not enough time! If I find major shell piles forming, I'll will send a quick TWEET or post on FACEBOOK then post again here ASAP. Happy Shelling!
Oh wait! I wanted to show you that in case you couldn't figure out what that thing is in the top right corner… It's a sea turtle shell bone. I found a piece yesterday too but mine doesn't have that bone piece running through it. BLING!