Archive for Lined Sea Star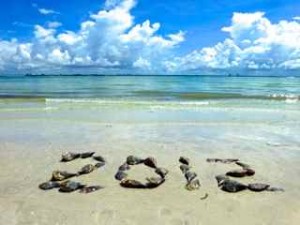 This says it all…. 2012 is a gorgeous year on Sanibel. Sanibel's Lighthouse Beach was no exception yesterday where I met Melissa using PEN SHELLS to make this "sign of the times" (heehee). Her kids Ricki and Mack made perfect models to show off her seashell art.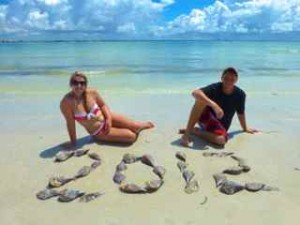 The beach and parking lots have made a full recovery from Tropical Storm Debby last month. Even the STARFISH are recovering! Days after TS Debby, we saw hundreds of live STARFISH washed up on the beach with most of their arms broken off. See how resilient they are? This one had 4 out of 5 arms broken off (I'm sure from the storm) and all 4 are growing back now trying to match that original long arm on the right of my hand. Cool, huh?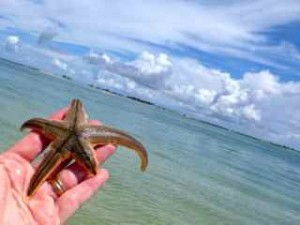 I also saw a live SEA HARE (or SEA SLUG)! It's always a treat to see these graceful creatures swimming along our shoreline.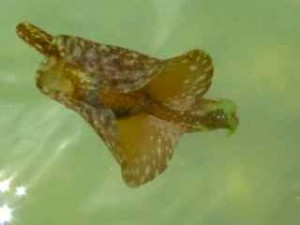 I have video of a larger one 2 years ago which shows the purple ink shooting out (CLICK HERE), but this SEA SLUG is much smaller and has little green "horns". Here's another quick vid taken in knee deep water near the Sanibel pier.
PS- Oh, and don't mind that AHH-OOO-GAA noise at the end. One of my best buddies was calling me on my cell phone… that's her ring tone. It makes me laugh every time! LOL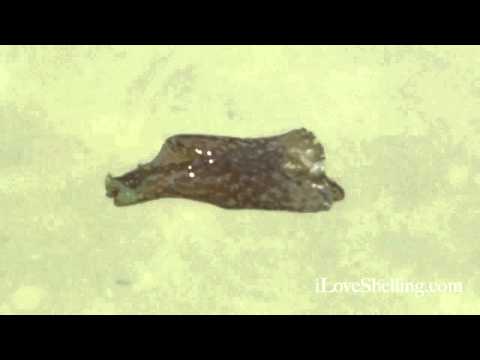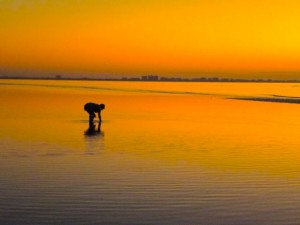 Walking out on the beach before sunrise is a special feeling. It has an extra special feeling when it is a very low tide of -1.0 AND it's Christmas weekend.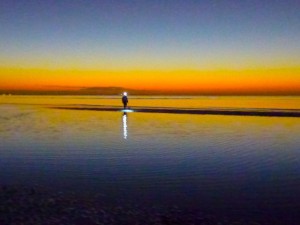 I thought my eyes hadn't focused when I took this next photo of Clark. Whatever happened to it (too early in the morning?)… I'm so glad! It came out like a beautiful impressionist painting…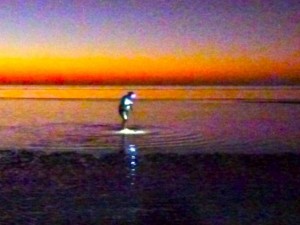 As the sun was rising near the Sanibel lighthouse, the sky turned golden…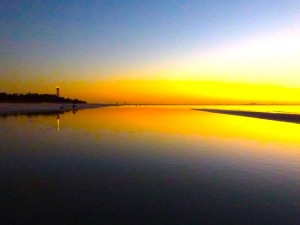 We saw lots of live shells and washed up sea life like this poor LINED STARFISH that took a beating but wouldn't give up despite losing all of its arms. It survived al of the elements and started growing each of its arms back. What a survivor!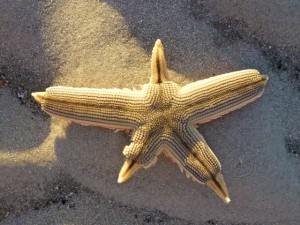 And you thought all SEA PORK was ugly, right? Well look again! This one looks just like an orange with its bright orange peel.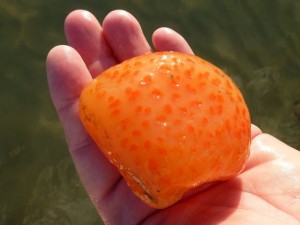 My best find was this rich in color nice sized TRUE TULIP…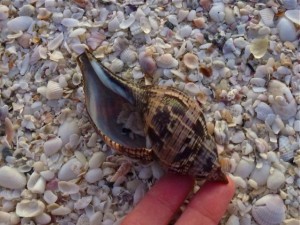 Clark had the find of the day with this WAY cool tiny shell I have never identified before. It's a COFFEE BEAN TRIVIA…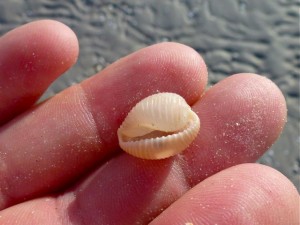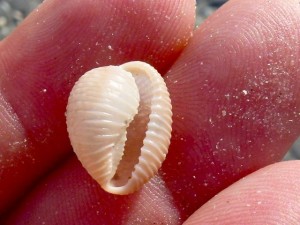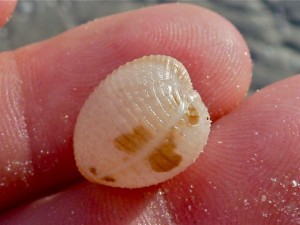 We both tried to rub off those brown smudges…HA! Silly us, those brown spots are part of the shell! That would be like trying to rub off the spots off a JUNONIA or SCOTCH BONNET. Silly!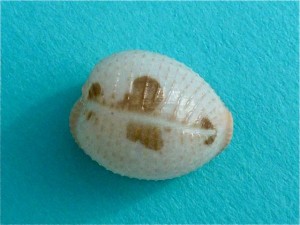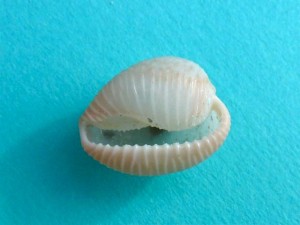 Hmmmm…. whaddaya think? Look like coffee beans to you?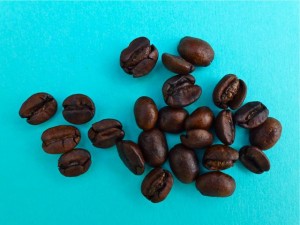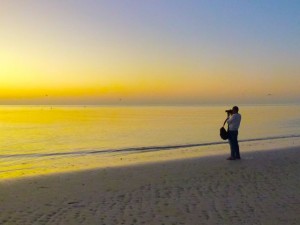 Or…. go little mini HERMIT CRABS! I caught a speedy LINED STARFISH on video at the lighthouse beach last week at low tide making use of the hundreds of legs he has. Do you think Mr. SEA STAR was running after these mini HERMIT CRABS to have a nice little appetizer? They are carnivores so I could have interrupted dinner time- oops!