Archive for Chalky Buttercup Lucine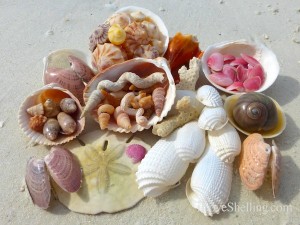 Even though we've had good luck finding shells on Sanibel in the last week, it's fun to visit other Southwest Florida beaches to see what different treasures are washing up. Since we haven't taken our boat out in lawd knows how long, it was time to dust the Shellfish off and get out on the water.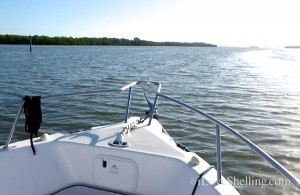 With the holiday hustle and bustle in high gear, Clark and I wanted a day to relax, float about and shell to our hearts content without a schedule.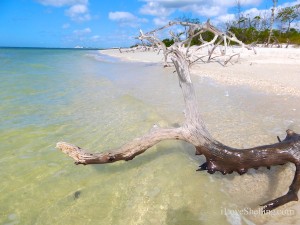 It was an exshellent day for boating and beach combing near Lovers Key.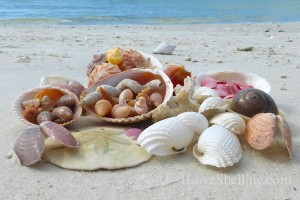 Here's a closer look at the sweet shells we found. I'm always so happy when we find ROSE PETAL TELLINS! They are just …. well… pink and happy but we don't find them as often on the beaches of Sanibel. And you know it's a good day when we find WORMIES… oh yaya. So of course these are all my faves but the SHARKS EYE is a standout as well as that very bright yellowish PEAR WHELK on the top. You may have noticed that the SHARK'S EYE is nesting in a BUTTERCUP LUCINE, but did you notice the bivalve that the ROSE PETAL TELLINS are nesting in? It's a CHALKY BUTTERCUP LUCINE. It's a little hard to tell how much bigger it is than the "regular" BUTTERCUP LUCINE but you can see how much bigger it is if you look back at the first photo. It's always fun to find shells we dont see that often on Sanibel… even if its a not-so-collectable bivalve like the beautiful ANGEL WINGS.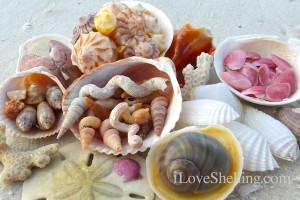 On our boat ride back to the marina, we spotted two DOLPHINS jumping out of the water in the wake of a pretty big boat. Weeeeee! I can't believe I got a picture of them!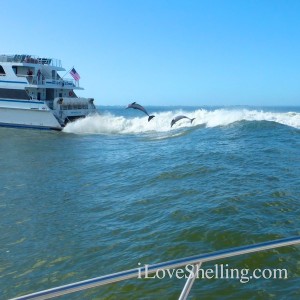 Sending sunshine and seashells to you all.  Errrr… well, Carolina Girl Karen… that would be "Cyber sunshine and virtual seashells". LOL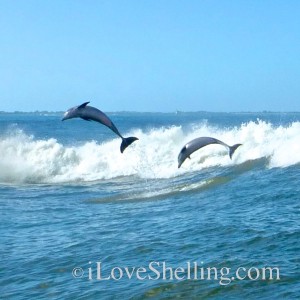 Join us for a Shelling Adventure!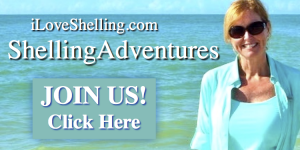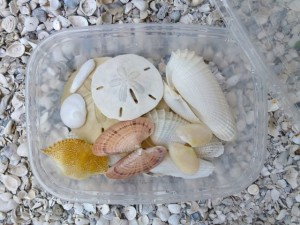 How many times have you found a perfect SAND DOLLAR, a cute little crab shell or a SUNRAY VENUS  still with both side attached… only to find them broken to pieces by the time you get home to show off your gems? Geez, I don't have enough fingers and toes to count the times I've done it. Fortunatley, in the last few years I miraculously grew more brain cells (thank goodness) so now I throw tubs and tubes in my tote to protect those fragile shells.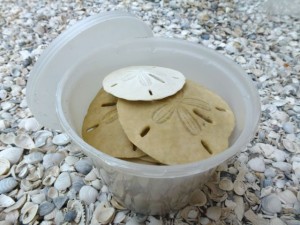 You remember all of the SAND DOLLARS I found snorkeling over the weekend? As soon as I got back to our boat, I put them in plastic tubs I've saved (the packaging for our butter, cottage cheese and lunch meat) to keep them from getting crushed in my bag. Recycling at its best! My favorite container is the tube from the Crystal Light packaging. I save this one for long fragile shells… like WORMIES but unfortunately I didn't find any WORM SHELLS on our boat trip this time so I used this container  keep my biggest ANGEL WING safe and sound…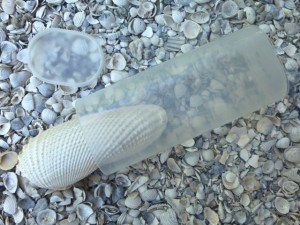 Okay, so I have to show you my newest shell bag that is helping me keep my fragile shells safe until I can even get the to my containers for travel. This called a "shower tote" I found at Bed Bath and Beyond that is a rubberized mesh with tons of outside pockets. I'm loving this thing! All the non-fragiles go in the center like a regular shell bucket or bag then the fragiles get stashed in the outside pockets. The SAND DOLLARS are a perfect fit for the wider pockets and the other pockets keep small or thin shells from getting broken by the OLIVE and WHELKS being thrown on top of them. Watch out MacGyver!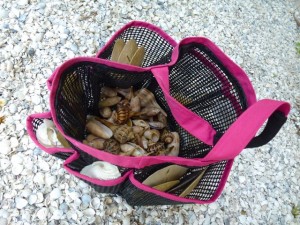 In one of the smaller pockets, I threw a couple of bivalves that I found on Cayo Costa that I don't often find on Sanibel…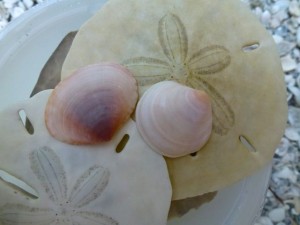 This PURPLISH SEMELE is not a rare shell, but this one seemed particularly deep purple on the interior. Okay, I should have put some mineral oil on it to keep the color bright… but I didn't. ;( I hope you can still see the deep color!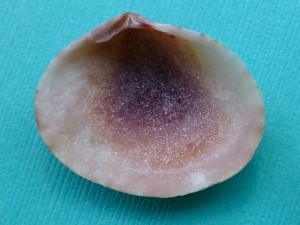 Here's the exterior…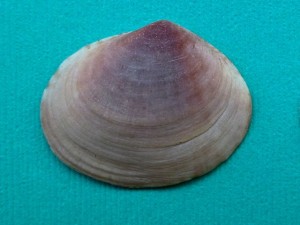 I also found her sister shell… the WHITE ATLANTIC SEMELE…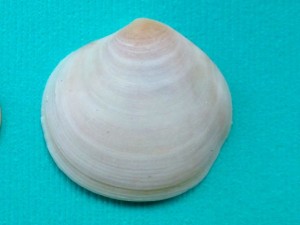 I'm sure both of these would be great craft shells…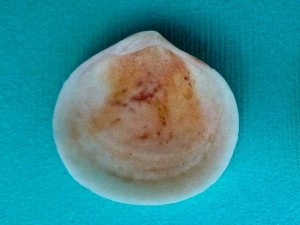 I also found several CHALKY BUTTERCUP LUCINES on Cayo Costa. I never find these on Sanibel! These are the big sisters of the BUTTERCUP LUCINES (on top row of the next photo) which we do find on Sanibel frequently … and one of Clark's faves.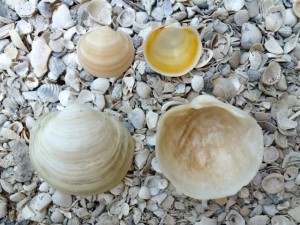 After shelling all day, we stored all of our treasures safely in our containers then Captain Clark got behind the wheel as I was going to pull up the anchor… and looky who was giving us a great send off! A MANATEE!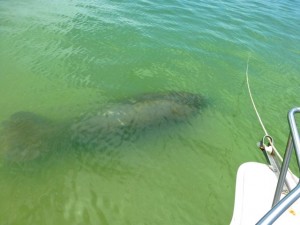 Darn! I wished I still had my snorkel gear on with my camera to film this underwater but any way we get to see them is a really treat.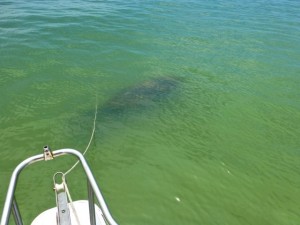 We always get excited when we see a MANATEE so not only did we see this one, we saw a whole group of them on the way home. It was thrilling! This time I got a very shaky video. Yes, shaky because I was so excited and because I had to react really quickly when I saw them surface. Clark always does a great job of watching out for them and idling the engine when they get close but we've never had them follow the boat like this before. It was crazy! And I cant help but squeal or ohhh and ahhh when they surface so … I'm apologizing now. I had to edit some of it out because my voice gets so weird and high and sqeaky… it's embarrassing. LOL  Enjoy!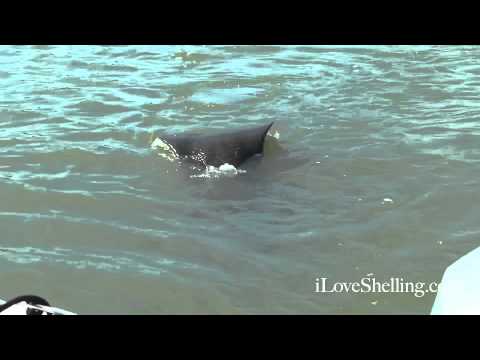 PS- If you'd like to take a boat ride out to Cayo Costa for some shelling and sight seeing..  CLICK HERE
For more tips on traveling with seashells, click on the links below…
http://www.iloveshelling.com/blog/2013/02/02/shelling-trip-adventure-to-turks-and-caicos/
http://www.iloveshelling.com/blog/2014/08/01/packing-breakable-seashells-safely-for-traveling/
http://www.iloveshelling.com/blog/2015/02/17/how-to-pack-fragile-sea-urchins-and-shells-in-your-luggage/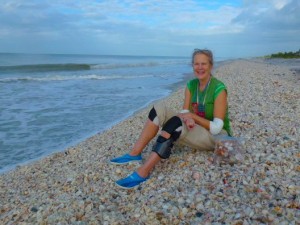 I first met Susan (NY) on this gigantic shell pile a couple of weeks ago about a mile east of Bowman's Beach. If you have ever read some of the comments here, you might recognize the commenter "Susan H". That's her! She loves everything about seashells. She loves to collect, study, research, admire and talk about shells. IMHO (in my humble opinion) she's a Seashell Brainiac. She even donates her time to share her knowledge of gastropods and bivalves to make Wikipedia what it is now. She's a Wikipedian with over 60,000 edits! The amazing thing was, is that she offered to sort and organize my bivalves. I thought to myself "Oh, Honey, you have no idea what you just got yourself into!"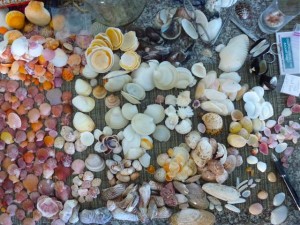 You might know that I've only recently acquired the taste for collecting bivalves other than ANGEL WINGS and a select few. So just this past year when I saw a bivalve that I never noticed before, I'd pick it up and throw it in the "bivalve jar" and lump them all together. Before I knew it, I had lots of those jars but no time to sort them or to find out what I had. Susan persuaded me to bring those jars over to her cottage at Blue Dolphin to sort and identify anything I had questions about.
She told me to bring paper, scissors, ziplock bags and a pencil to organize and ID. She cut the paper in little squares then got to work quickly sorting. She also had told me to bring my new bivalve book (her fave too) Seashells of Southern Florida by Paula Mikkelsen & Rudiger Bieler that I showed you in yesterday's post – the gift from MurexKen and MurexAlice!.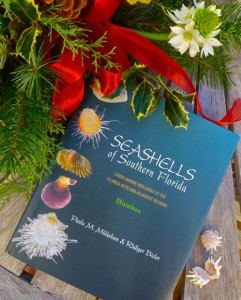 Now this is where the story gets really COOL….  Susan told me that she has been a volunteer at the American Museum of Natural History in New York since 2000. During the time when Paula Mikkelsen (one of the authors of my new bivalve book) was still at the Museum, she worked directly for her for about 9 months, and sorted shells for her. She met Rudiger (the other author) on his visits to the Museum working with Paula. Susan is actually listed (with her last name misspelled as "Hewett" instead of "Hewitt") in the acknowledgements section of that book on page 410. To me, that's so cool- I was having a ball!!!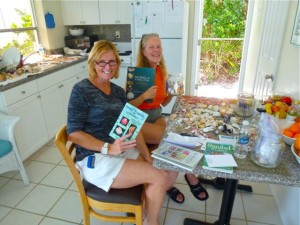 Most of the bivalves I had in the jars were ROUGH SCALLOPS, CALICO SCALLOPS, BUTTERCUP LUCINES, COMMON JINGLES and the other shells you saw in the second photo. I was so happy when I heard her voice get a little excited when she found something other than the common shells. "Oh look, here's a BEAUTIFUL CRASSATELLA!"
She didn't mind at all this BROAD PAPER COCKLE had a chip in it. She was still excited to see it.
I don't pick up many broken shells any more but when I find shells that I don't normally see on the beaches of Sanibel, I'm so glad that now I pick them up. This is a CANCELLATE SEMELE…
This one isn't very attractive but now I know it's an ATLANTIC SEMELE…
Clark always laughs at me when I pick up a shell like this CHALKY BUTTERCUP LUCINE. It's just big and white and not very pretty but I thought it looked like a gigantic BUTTERCUP that lost its yellow inside. I was sort of right…it's the same family! Susan said the same thing "Oh look! A CHALKY BUTTERCUP! I found one of these the other day too!". LOL Really? Someone else who gets excited about a CHALKY BUTTERCUP?
I have more identifications to show you but I have to wait until after Christmas. I couldn't wait to share some it and to introduce you to Susan. It was like another fabulous Christmas present to have a "pro" like her help sort and identify my jumbled shells while we laughed and giggled. Thank you so much Susan!!
Happy, Happy Holidays to all of you!!
PS- I can't tell you how many times I have linked a post to WIKIPEDIA to provide more information about a  certain subject. I looked back on several of them, and sure enough, Susan had done some editing on the information (her user name is Invertzoo).  After learning how many volunteers it takes to make that sight possible, I made a donation. If you ever find Wikipedia useful and want to make a donation or add content that you know about,  you can click on this logo…