Archive for Buttercup Lucine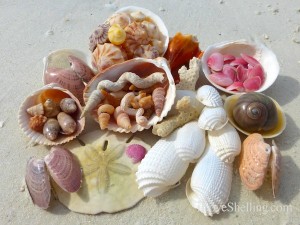 Even though we've had good luck finding shells on Sanibel in the last week, it's fun to visit other Southwest Florida beaches to see what different treasures are washing up. Since we haven't taken our boat out in lawd knows how long, it was time to dust the Shellfish off and get out on the water.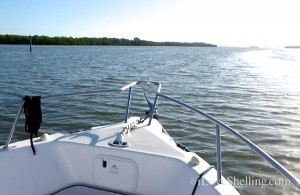 With the holiday hustle and bustle in high gear, Clark and I wanted a day to relax, float about and shell to our hearts content without a schedule.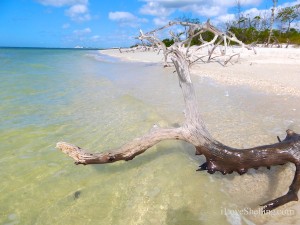 It was an exshellent day for boating and beach combing on Lovers Key.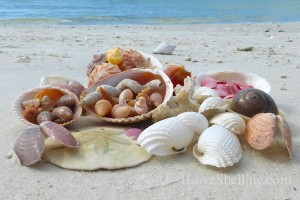 Here's a closer look at the sweet shells we found. I'm always so happy when we find ROSE PETAL TELLINS! They are just …. well… pink and happy but we don't find them as often on the beaches of Sanibel. And you know it's a good day when we find WORMIES… oh yaya. So of course these are all my faves but the SHARKS EYE is a standout as well as that very bright yellowish PEAR WHELK on the top. You may have noticed that the SHARK'S EYE is nesting in a BUTTERCUP LUCINE, but did you notice the bivalve that the ROSE PETAL TELLINS are nesting in? It's a CHALKY BUTTERCUP LUCINE. It's a little hard to tell how much bigger it is than the "regular" BUTTERCUP LUCINE but you can see how much bigger it is if you look back at the first photo. It's always fun to find shells we dont see that often on Sanibel… even if its a not-so-collectable bivalve like the beautiful ANGEL WINGS.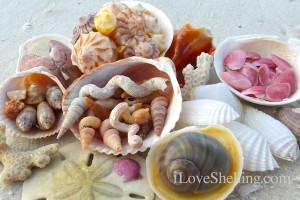 On our boat ride back to the marina, we spotted two DOLPHINS jumping out of the water in the wake of a pretty big boat. Weeeeee! I can't believe I got a picture of them!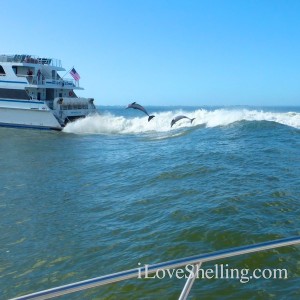 Sending sunshine and seashells to you all.  Errrr… well, Carolina Girl Karen… that would be "Cyber sunshine and virtual seashells". LOL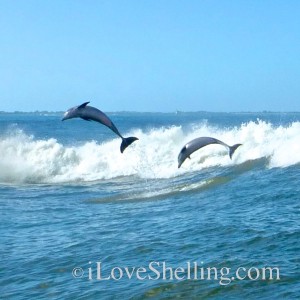 Join us for a Shelling Adventure!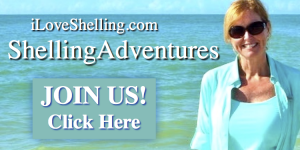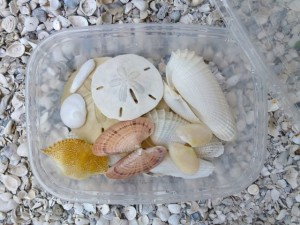 How many times have you found a perfect SAND DOLLAR, a cute little crab shell or a SUNRAY VENUS  still with both side attached… only to find them broken to pieces by the time you get home to show off your gems? Geez, I don't have enough fingers and toes to count the times I've done it. Fortunatley, in the last few years I miraculously grew more brain cells (thank goodness) so now I throw tubs and tubes in my tote to protect those fragile shells.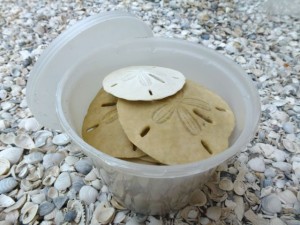 You remember all of the SAND DOLLARS I found snorkeling over the weekend? As soon as I got back to our boat, I put them in plastic tubs I've saved (the packaging for our butter, cottage cheese and lunch meat) to keep them from getting crushed in my bag. Recycling at its best! My favorite container is the tube from the Crystal Light packaging. I save this one for long fragile shells… like WORMIES but unfortunately I didn't find any WORM SHELLS on our boat trip this time so I used this container  keep my biggest ANGEL WING safe and sound…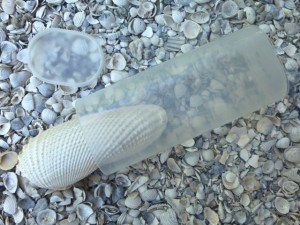 Okay, so I have to show you my newest shell bag that is helping me keep my fragile shells safe until I can even get the to my containers for travel. This called a "shower tote" I found at Bed Bath and Beyond that is a rubberized mesh with tons of outside pockets. I'm loving this thing! All the non-fragiles go in the center like a regular shell bucket or bag then the fragiles get stashed in the outside pockets. The SAND DOLLARS are a perfect fit for the wider pockets and the other pockets keep small or thin shells from getting broken by the OLIVE and WHELKS being thrown on top of them. Watch out MacGyver!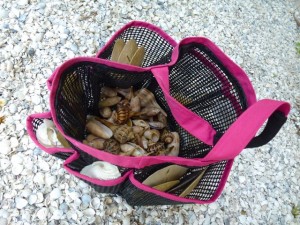 In one of the smaller pockets, I threw a couple of bivalves that I found on Cayo Costa that I don't often find on Sanibel…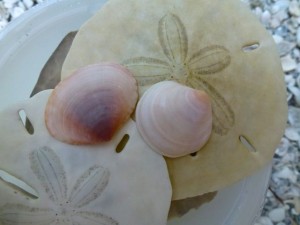 This PURPLISH SEMELE is not a rare shell, but this one seemed particularly deep purple on the interior. Okay, I should have put some mineral oil on it to keep the color bright… but I didn't. ;( I hope you can still see the deep color!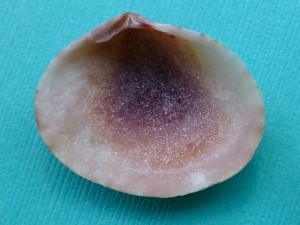 Here's the exterior…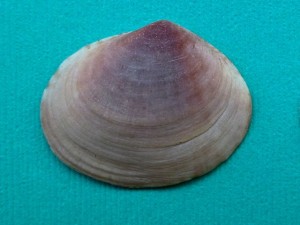 I also found her sister shell… the WHITE ATLANTIC SEMELE…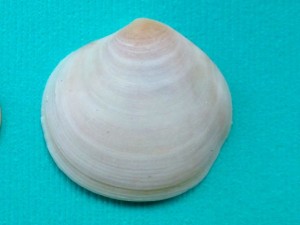 I'm sure both of these would be great craft shells…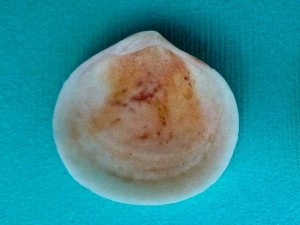 I also found several CHALKY BUTTERCUP LUCINES on Cayo Costa. I never find these on Sanibel! These are the big sisters of the BUTTERCUP LUCINES (on top row of the next photo) which we do find on Sanibel frequently … and one of Clark's faves.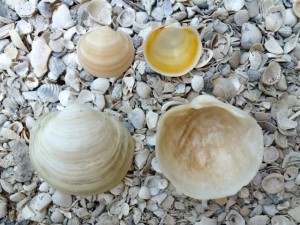 After shelling all day, we stored all of our treasures safely in our containers then Captain Clark got behind the wheel as I was going to pull up the anchor… and looky who was giving us a great send off! A MANATEE!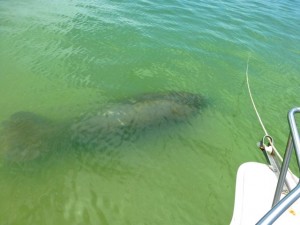 Darn! I wished I still had my snorkel gear on with my camera to film this underwater but any way we get to see them is a really treat.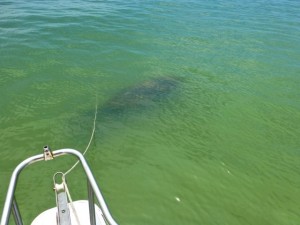 We always get excited when we see a MANATEE so not only did we see this one, we saw a whole group of them on the way home. It was thrilling! This time I got a very shaky video. Yes, shaky because I was so excited and because I had to react really quickly when I saw them surface. Clark always does a great job of watching out for them and idling the engine when they get close but we've never had them follow the boat like this before. It was crazy! And I cant help but squeal or ohhh and ahhh when they surface so … I'm apologizing now. I had to edit some of it out because my voice gets so weird and high and sqeaky… it's embarrassing. LOL  Enjoy!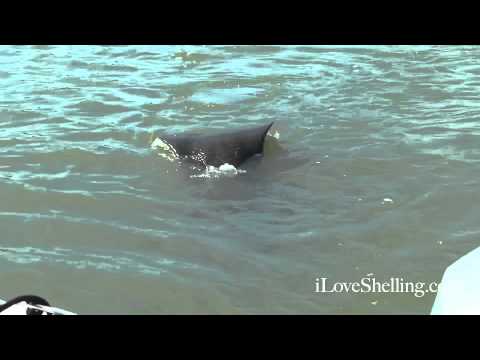 PS- If you'd like to take a boat ride out to Cayo Costa for some shelling and sight seeing..  CLICK HERE
I was on the beach near Gulf Side City Park at 7 a.m. to catch the negative .7 low tide. The first person I saw was my friend Julie. She is an avid sheller but I've never run into her on the beach before since she always shells in the early mornings. Now that I've put on my big girl panties and get out to see the sunrise over the seashells (at times), I see different people. I'm so glad I ran into her because I was very excited to see a shell I've never seen before….. A HAIRY TRITON.
It has so much hair, to me it looks like a werewolf  ROCK SNAIL . Julie reassured me it was a HAIRY TRITON because her husband had found one a few years ago and entered it into the Sanibel Shell Fair and Show. Here's Julie holding her rare treasure!…..
Okay, I have to show you a close up of the "hair" on this shell.
That's wild, huh?
I met other avid shellers Teresa and Alexandra combing the beaches filling their bags with all sorts of goodies.
Today Alexandra was collecting BUTTERCUP  LUCINES and EGG COCKLES. Shell crafters love those BUTTERCUPS for making shell flowers and I even saw a Christmas tree made with BUTTERCUPS this year.
Maybe I don't pay enough attention to the bivalves as I should so I didn't know the name of the EGG COCKLE. I don't see them often…. is it just me?
It was obviously an exciting morning to be at the beach. Enjoy the rest of the scenery…