Archive for Striped false limpet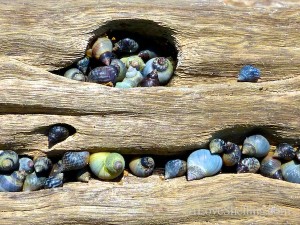 The only thing cloudy about our Captiva Cruises iLoveShelling trip to Cayo Costa were the live CLOUDY PERIWINKLES hiding in clusters on the tree roots at the south tip of the island.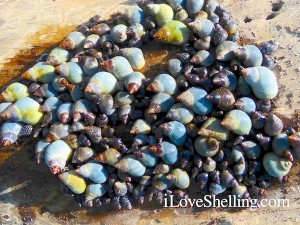 It's been such a month on the islands of spotting great wildlife. Everywhere I look, I am still seeing wonderful signs of healthy life… like these STRIPED FALSE LIMPETS and BARNACLES on those same tree roots with the PERIWINKLES.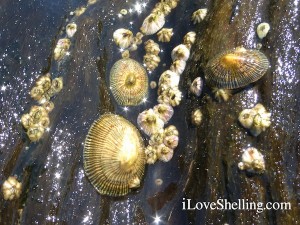 Melissa, Juliana, Becky and Garrett from Colorado walked around those tree roots to find some nice empty shells as well.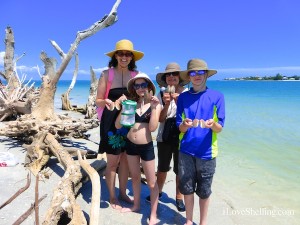 They found a bag full of double SUNRAY VENUS CLAMS…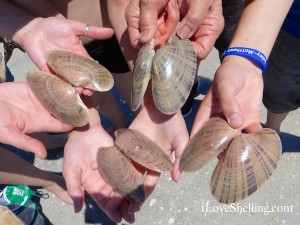 Sisters Teresa and Elaine from Pensacola, FL found some keepers on the Gulf side of the island.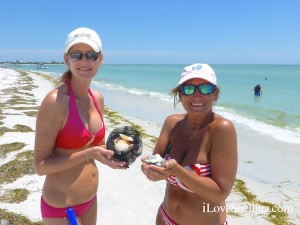 Elaine collected oodles of different color JINGLES to use for a picture frame craft project.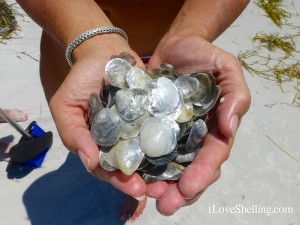 D.J. from Avon Park, Florida found empty LETTERED OLIVES and an ANGEL WING wading knee high in the water.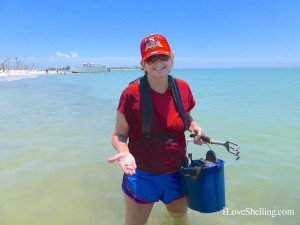 Oh but wait… How could I forget? I have to tell you about the boat ride over to the island. We had a pod of DOLPHINS come over to say "Hi" to everybody on our boat.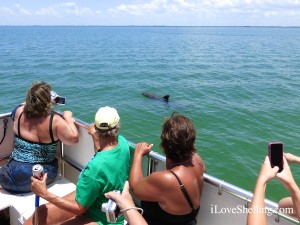 When they swam closer to the boat, we could see there were 3 mother DOLPHINS… each with babies!  If you look closely at this next photo, you can see the baby hugging up to the mother. So cute!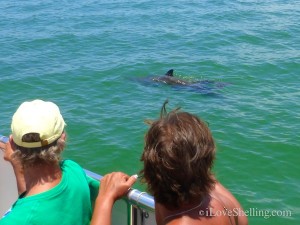 And the DOLPHINS weren't the only wildlife coming up to say "Hi" to us… meet Casper The Friendly GHOST CRAB.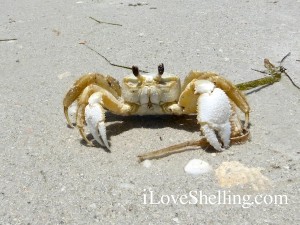 I have never seen a GHOST CRAB act so friendly! Seriously, "Casper" was not at all afraid of us and actually followed us on the beach. See? He got right in-between Sandy's feet and hung out there for a few minutes.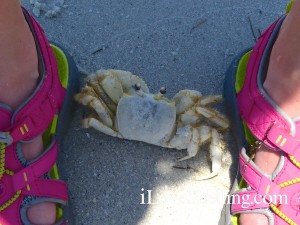 He even ran into a shelling net like he wanted to play. hahaha What a character!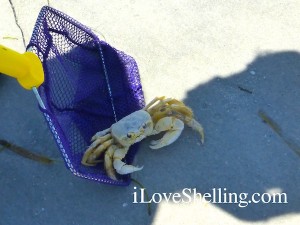 Even though the wildlife was exceptional, it was a wonderful day to meet exceptional people like Vicki and Bill from Arizona.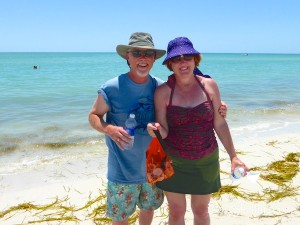 … And Melinda, Katelyn and Justin from Indiana. I especially loved meeting Katelyn since she knew all of the names of her shells but also loved all the wildlife she saw. Casper The Friendly GHOST CRAB didn't want there to leave.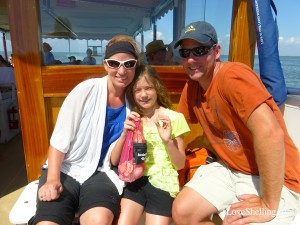 … And it was exceptional to see Marie's beautiful family- Emily, Madison, Steve, Sandy and Ryan from Ohio. But… they were missing one Morgan, they all wanted me to tell you…. you're next!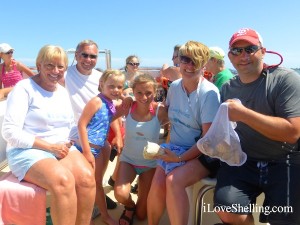 … And to see Bill, Michelle, Alyson and Anthony from Illinois.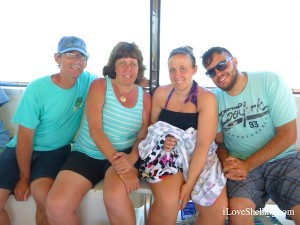 I had met Michelle at Blind Pass Captiva last week when I stopped at the beach to see what the conditions were on the Captiva side by the jetty rocks. As I dug through the "picked over" shell pile, we got to talking and she told me she hadn't found too many keeper shells but was just happy to be on the island enjoying everything else about the beach. That's when I uncovered a beautiful FLAT SCALLOP with a tiny hole in the top. I handed it to Michelle and told her it was meant for her. I was soooo touched to see that she was on the cruise with her family AND that she made that FLAT SCALLOP into a gorgeous necklace with a little SEAHORSE charm. OMG I love that she made it into a special treasure to remember a special day we happened to meet.  Shellers rock!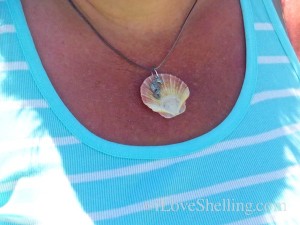 Lindsay had told me about an awesome HORSE CONCH she had found on Sanibel last week so when we got back to the dock at McCarthy's Marina, she showed it to us. Wow! Lindsay, I'm so happy you showed it to us. That IS awesome and will clean up beautifully with a little elbow grease.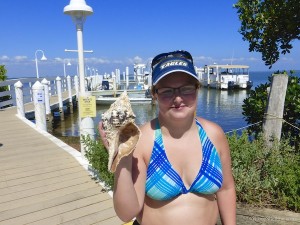 Even though the beach wasn't piled up with mounds of shells this time, we were treated to a DOLPHIN show with babies, lots of friendly wildlife and most of all – a perfect day in paradise with a boat ride on calm waters full of happy people meeting an amazing community of likeminded shellers.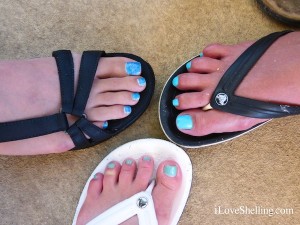 You won't want to miss the upcoming shelling cruises! Check out the new dates CLICK HERE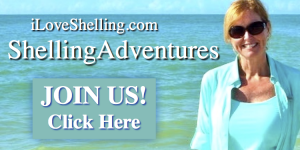 Do you see the seal or manatee shaped rock in the jetty? Mary Jo Shannon pointed it out to me at Blind Pass. Yes! THE Mary Jo that we get lots of fun comments and feedback from on this blog. I ran into her and shelling buddy Sue on the Pass side of the jetty (since there still isn't much shelling on the right side…. my old fave).
Sue grew up shelling with her family then taught Mary Jo the treasures she could find on the beach. After finding her first shell, she was hooked too. Then she couldn't believe how nice all the other shellers were and that they all wanted to show off what they found. They laughed and called it the "Secret Society of Shellers". Yes! It is!
They taught me something too. I told them I had found this dark brown sponge that looked like deer antlers but felt like styrofoam the other day but couldn't find much info on it. They told me it is called DEAD MAN'S FINGERS.
Even though I didn't find many shells, I always love to look at the colors of the jetty rocks when there are STRIPED FALSE LIMPETS on them. So colorful! Do you think members of the Secret Society of Shellers are the only ones that would enjoy this?
Don't Forget……One More Day To Enter! Pass the word!
No rain and no work! …. Time to get out on the water. We took the boat out to our fave spots North Captiva and Cayo Costa. We found three BABY'S EARS, a few WHELKS and WORM SHELLS (only a few) and the views were spectacular. Well worth the trip.
We weren't really sure what this shell was Clark found but he insisted it was something good. It kinda looks like a worn KINGS CROWN but the opening edge is sort of serrated. It was really slimed with algae and gunk so Clark got it cleaned up and then check again in the books to see if it's a ROCKSNAIL . That's what it looks like so far. It's got some wear and tear but it's 2 and a half inches long and it's not something we find every day. I think it's a good find too, Clark! (Update- 10-7-10: Yes, it's a rocksnail. We got verification from MurexKen and Dr. Jose Leal from the Shell Museum. Thank you both!)