Archive for Keyhole Limpet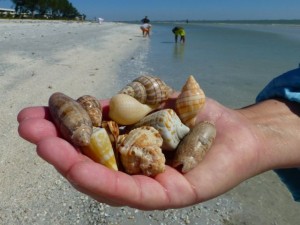 I've combed the beaches from Blind Pass Captiva to the east of Sanibel at the lighthouse. Mid island at Gulf Side City Park is still the best shelling I've found in the last few days. The shells in the photo above were only a few that Carol from PA pulled out of her shell bag to show me. Pretty nice finds, huh? The OLIVES have been gorgeous. Well… there's the ALPHABET CONE, FLORIDA CONE, BANDED TULIPS, MUREXES, WHELKS and she had a few more of those sweet PAPER FIGS in her bag too.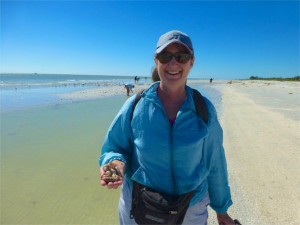 There were still plenty of FIGHTING CONCHS (dead and alive) like I showed you the other day but what caught my eye was this beautiful BROAD PAPER COCKLE.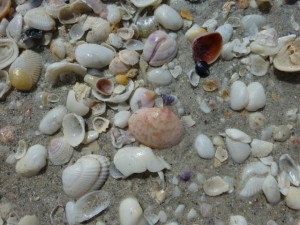 We have a few in our collection but some of them have chips in them so I'm always happy to find a pretty valve like this one!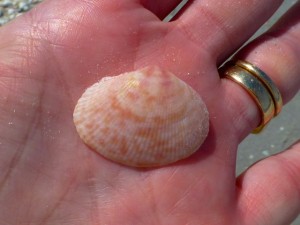 While I was at the lighthouse beach finding WENTLETRAPS (I'll show you those on my next post), I found a KEYHOLE LIMPET.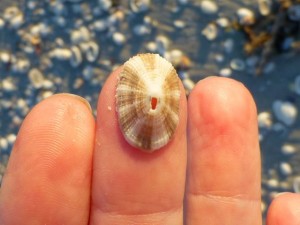 For me, finding shells is the cherry on top… but I also love to see all of the different kinds of BEACH BLING! And I'm not the only one… Dee pointed out this deep purple BRYOZOAN COLONY growing on the wire of a crab trap. Isn't that so cool?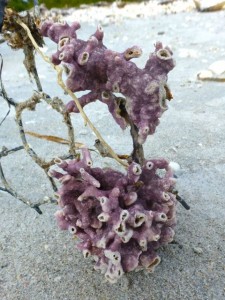 Most people walk right on by a mess of SEAWEED laying on the beach. Not me! I love to pick through it to see what is hiding in there.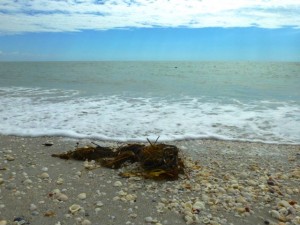 I found SEA WHIPS and ATLANTIC WING OYSTERS in all this BEACH BLING. Here's a little movie to show you how I found them… (click on the next image if the movie thingie doesnt show up)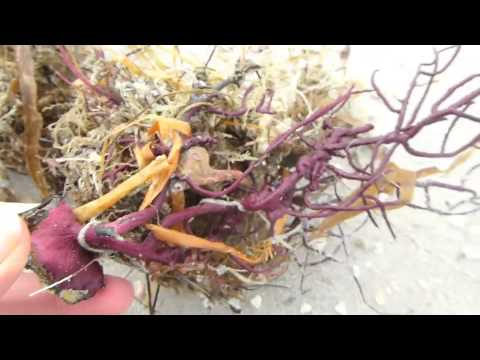 So there are so many different things to check out on the beaches right now… BUT… unfortunately we have RED TIDE coming in as well. I didn't feel any respiratory problems today (which I have in the past when it was bad) but I did see dead fish. Yuck! Since they just washed in, I didnt really smell any bad odors so I didn't mind walking right past them- there's too many other cool things to inspect! Lee County issued a beach advisory yesterday so if you think you might have problems… read HERE.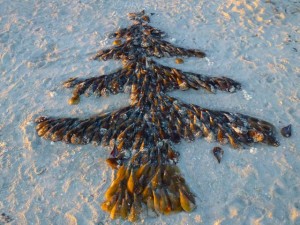 Merry Christmas, SS Marcia! In my last post, Marcia asked me if I had seen beach art yet. I had to laugh when the first thing I saw when I walked on the beach was this Christmas tree made with PEN SHELLS. Then right beside it was this beautiful menorah! This is the first that I've seen this season so thank you to the beach art artist who made these!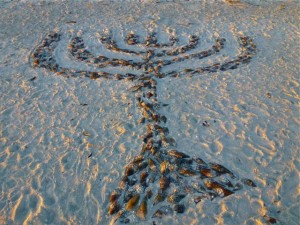 There was so much Beach Bling in between Donax Rd and Fulgur Rd on Sanibel.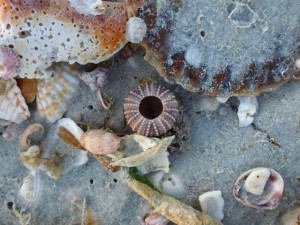 This was one of several TULIP EGG CASES I saw…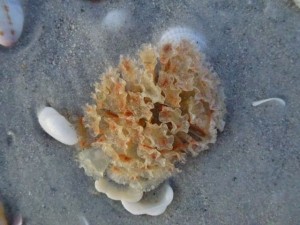 I didn't even see the second KEYHOLE LIMPET on the left when I took this photo. I was so amazed at the dark stripes on the big LIMPET and the colors on the tiny APPLE MUREX and BANDED TULIP.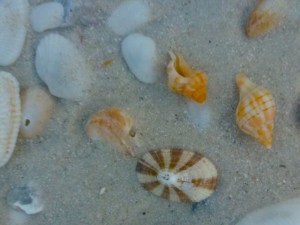 In one little area, the high tide was bringing in shells to build up this nice pile. See that gorgeous LIGHTNING WHELK?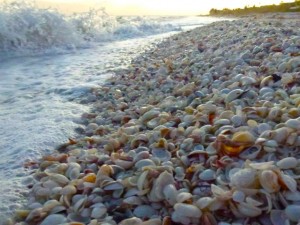 Maybe the golden rays of this Sanibel sunset shining on the amber edges of the ROUGH PENS will inspire the richly talented artists who create their beach art masterpieces for we mere beachcombers to fill our hearts with joy for the holidays. Ahem…. did I ask that nicely enough for more fun holiday beach art stuff? 😉