Archive for Smooth Duck Clam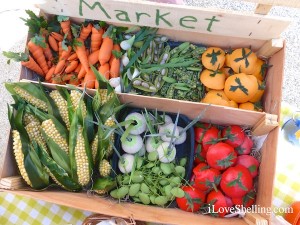 I can find seashells everywhere on Sanibel… even at the Sanibel Farmers Market! Seriously, all of these veggies were made by Barbara Walling using different seashells. Dont you remember Barb? I filmed her making other shell art creations a few years back and she is still creating such fun shell crafts. Aren't these the cutest veggies you've ever seen?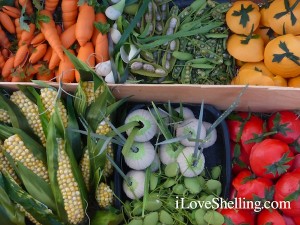 If you want to see this in person, you only have a few more weeks since this market is open seasonally from November through April where Betsy, Jean and Sherrill proudly display it at their booth.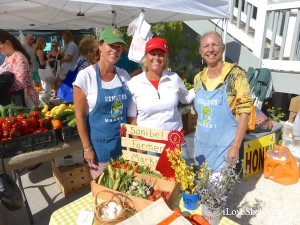 You can even find seashell soaps at the market…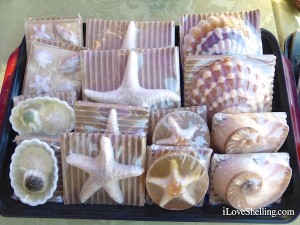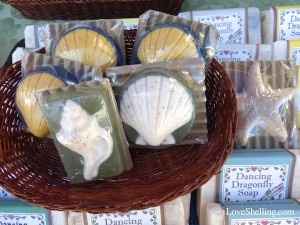 Honestly, I'm not much of a cook but when I have guests over, its fun to buy local fresh food and mingle with the island peeps like shellers Mary and Jim that I met on one of the iLoveShelling cruises to Cayo Costa.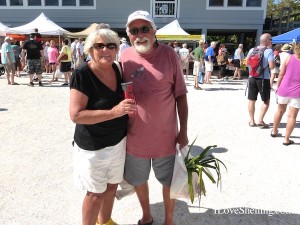 But anyhoooo…back to the shelling on the beach. Here is a sampling of shell treasures I found at Gulfside City Park one morning this weekend.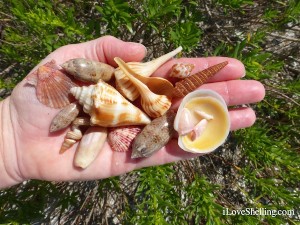 Just after I met Nora, Mac, Dan and Molly (visiting from Illinois) I heard a loud "Whoa!".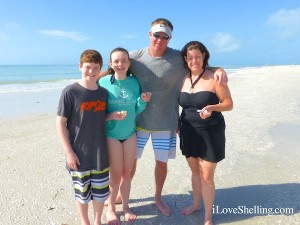 Mac found a SAND DOLLAR laying under some seaweed just like this and then fund a few more.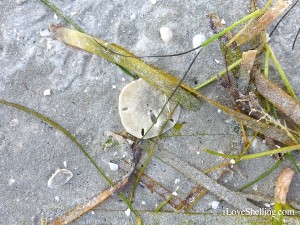 Then Molly asked me what this unusual bivalve was. It's a SMOOTH DUCK CLAM. They are so fragile, it's hard to find one that is not broken- so good finds!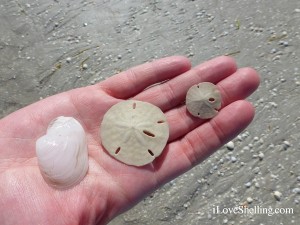 I always say that there are enough shells on the beach for everyone because different people like to collect different shells. Sydney and Lori tom Indiana were trying to find broken shells and shells with holes in them.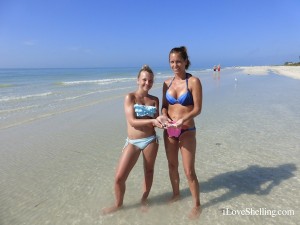 They like to find the shells that already have holes in them so they can make jewelry. I love that they were getting so creative! I had to chime in too and told them that I like to collect the OLIVE shells without tips to make bracelets (for my tutorial CLICK HERE) and also explained how to make a seashell mobile too with broken shells. There are so many fun ways to decorate with shells!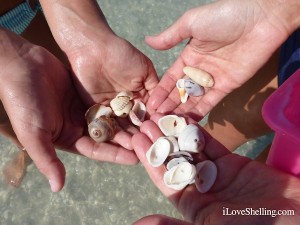 PS- I got all my fresh ingredients at the Sanibel Farmers Market to make dinner because it was my turn to host for my book club (we've been together for 12 years!). I used some ideas from Pinterest and it was a fun, successful night with my girlfriends. If you like to read, this is my favorite book I've ever chosen that every sheller or treasure hunter would enjoy…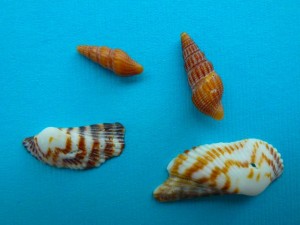 Don't get your taste buds all worked up about TURKEY, RICE or CANDY because I'm talking seashells, of course! We found lots of mini "morsels" at the lighthouse over the weekend including these two TURKEY WINGS  (the biggest one is only about an inch long) and two TAMPA TURRIDS in the photo above and RICE OLIVES and BABY'S EARS in this next photo.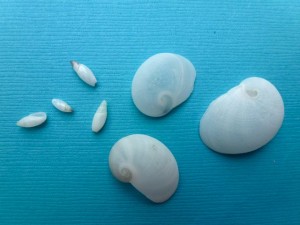 Along with the usual ANGULATE WENTLETRAPS, I found a BROWN BANDED WENTLETRAP too….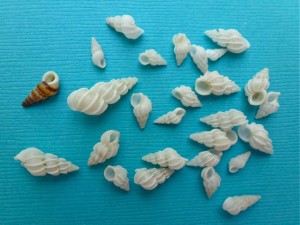 …. And some AUGERS and little FIGHTING CONCHS.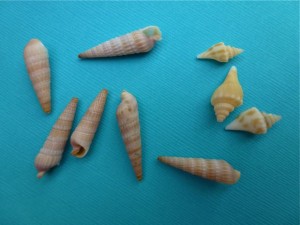 And to top it all off with some sweet candy, we found two HORSE CONCHS and baby ALPHABET CONE.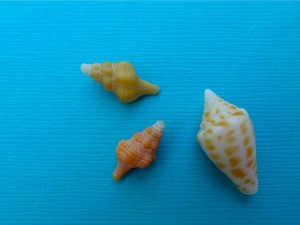 I met William and Melissa (Jacksonville, FL) filling their shells bags with SCALLOP shells, CONCHS and some MUREXES.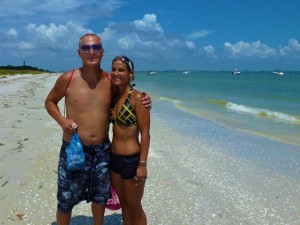 I found out this was their first trip to Sanibel so I showed them how to find WENTLETRAPS too..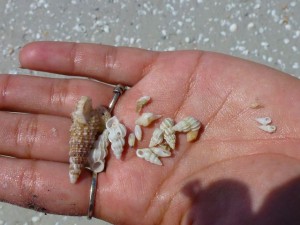 I met another Shelling Sister Sanibel Stooper on the beach too…. this little cutie Lucy! She was having a ball with this COCKLE shell on the beach with her parents Jeff and Tammy.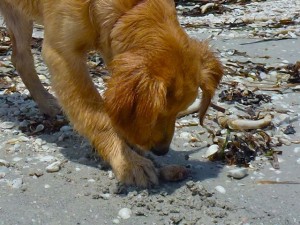 And look what I found again…. a SMOOTH DUCK CLAM. Maybe it isn't that unusual (?)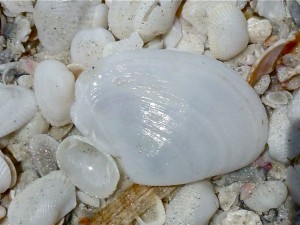 Unfortunately, it's so thin and fragile, it broke when I got it back to the house……oops!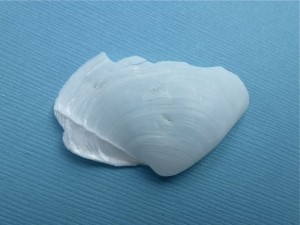 There were so many SAILOR'S EARS, I bunched a few together and that's when I saw the SMOOTH DUCK CLAM too.
Just a reminder- If you haven't entered the  Susick Sea Shell Sifter Giveaway yet, CLICK HERE to win!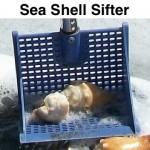 I see a lot of CLAM shells every day I'm on the beach but this one I found at Blind Pat's (….oops! I mean Blind Pass. 😉 ) was a little different from the usual clam shells like the DOSINIAS, CALICO VENUSES  or SEMELES.
At first I thought it was just gunk stuck on the edge of this shell but I didn't want to do anything to it since it seemed so fragile. Once I got home, I could see that this thin shell was a SMOOTH DUCK CLAM and that "gunk" was a nice little ridge on the side of it that makes it different from its "sister shell"  the CHANNELED DUCK CLAM I call a SAILOR'S EAR. I don't think I've ever picked up a SMOOTH DUCK CLAM before (I don't think it's too common in South Florida but I may have just never noticed) but we frequently see the SAILORS EARS on the beach so I can't believe I've never shown this one before.
See? Doesn't that look familiar?  I found the SMOOTH DUCK CLAMS in the shell line on the pass side of the jetty rocks this week.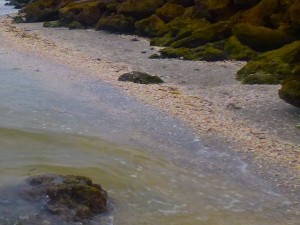 I found the CHANNELED DUCK CLAMS in my stash of shells that Clark and I have been trying to organize. I've been overwhelmed by all the shells in our garage that have never been cleaned and sorted so this is our project this week. Organize! We don't bring home many shells any more but some times…. you know how it is. We just can't help it.