Archive for Dark Cerith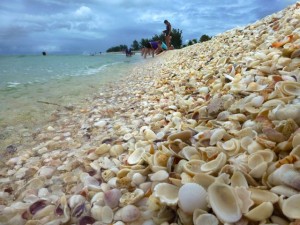 Blind Pass Captiva still had plenty of seashells piled up along the shore line yesterday. I peeked in one of the shell buckets perched on top of the shell mound and gasped…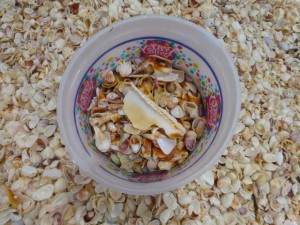 I asked Judy from Indiana if she realized the shell she had in her bucket and she said "I'm not sure what it is but it's a piece from a big shell so that's why I kept it". Well it looks to me like she found a very large lip piece of a QUEEN HELMET shell that is not commonly found here. Good eye, Judy!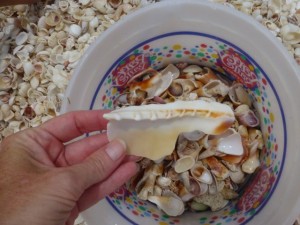 Judy was shelling with her family… and I mean to tell you, she has lots of family members that love to shell! A shelling family is a happy family. Here is Judy, Larry, Cary, Joe, Shaun, Jenny, Evy, Fiona and Sam. Beautiful, right?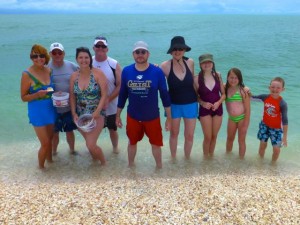 I didn't see many of the SANIBEL SIX, but I was amazed to see so many CERITHS washed in like this. Everybody was collecting them.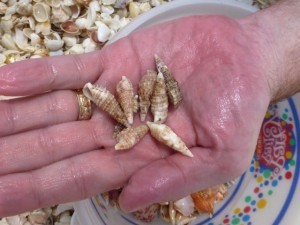 And AUGERS!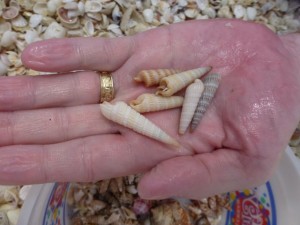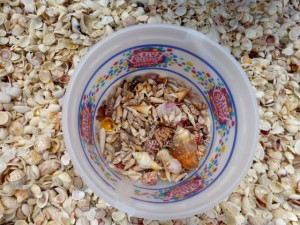 I also met Shelling Sister Wanda's grandson Cody (PA) who kept racing up to her on the beach after his snorkeling expeditions to deposit his seashell loot into his shell bag. Treasure!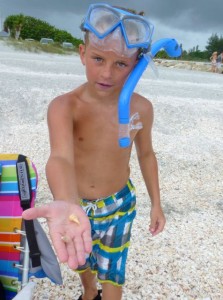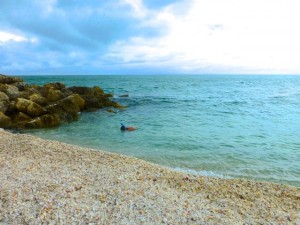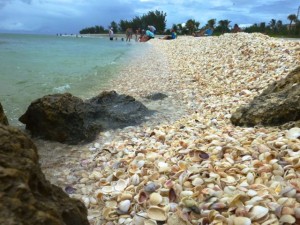 On a side line, I have to make a note that last year June 27, 2011 there was a juvenile FLORIDA BLACK BEAR sighted on Sanibel that was thought to have come over from Pine Island on a negative low tide. BLACK BEARS are native to Florida but not compatible with highly populated areas (with humans!).  Now as an adult at 3 years old weighing 250 pounds he has "become a nuisance" by showing up in neighborhoods and getting into a trash can or two. I was so hoping we could catch a glimpse of him but as of 1 p.m. today, Florida Fish and Wildlife Conservation Commission trapped him and relocated him off island. Relocated where? I have no clue. "They" won't say. It's bitter sweet. He was a very exciting visitor but I know he needs to find a mate and have a bigger place to roam  before he gets in trouble on the island. I hope his new home offers him a long, happy and healthy life. Good bye, Mr. Black Bear.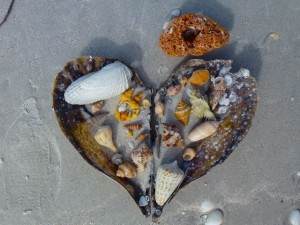 After several weeks of east winds, the west winds have finally arrived to drive some shells on to our beaches. Today was only the first day of the westies but since it was a really low tide this morning, I figured I'd find some goodies. It's always a good day when you find an ALPHABET CONE and you've got to see just how darn cute this little juvie HORSE CONCH is…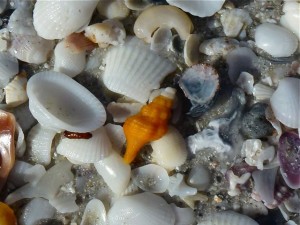 I couldn't believe I found this ANGEL WING sitting in the high wrack line…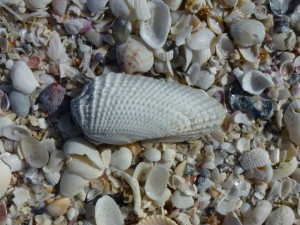 I love when I find shells like this BANDED TULIP lying on the beach like this.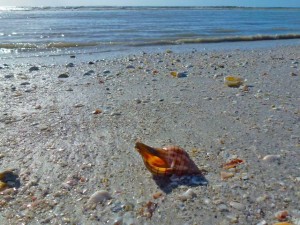 Tonya, Beth and Max from Ohio had their bags filled with all sorts of treasures.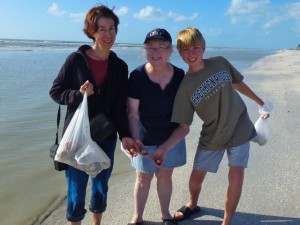 Wanna look in their shell bags? I sure wanted to too! COCKLES and CONCHS and CLAMS…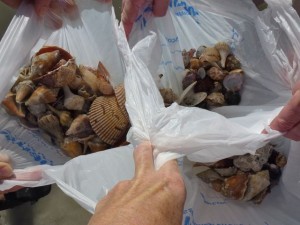 Max found this live LIGHTNING WHELK in the high tide wrack line so he walked it down to the water and gently put it in the water. Good for you Max! You helped save this beauty.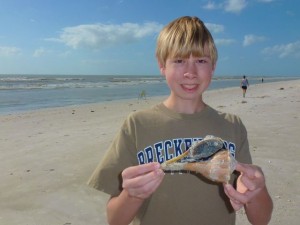 I found local Sanibel sheller Lynn walking her very happy standard poodle Alexander with a pocket full of seashell treasure too.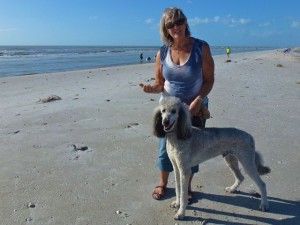 Look at those pretty those COLORFUL MOON shells along with those candies and a mini TURE TULIP.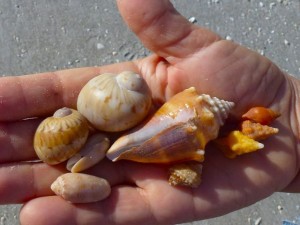 There was all sorts of bivalves scattered along the beach. I found this ATLANTIC COCKLE, PONDEROUS ARK and SOUTHERN QUAHOG together on the beach just like this…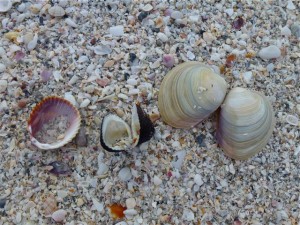 This is the biggest DARK CERITH I've ever found. It's one and a half inches long!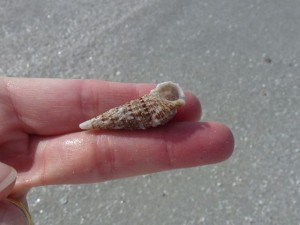 I was pretty pleased with what we all were finding on the beach near Donax Street today after the first day of west winds. Tomorrow might be even better!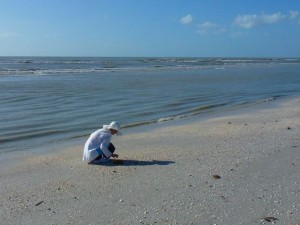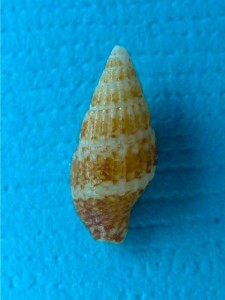 I think the east winds blew those PEN SHELLS I talked about tuesday back into the water so the beach was a little sparse yesterday. Speaking of sparse, a few weeks ago I found this SPARSE DOVE shell which is only 3/8 of an inch big. I'm gonna give myself a break by thinking it was a TAMPA TURRID since they both are so tiny. I could not even tell the difference between them until I put my cheater glasses on. How annoying!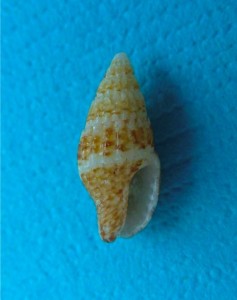 I don't even think I have many in my shell collection… or maybe I need to go through all of my TURRIDS to see if I've been mixing them all along. Here's a tiny TAMPA TURRID (say that 3 times fast). See? I have a hard time even see solids and stripes any more- geez!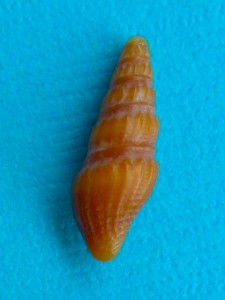 I found another tiny shell the other day at Blind Pass which I thought was a DWARF CERITH but I just found out (MK) it's a WEST INDIAN FALSE CERITH. I think I found the shell because I had just come back from Barefoot Beach looking for small black SHARK'S TEETH. I still had that shark's teeth "eye" going on because I don't see these jet black ones very often…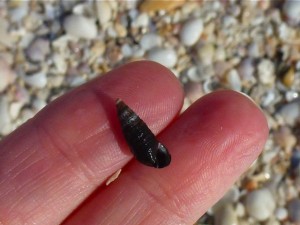 Here's a better look…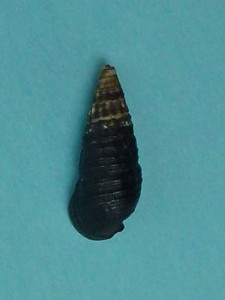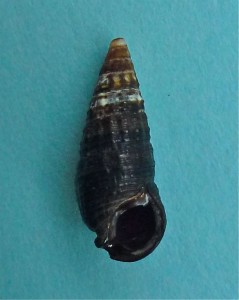 In the next photo, you'll see a common DARK CERITH that we find on our beaches every day. I think they are so common, I look right over them most of the time so this might be on my "Most common Sanibel shells" list when I make it, Susan H. I'm starting to narrow it down a bit.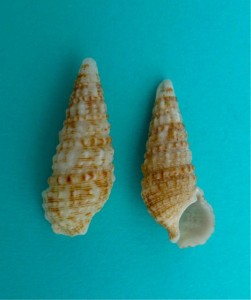 PS- Okay, and I have to tell you that Clark (he's gonna kill me for telling you this) has a nick name for TURRIDS… He calls them "turds"! LOL He'll say "Hey, I found a turd!". Boys will be boys hahaha…