Archive for Comb Bittersweet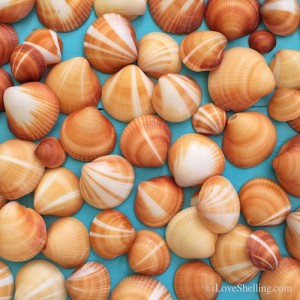 My mind is blown by how many spectacsheller SPECTRAL BITTERSWEETS cover the beach on Jupiter Island, Florida.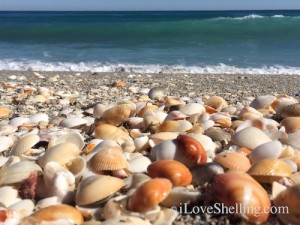 This is a "Throw Back Thursday" since I never posted this trip my good friend Diane and I took from Sanibel over to the east coast of Florida in January to visit some other girlfriends- Girls Getaway! We couldn't stay for very long so we packed in everything we could… including an hour on the beach for shelling. Of course.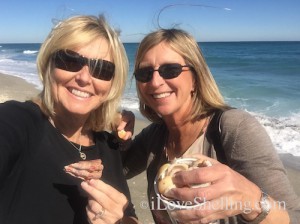 We hit the mother load of SPECTRAL BITTERSWEETS at Blowing Rocks Preserve which has beautiful rock formations exposed from ocean currents depositing drifting sea shells and sand to form an underwater bar of COQUINA LIMESTONE about 125,000 years ago. This is the largest rock formation of the Anastasia Formation from St Augustine to southern Palm Beach County.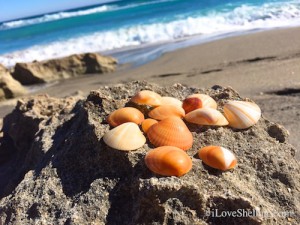 We mostly found the SPECTRAL BITTERSWEETS around the rocks but I did find a big ol' LIONS PAW frag too (which I kept- heehee).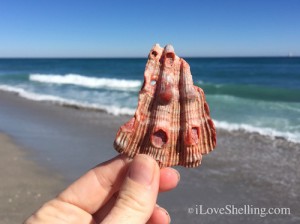 Along with the gorgeous view, the excellent company and a beautiful day, I found so many treasures on the beach to remember this quick girls getaway trip forever.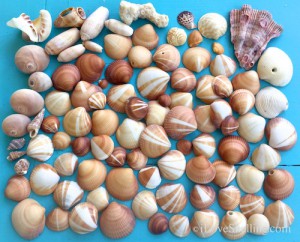 PS- Just so you can see the difference between the SPECTRAL BITTERSWEET (left- we've only found 2 on Sanibel that I can recall), the COMB BITTERSWEET (we find lots of them on Cayo Costa and Big Hickory) and the GIANT BITTERSWEET (on the right and one of my faves in SW Florida)… here's the 3 BITTERSWEETS lined up together.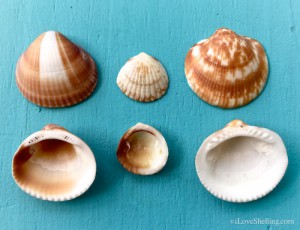 Join us for an iLoveShelling Shelling Adventure! For more info CLICK HERE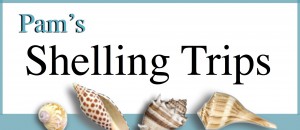 PS- And we visited a SEA TURTLE rehabilitation center too- so cool…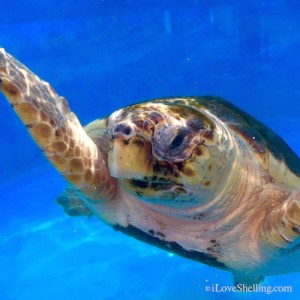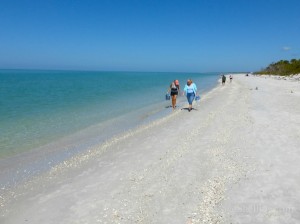 If Utopia is an island of clear aqua blue water with strings of seashells lining the shore, then we found Utopia on Cayo Costa Island during our iLoveShelling cruise on Captiva Cruises this week.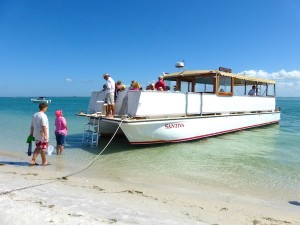 My day started out with such joy and fun meeting Shelling Sistahs Cheryl (Venice) and Alice (Ohio via Venice, FL). Love them!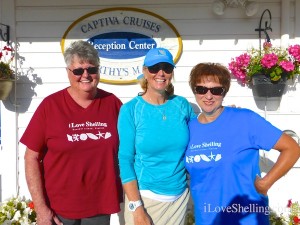 Our morning had a slight chill in the air around 62 degrees then quickly warmed to 80 in no time at all by the time we got to the island to start our search for shells.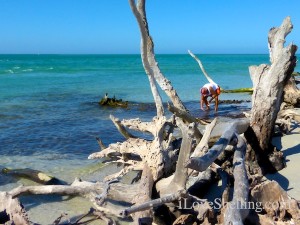 Cheryl found the first BABY'S EAR! It's sort of hidden by the JINGLES on the right but she is a JINGLE SHELL lover like I am so she started picking up as many JINGLES as she could.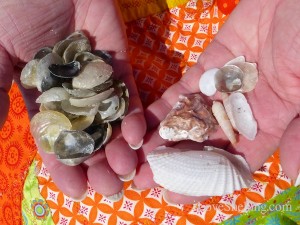 You might recognize Shelling Sistah Katherine Haskins since I met her last year at Lighthouse Beach and so much enjoy her comments here on the blog.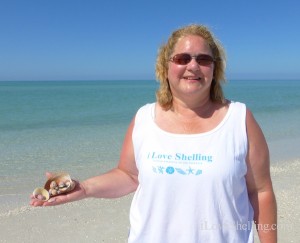 She found a gorgeous SPECKLED TELLIN and either a very big BUTTERCUP LUCINE or a very yellow CHALKY BUTTERCUP LUCINE (I should have inspected the hinge more closely o see if it was the def CHALKY but either way its a very beautiful BUTTERCUP), and lots of other sweet bivalves.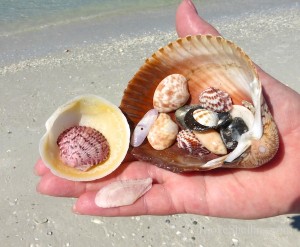 We also had the HOTS join our cruise! Yes, they are HOT chicks but they call themselves the HOTS because they say they move slow as a Heard Of Turtles. LOL Nannie, J.E., Becky and Ginny from Georgia have a great time every where they go. Thank y'all so much for joining us and making me laugh!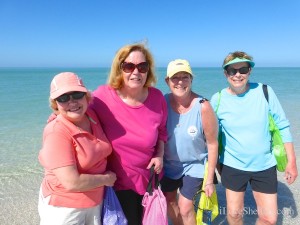 Karen had no problem walking as far as she could as she looked at this gorgeous calm aqua water to find a hand full of SAND DOLLARS and OLIVES.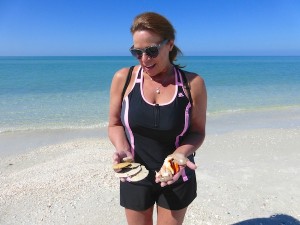 Karen couldnt wait to sort through the loot they found when she and her husband Scott got back on the boat.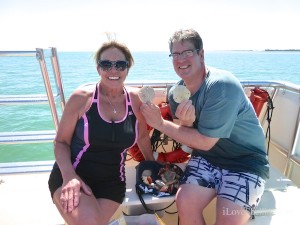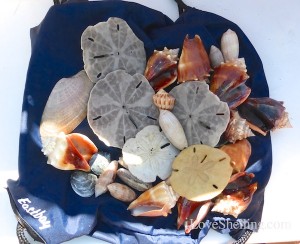 I was very impressed with the treasures Jan from Chicago was going for.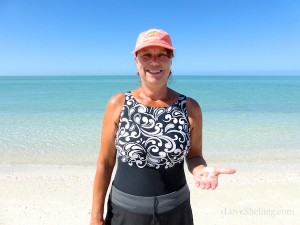 She loves the bivalves or any shells she hasn't found before so she was thrilled to have found a WHITE CRESTED TELLIN along with CANCELLATE SEMELES, a PURPLE SEMELE, COMB BITTERSWEETS, an ALTERNATE TELLIN and a STRIATE PIDDOCK. The orange ROUGH SCALLOP wasn't a new find for her but it was one of her fave finds, she had to have it in her hand. Love that! Y'all know how excited I get to find a new shell, so its always fun to experience someone else who gets excited about finding new shells…. even if it isn't a JUNONIA. heeehee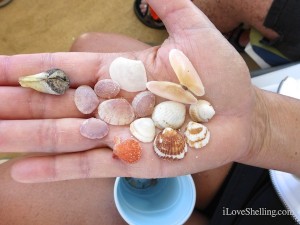 As soon as she showed me her WHITE CRESTED TELLIN, I looked down to find one too. Its funny how that happens, right? If we are reminded to look for a shell and get that color and pattern in your brain, it's a tad easier to find one. Okay brain… remember – white shell with brown spots.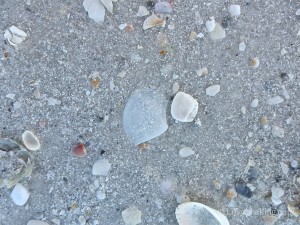 Every month when we have this iLS cruise, it's such a pleasure to meet cool shellers like Lee and Renie from Houston…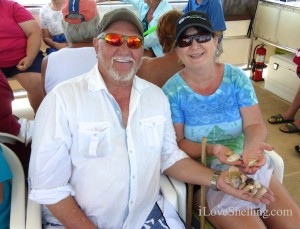 And it's especially great to see shellers again from previous years like Louie and Dee from Illinois.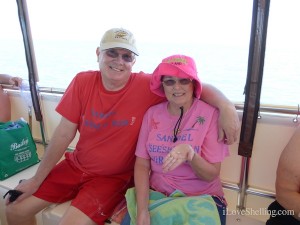 Nancy from Indiana found a baby bear SUNRAY VENUS, mamma bear SUNRAY VENUS and papa bear SUNRAY VENUS…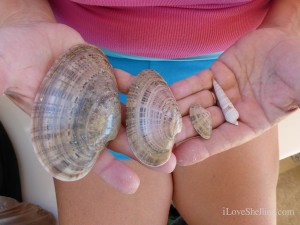 Linda was thrilled to find her first POINTED VENUS (on the right), FALSE ANGEL WINGS and COMB BITTERSWEETS.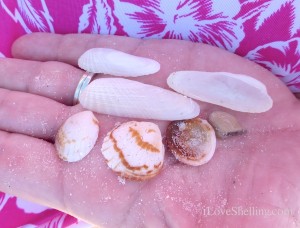 YAY! I was so excited that Annette and Jim from Shellabaloo 3 joined us as well! It is so much fun to catch up with them after we spent so much time together on our Shelling Adventure last year.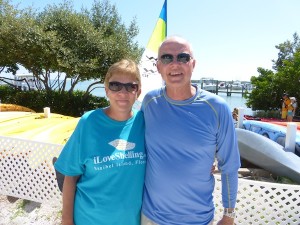 It was a gorgeous day on the water with a boat full of awesome shellers! Thank you all for making this an absolutely fabulous day!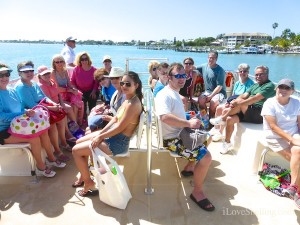 Join us on our next iLoveShelling cruise April 2! For more details CLICK HERE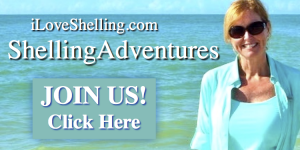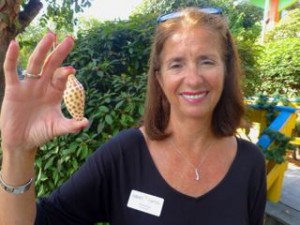 If you happen to stop by the Sanibel Captiva Chamber Of Commerce on your way on the island, say "Congratshellations!" to Anne at the welcome counter. She found her first JUNONIA this week!!!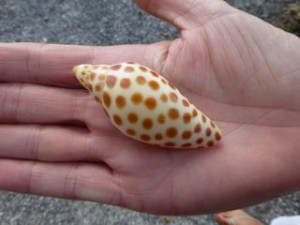 Wow! It's so pretty! Like Mimi, this is an early Christmas gift of the sea too.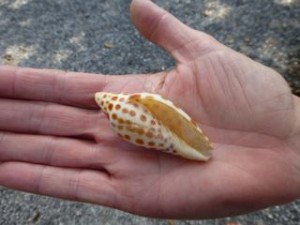 She told me she found it rolling in the surf at Blind Pass Sanibel half way from the pass to the newly exposed seawall so I of course I high tailed it down there to see the beach. Remember the erosion I photographed last month? Well, the seawall is still exposed but not as much. It's filling back in slowly but surely.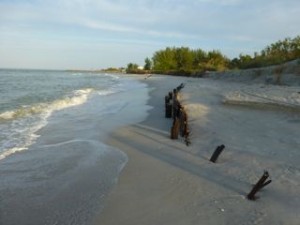 By the time I got there, I only saw a few shell lines but I could see there were shells still rolling in the surf. After I took this next photo, I got to thinking that in probably six months, this whole wall will be buried again and we might not see for years to come. The power of Mother Nature.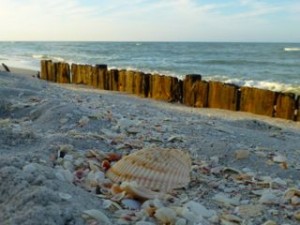 The other side of the pass (Blind Pass Captiva) is starting to show signs of smaller shells rolling in. I doubt that little sand cliff will be there very long since we have some good west winds predicted to for this weekend. Yippee! I'm hoping the bigger shells will be coming in soon!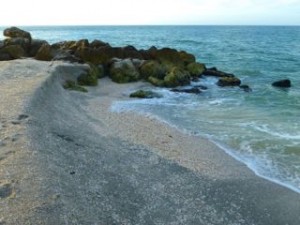 I sifted through some of these shells in this new pile…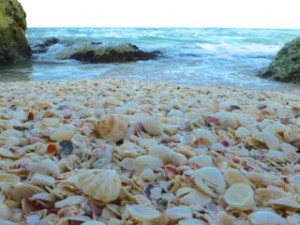 And I found a COMB BITTERSWEET!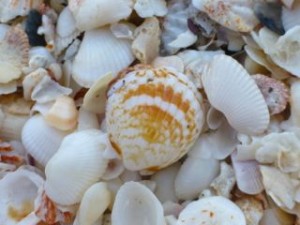 I don't think I've ever taken a photo of this shell before. Hmmm. I'm really not sure I've found one before either but I don't think that it is a rare find here. So I looked through my collection but didn't find one. Okay, honestly, I'm really not that organized but still… I didn't see a COMB BITTERSWEET in all the shells I pawed through in my garage buckets.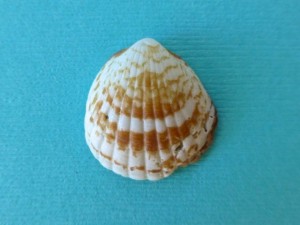 It's a little "nibbled" on the one side but now I have it in my "collection". Ha!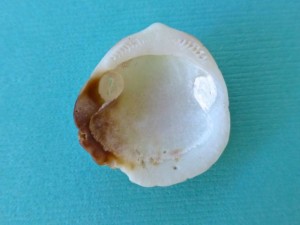 Okay let's get back to the real important things…. Anne's JUNONIA! Since Santa gave her an early Christmas gift like the SEAHORSE (I painted with a Santa hat) Mimi received, I had to give Anne's JUNONIA the same special treatment! A JUNO-HO-HO-HO-NIA!