Archive for Transverse Ark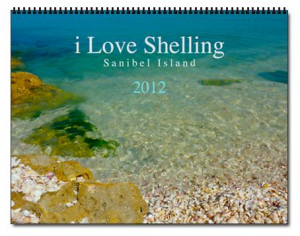 The holiday season is in full swing on Sanibel and Captiva islands so I have been a busy little elf! First of all,  I'd like to introduce the brand new i Love Shelling 2012 Calendar chock full of beautiful Sanibel photos and of course our beloved seashells. Now you can enjoy shelling 12 months of the year!
Here's a sneak peak of January's sunset photo and  CLICK HERE to see all 12 months and get one for yourself or as a gift for your shelling buddy.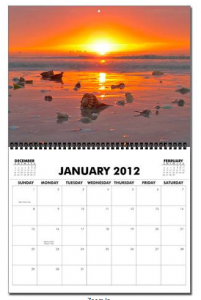 We also hit the beaches this week to find a few shells and lots of Beach Bling. We found big old WHELK and CONCH pieces I love for yard shells along with a few SEA WHIPS, LONG SPINED SEA URCHINS, PURPLE SEA URCHINS, PEN SHELLS, CRAB SHELLS and this little BRITTLE STAR too.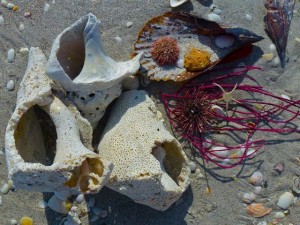 There were lots of DOSINIAS mixed in with hundreds of SAILORS EARS and TRANSVERSE ARKS…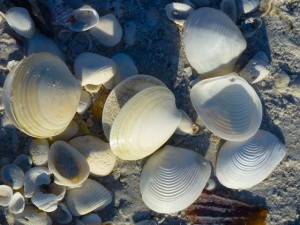 I even saw a few bones scattered along the beach. These are from bait in the crab traps in the gulf that get tossed around in rough surf.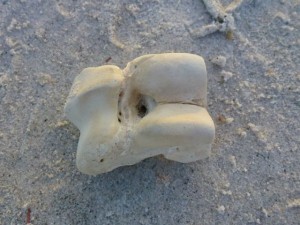 STONE CRABS are what lots of those traps are made to catch. When fishermen bring in the traps, they only take one claw from a STONE CRAB since the claws have the best meat. They throw the crab back without killing it because they know the crab can eat and defend  itself with only one claw until another claw grows back. Here is a STONE CRAB  claw lying on the beach that could have been a good appetizer if it had been freshly caught. Darn!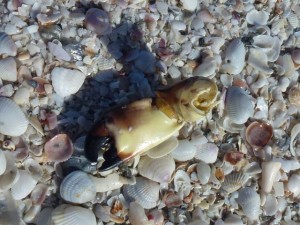 There were HORSESHOE CRABS too …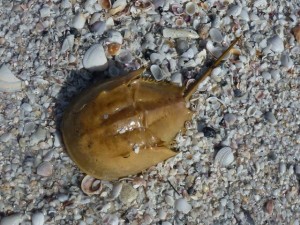 And a BLUE CRAB…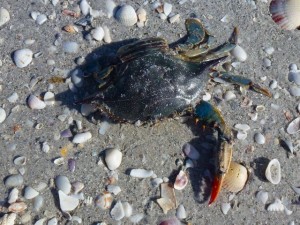 I also saw this MOON SHELL (SHARK'S EYE) EGG COLLAR…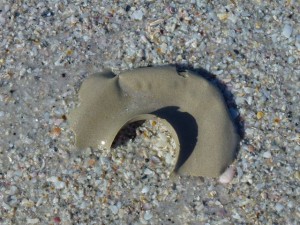 I met a wonderful local man Frank, who moved here in 1964 and still loves to walk the beaches and pick up shells especially with his daughter Connie. He told me he was 87 but he looks like he is no older than 72! Thank you Frank for your service for our country in WW2.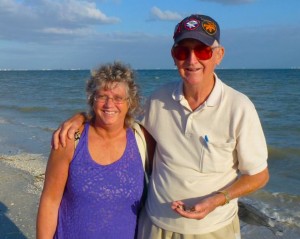 Here are some of the mini shells Frank and Connie collected when I saw them along Middle Gulf Drive.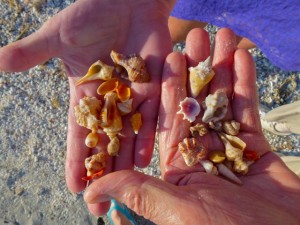 I also have photos of the yesterday's oh-so-fun Captiva Holiday Village golf cart parade. Here's one picture of our Junonia Jalopy but I'll have to show you the rest tomorrow. It was a blast!  All of the other cart were so darn cute!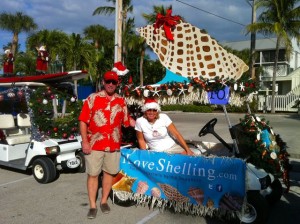 Check out my new tee shirt! I wore my new "Oh CONE All Ye Faithful" Christmas design v-neck tee. I got so many compliments- so much fun ! And don't forget to check out the 2012 i Love Shelling Calendar too….. and the new online i Love Shelling Shop….. Or the fun faves at Shelling Shop. You see? I've been a little Santa's helper for the good seashell loving girls and boys. Ho Ho Ho!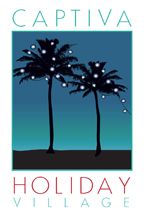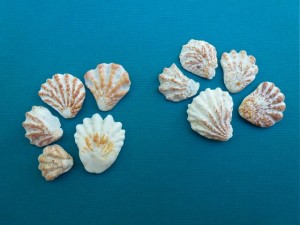 How could anyone think KITTENS PAWS aren't cute?  It was like it had rained KITTEN'S PAWS yesterday since there were so many on the beach at Blind Pass Captiva. Here's a cyber shelling photo so you can virtually pick through the piles and find some yourself. Enjoy!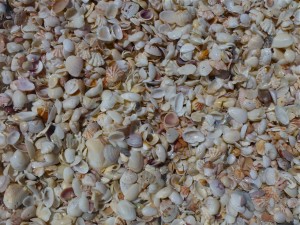 Also mixed in were hundreds of TRANSVERSE ARKS…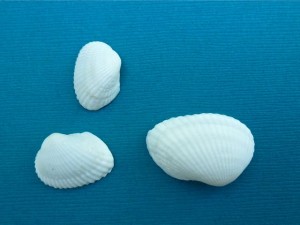 Oodles of CROSS BARRED VENUS clams…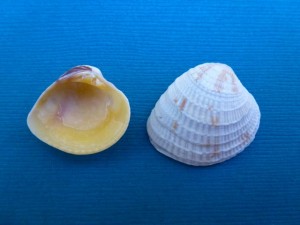 And a few LADY-IN-WAITING VENUS clams mixed in too…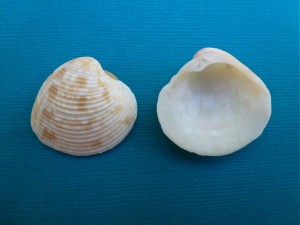 I would say that the KITTEN'S PAWS, CROSS BARRED VENUS and the TRANSVERSE ARKS are the most common shells on Sanibel but I'm still not convinced what the top six commons shells are. I just loved seeing so many LADY-IN-WAITING VENUSes mixed in too, I wanted to show you those. They are so pretty and I normally never pay attention to them. When I don't have a lot of time, I need to stay out of the sun for a bit or we are having lots of scattered showers, I just like to stop by the beach for a short time and enjoy all of the shells that I seem to neglect the rest of the year. Most of the shells in this next photo are all bivalves…. they did not let me neglect them this time.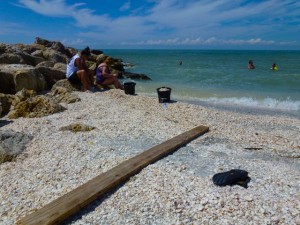 PS- I have no idea how that board got there. I guess it washed up?