Archive for Ponderous Ark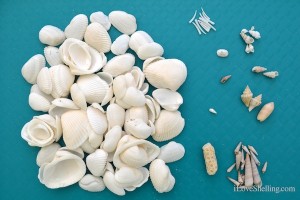 I spied thousands of ARKS at Gulfside City Park on Sanibel Island this morning. Most days you can find TRANSVERSE ARKS scattered along the beach since they are one of the most common shells on Sanibel.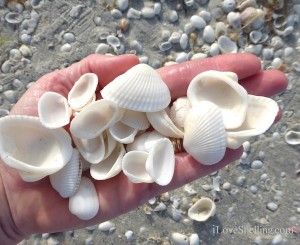 There are a few different species of ARKS so let me show you the difference. Top row left to right-  a MOSSY ARK and a TURKEY WING. Bottom row left to right- CUT-RIBBED ARK, TRANSVERSE ARK and a PONDEROUS ARK.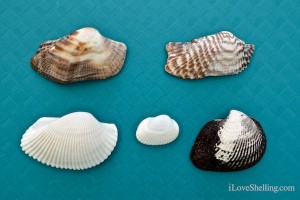 It's a little easier to identify bivalves and see the difference (and the likeness) between them by looking at the interior of the shell.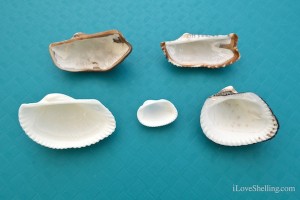 I only had a few minutes to walk the beach today so I just wanted to look for minis in some of the wrack lines I pointed out the other day in my Shelling 101 video. I found TUSK SHELLS (there were thousands of those too), a KEYHOLE LIMPET, WENTLETRAPS, CERITHS, AUGERS, a TURRID, juvie CONCHS, juvie OLIVE, and a piece of CORAL.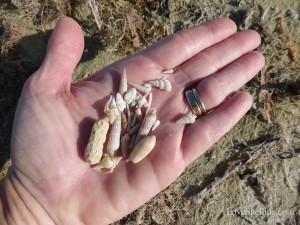 I also found a somewhat beat up LINEATE DOVE SNAIL.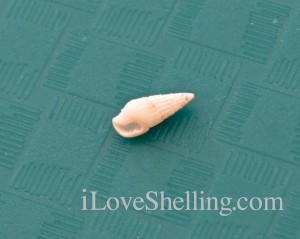 If you need any help identifying any of these shells, check out my Seashells Identification Page…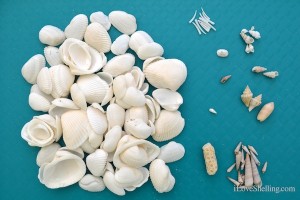 As I walked this morning, I couldn't help but notice this amazing village sand sculpture on the beach- with its own arena and swimming pool. I was inspired to write about ARK SHELLS because so many artists like to use these sweet little white shells as embellishments for their pieces of art- just like this beach artist did. ARKS are perfect decorations for so many projects. Inspiring!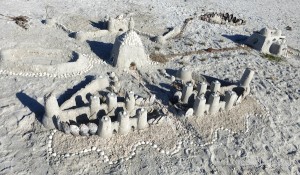 If you have a second, stop by and check out my online Art Gallery…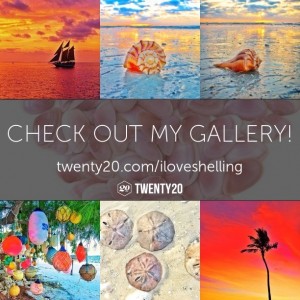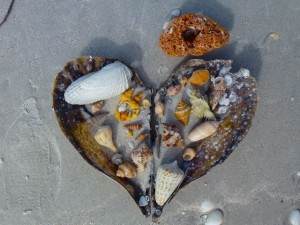 After several weeks of east winds, the west winds have finally arrived to drive some shells on to our beaches. Today was only the first day of the westies but since it was a really low tide this morning, I figured I'd find some goodies. It's always a good day when you find an ALPHABET CONE and you've got to see just how darn cute this little juvie HORSE CONCH is…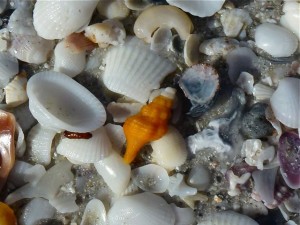 I couldn't believe I found this ANGEL WING sitting in the high wrack line…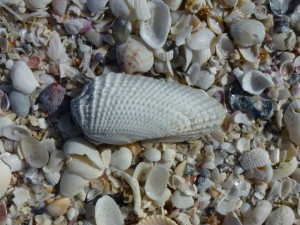 I love when I find shells like this BANDED TULIP lying on the beach like this.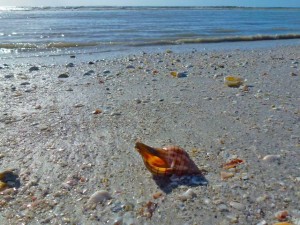 Tonya, Beth and Max from Ohio had their bags filled with all sorts of treasures.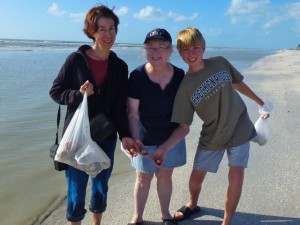 Wanna look in their shell bags? I sure wanted to too! COCKLES and CONCHS and CLAMS…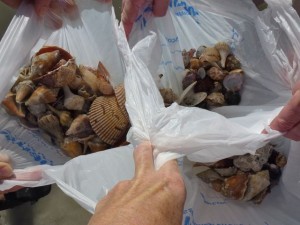 Max found this live LIGHTNING WHELK in the high tide wrack line so he walked it down to the water and gently put it in the water. Good for you Max! You helped save this beauty.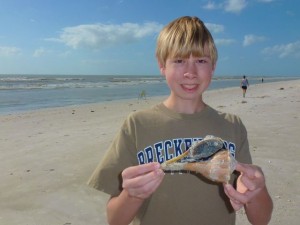 I found local Sanibel sheller Lynn walking her very happy standard poodle Alexander with a pocket full of seashell treasure too.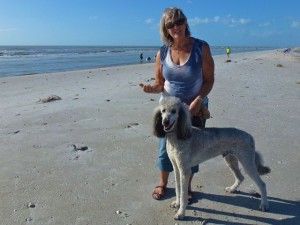 Look at those pretty those COLORFUL MOON shells along with those candies and a mini TURE TULIP.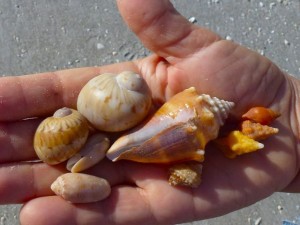 There was all sorts of bivalves scattered along the beach. I found this ATLANTIC COCKLE, PONDEROUS ARK and SOUTHERN QUAHOG together on the beach just like this…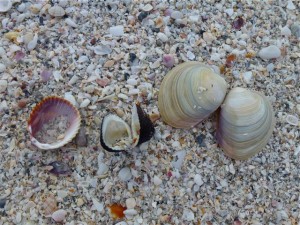 This is the biggest DARK CERITH I've ever found. It's one and a half inches long!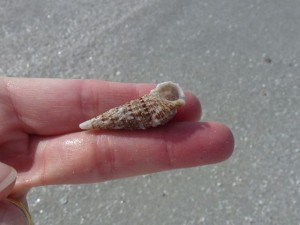 I was pretty pleased with what we all were finding on the beach near Donax Street today after the first day of west winds. Tomorrow might be even better!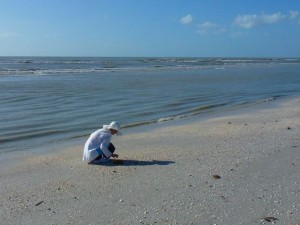 There were lots of 
YELLOW PRICKLY COCKLES
still together scattered around the beach off West Gulf Drive access #6 yesterday. I always seem to overlook these because the 
ATLANTIC GIANT COCKLES
catch my eye first. I'm looking closer at the bivalves (a shell with 2 halves) now since I've always favored univalves (snail shells like CONCHS and CONES).
See? I even gave this PONDEROUS ARK a second look when I normally would have passed right by it. Since the names are somewhat new to me (I would have normally named it an "ARK" shell but now I'm trying to learn the different categories too), we can learn these things together. So that means if I misidentify a shell, please don't hesitate to let me know.
I think Alan favors the univalves (or gastropods) too since he is showing off a FLORIDA CONE and some OLIVES. Check out his home made shelling rake!
I found Sanibel Anne working that same pile and watched her pull out that beautiful HORSE CONCH that she's holding in her left hand. She makes shell mirrors and candlesticks from the shells she finds. Fun!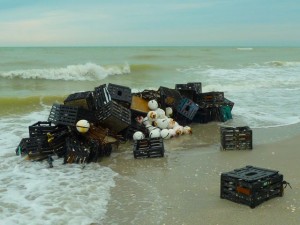 Over 20 mph north west winds washed up this pile of STONE CRAB pots on the beach two weeks ago. No wonder there are so many PIG'S FEET on the beach. These were the same winds that blew in the excellent shelling last month. We are expecting some good north west winds today "they" say about 16 mph (I'm not seeing anything yet) but maybe that's enough for my JUNONIA to wash up. (?)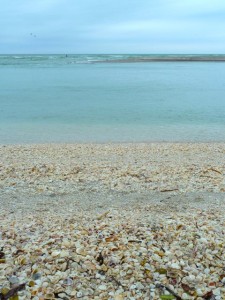 We had a little NW wind yesterday so I ran up to Blind Pass to see the shells were washing up on the Sanibel side. You can see in this picture how close that point of the sand bar on the Captiva side is to Sanibel now. Maybe we should do a pool on who gets to the closest date that when the Captiva exposed sand touches Sanibel exposed sand.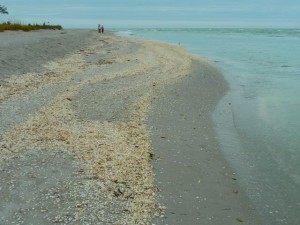 Yesterday there were more shells on the Sanibel side than on the Captiva side. Like I always say ….the beach changes by the day. You never know where the shells will show up.
I took this next picture as I walked the entrance to the beach where there are sea grape trees lining the walkway. I had to stop to take in the beautiful palette of colors the leaves painted on the path.