Archive for Sea Slug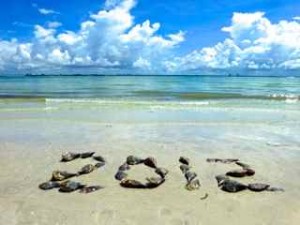 This says it all…. 2012 is a gorgeous year on Sanibel. Sanibel's Lighthouse Beach was no exception yesterday where I met Melissa using PEN SHELLS to make this "sign of the times" (heehee). Her kids Ricki and Mack made perfect models to show off her seashell art.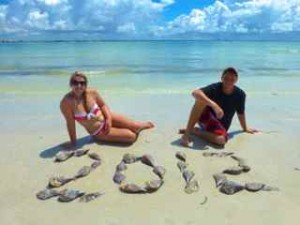 The beach and parking lots have made a full recovery from Tropical Storm Debby last month. Even the STARFISH are recovering! Days after TS Debby, we saw hundreds of live STARFISH washed up on the beach with most of their arms broken off. See how resilient they are? This one had 4 out of 5 arms broken off (I'm sure from the storm) and all 4 are growing back now trying to match that original long arm on the right of my hand. Cool, huh?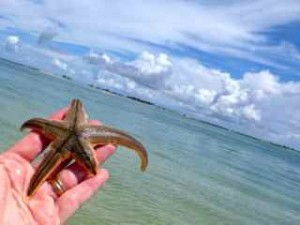 I also saw a live SEA HARE (or SEA SLUG)! It's always a treat to see these graceful creatures swimming along our shoreline.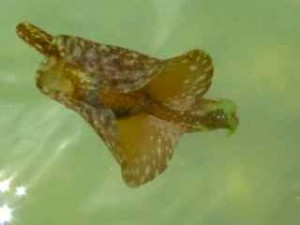 I have video of a larger one 2 years ago which shows the purple ink shooting out (CLICK HERE), but this SEA SLUG is much smaller and has little green "horns". Here's another quick vid taken in knee deep water near the Sanibel pier.
PS- Oh, and don't mind that AHH-OOO-GAA noise at the end. One of my best buddies was calling me on my cell phone… that's her ring tone. It makes me laugh every time! LOL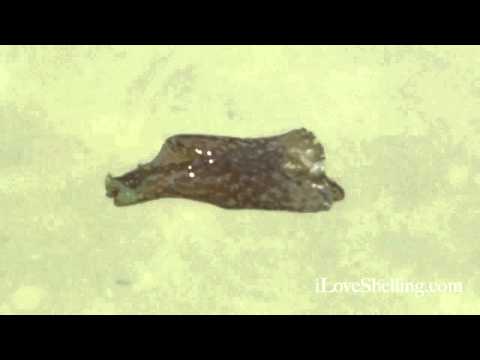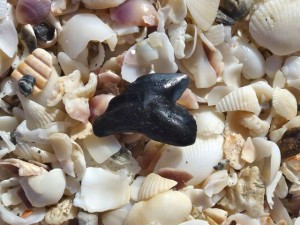 I'm not sure if I've ever found a fossil SHARKS TOOTH at Bind Pass before….But my fossil-hunting buddy Susan (Sanibel) found one there! I think she can pluck out a fossil on any beach!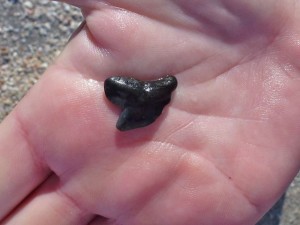 This was a pretty nice size TIGER SHARK TOOTH she found in the wrack line on the Sanibel side. Can you make out the serrated edge on the tooth on the pointed side?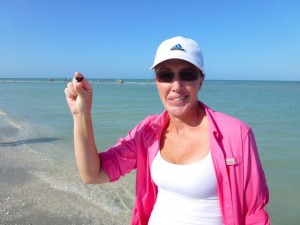 Louise ad Debra (Maine) found lots of shell treasures including a really nice ALPHABET CONE…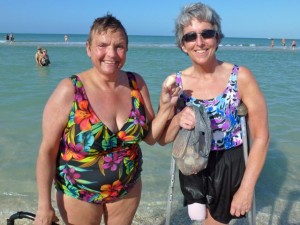 Another Shelling Sista Susan and her husband Gary (Maryland) found two big LIGHTNING WHELKS out on the sand bar.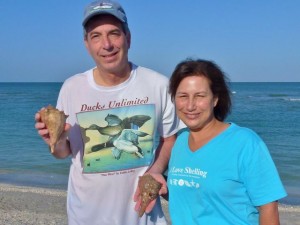 Congrats! These babies will clean right up with sharp pick and a little bleach.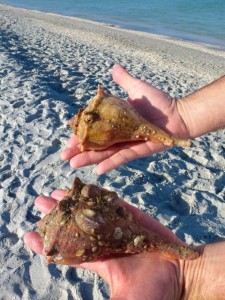 My fave find of the day was this sweet little baby KING'S CROWN…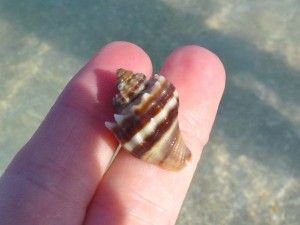 Oh wait! I take that back. This would be my favorite….We saw a SEA HARE at Blind Pass! It was a SEA HARE raising experience. heehee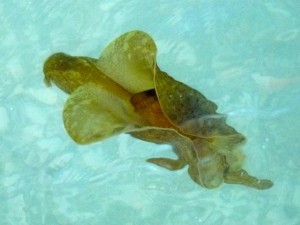 I made a video for my post See A Sea Hare (check it out- you can see pictures of the ink squirting out) a while back but I wanted to show it to you again just in case you missed it.  Enjoy this funny little creature…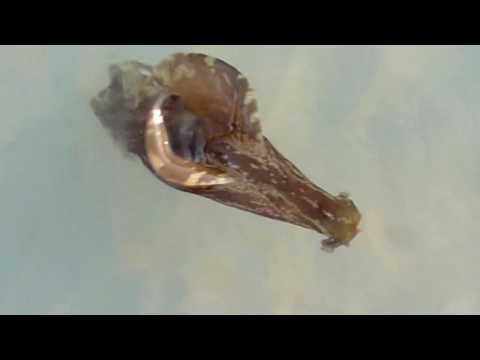 So this is a SEA HARE. I mentioned a SEA SLUG when I did a posted "I Found A Nudibranch" on April 15 and a sea hare is a sea slug too. I'm not sure the difference…..but I do know that they are very cool to watch. When a sea hare wants to scare a predator, he emits that purple ink like he did in the first picture. I got a movie of this guy right after I took the picture of him squirting the ink. If you watch right in the beginning, you'll see the end of the ink coming out….then he feels comfy and starts swimming on his merry way. Check it out!