Archive for Ragged Sea Hare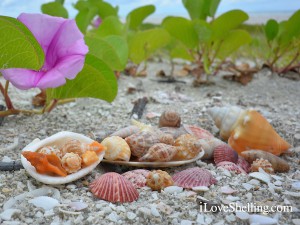 As I'm listening to the loud crashes of thunder with pounding rain and watching the bright strikes of lightning on the island today, I'm thankful I got to take a few leisurely strolls on our sun filled beach this weekend before this downpour.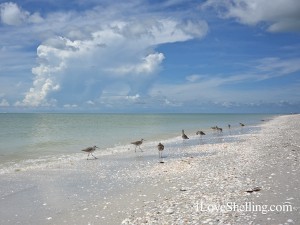 The water was like glass at Gulfside City Park on Saturday and clear enough to find these treasure while walking in the water.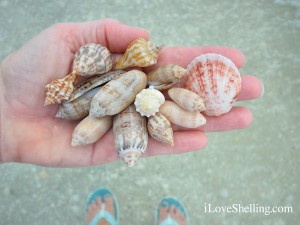 After finding a SUNRAY VENUS and a FIGHTING CONCH as well, I started finding "Candy!" (juvie HORSE CONCHS) in the shell lines on the beach…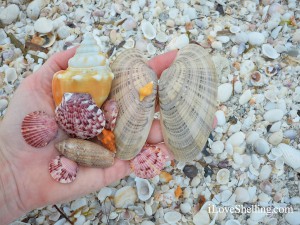 Seriously, there were so many different shell and wrack lines to work, I could have stayed there all day long searching each line to see what different types of goodies were hiding in each one.

But since it was a little warm (around 92 degrees around noon), I stayed either in the water or just along the edge…. where I found oodles of beautifully colored CALICO SCALLOPS (and the candies).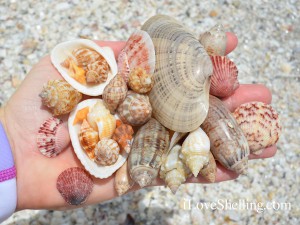 Last evening Clark and I took a walk around the Lighthouse Beach to find the glassy calm water with a small shell line on the Gulf side…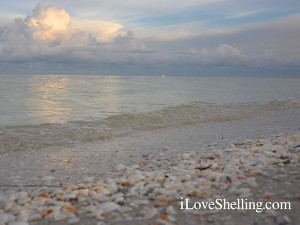 We rounded the tip of the island to find choppier water with lines of SEA WEED covering the shells. It's funny… there are some photographs that I have taken over the years that stick with me for some reason and they make me smile.  So when I saw this gal sifting for minis, I recognized her right away from my post Smiles For Seashells – "I took a photo of you a few years ago and its one of my favorites!". As soon as we started talking I remembered everything else about her too. Sweet Robin! She found a few WENTLETRAPS, BABYS EARS, and lots of other usual suspects just hanging out Sittin 'N Siftin.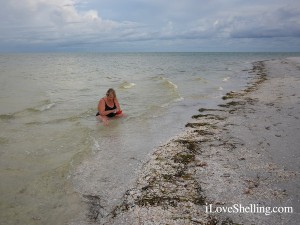 Further down the beach I found this turquoise blue green SEA HARE (SEA SLUG) that had just washed up on the beach. I think it's a different type of RAGGED SEA HARE than the ones I've found before (CLICK HERE)… since I've never seen this color in an adult before. Cool! I put it back in the water but I'm not sure this one survived :(.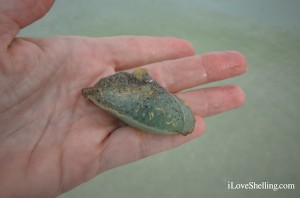 The good news is… it may have just laid this blue green spaghetti looking EGG MASS. But, don't quote me on that… I'm only assuming this after finding an unusual blue green SEA SLUG then only a few feet away spotting an unusual blue green EGG STRING. Hmmmm…  that turquoise EGG MASS from that turquoise SEA HARE? It doesn't seem that far of a stretch, right? LOL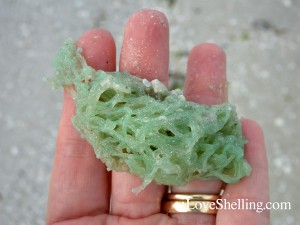 Anyhoo, it was a lovely weekend to explore Southwest Florida beaches to see what treasures the Gulf Of Mexico had in store for us. And… after this storm lets up (with winds out of the west), we may have an even better week to find beach treasures. Fingers crossed!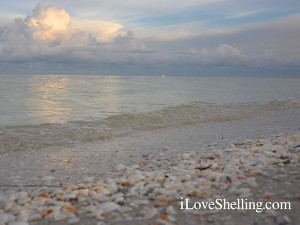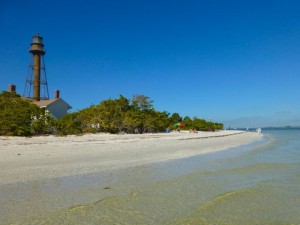 Be careful of what you wish for!  I've been secretly hoping for some "bling" for Christmas. Meaning like… shiny, pretty, glitzy wearable "bling". But instead I got raggedy, stringy, gooey "bling"… BEACH BLING!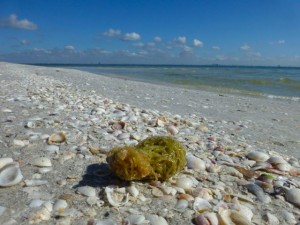 If you know me, you know that I get more excited about discovering something new washing in on the beach than getting any new fancy, shiny jewelry. Errrrr.. well most of the time. LOL But really, I found this dried clump of  some sort of stringy mass at Lighthouse Beach today.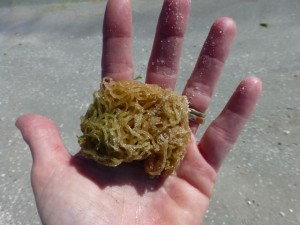 Cool! So I looked a little closer to inspect its identity…. and realized that it's a FIGHTING CONCH EGG STRING!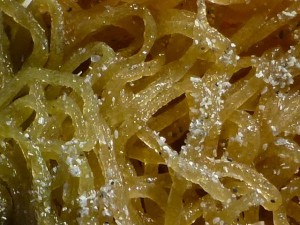 The little eggs inside these strings will turn into this one day…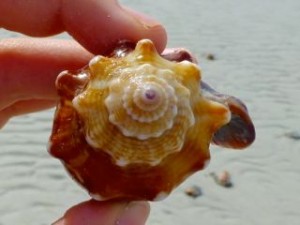 Doesn't that just blow your mind? And remember? Back in July, I saw a live FIGHTING CONCH laying her eggs (to see the post CLICK HERE)…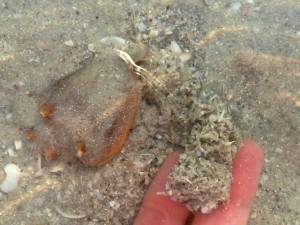 Unfortunately the string I found today was too dried up for any of the eggs to make it but that's why the females lay so many eggs. Some will make it! Any maybe that's why at different time of the year we see thousands at time on the beach… maybe they are mating!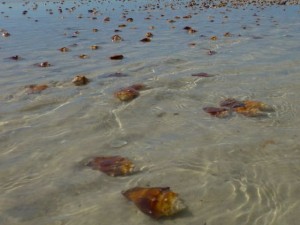 See? This is why I love my BEACH BLING so much! There are endless possibilities of treasures Mother Nature will give us to ponder over. Like the other Bling I found  today. A RAGGED SEA HARE! Poor guy was washed up on the beach but I could see "he" was still alive and moving so I took hime to the water. I took a very quick video today but if you missed my last video on the RAGGED SEA HARE, it is waaaaayyyy better with a few added funnies CLICK HERE.
Here is today's version of me trying to save this SEA HARE and all of his "raggedness".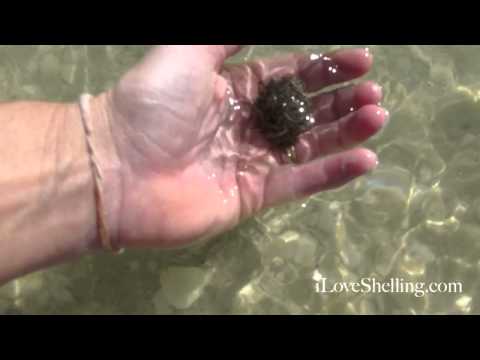 I didn't find many keeper shells today at the Lighthouse Beach since I was too obsessed with the Bling. When I got home I still felt like I needed my shell fix so I finally rinsed (plain water, don't use bleach!) off my COCQUINAS from earlier this week. Oh, and yes, I left in that cute little TURKEY WING too.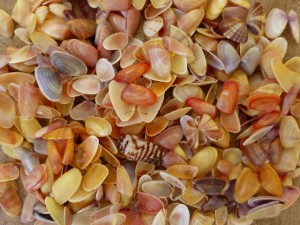 Hope to see you at the parade tomorrow!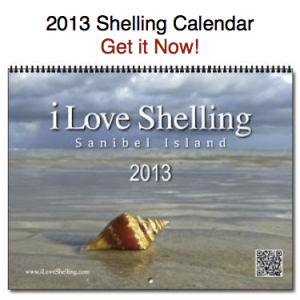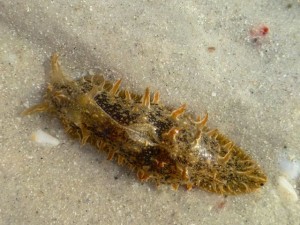 This looks nothing like the SEA HARES I've seen in the past that gracefully dance through the water flapping their wings like a beautiful bird. I know, this guy looks like Bob Slug Marley… in need of a haircut. I found this RAGGED SEA HARE at the  Sanibel Lighthouse Beach yesterday morning at low tide where there were ooodles of them! I've never seen one of these before! We've had some strange winds from all directions and very choppy seas the last few days so I think they got pushed in right after they "hatched". When they got out of the water, they retracted their horns and pigtails (haha- they are actually called papillae but let's go with pigtails for now) and rolled up in ball. This gives new meaning to "hare ball", right?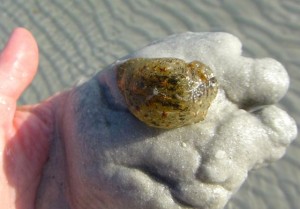 And yes! Another video! I loooove finding and learning about new sea life and add  it to my BEACH BLING  identification page!
Ummmm…. Please don't tell anyone else that I heard what this RAGGED SEA HARE was saying… they might think I'm crazy.  😉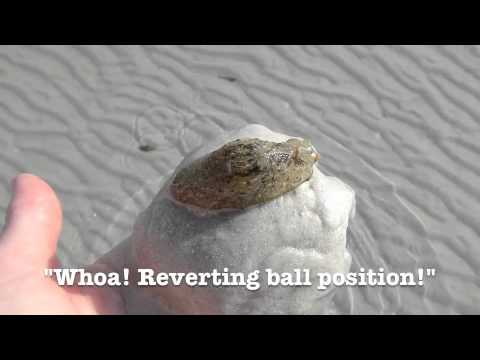 Oh and I had witnesses that will tell you I wasn't crazy listening to these guys. I ran into Dan and Tina (TN) who were at the Lighthouse shelling finding all of these fantastic shells while I pointed out the RAGGED SEA HARES…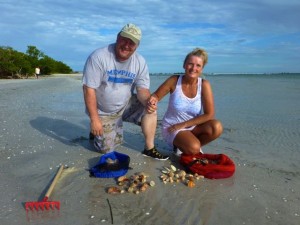 And! To top it all off, I saw Karen with her cutie aqua iLS shirt and iLS cap on! I first met Karen and Dexter (St Louis) after they found a huge MEGALADON SHARKS TOOTH at Blind Pass last year. It was so good to see yall again!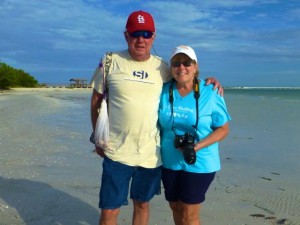 PS- If you don't know already, there is a tropical storm in the Atlantic predicted to become Hurricane Isaac which is on a path headed towards Southwest Florida. If it stays on this path and gains strength, I'll let you know in a quick post if we have to evacuate. Fingers crossed that we only get shells and NOT a hurricane.