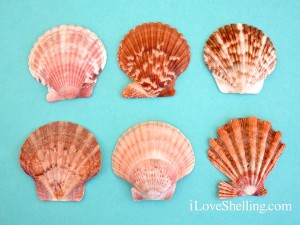 Can you tell the difference between a CALICO SCALLOP, ROUGH SCALLOP, BAY SCALLOP (top row), ZIGZAG SCALLOP (the FLAT valve and deep valve) and a LION'S PAW (bottom row)? I searched through our collection to find similar sizes and color examples of each species so that you can see the differences in shapes with the exterior (above) and the interior (below). But Ack! I didn't mean to but I switched the ZIGZAG valves in the next photo so that now the FLAT side is in the middle and the inflated side is on the second row left. Sorry- silly me!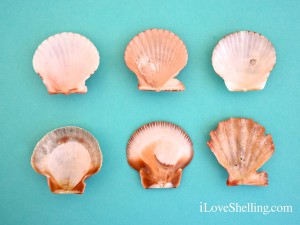 It's so hard to show every angle but here is a way to see how different they are and how deep the valves are. On the top row right in the next photo, you can see how much flatter the BAY SCALLOP is from the CALICO (left) and the ROUGH SCALLOP (middle) and also how deep the ribs are in the LIONS PAW. I've written about both valves of the ZIGZAG SCALLOP before  (CLICK HERE) but not about how the valve looks beside the other SCALLOPS. Denise Kisko (my buddy in the New York Times article!) asked me how to identify the second side of the FLAT ZIGZAG. In the next photo look at the shell in first row on the left, see the big shadow under the "nose" of that SCALLOP? It doesn't sit flat on the table because it is so inflated and the sides spread out so much. That's the second half of the ZIGZAG bivalve shell that fits with the FLAT side (middle shell).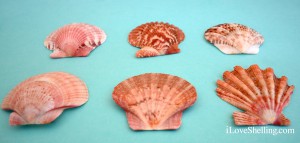 This is how it looks when both valves are together when it is alive…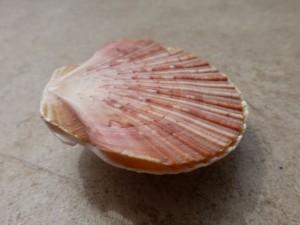 Here is a photo of a common CALICO SCALLOP, the deep side of the ZIGZAG SCALLOP (the other side of a FLAT) and a common ROUGH SCALLOP. Can you see that the middle shell is more "fanned" and the hinge area seems a bit smaller too.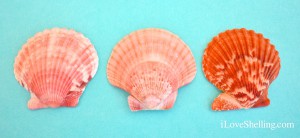 Now you can really tell the difference by looking at the interior…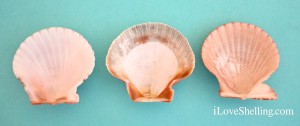 When I was looking at all of our SCALLOPS, I noticed how similar the CALICO SCALLOPS and BAY SCALLOPS look alike too. There are a few different ways to tell them apart but for me, this is the best angle to look at them. Now they look different, right?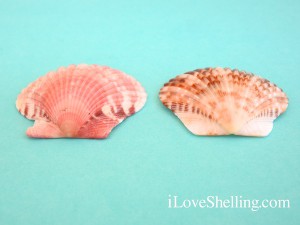 So I hope this will help you just a little bit more to tell the different SCALLOPS of Southwest Florida apart. Top left to right…. CALICO SCALLOP, ROUGH SCALLOP, BAY SCALLOP. Bottom left to right… FLAT side of ZIGZAG SCALLOP (which I normally just call a "FLAT", ZIGZAG SCALLOP (the deep right valve), LION'S PAW.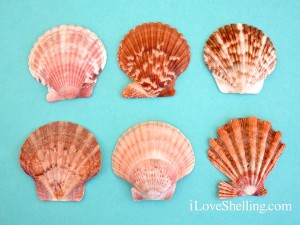 When Denise asked me how to identify the "other side of the FLAT", her friend Penny Lang Yelverton posted a poem on the iLoveShelling Facebook page that she and Denise wrote while together on Sanibel. She said…
"Great month on Sanibel with my friend Denise Sheldon Kisko (NYT). We wrote new lyrics to the song My Favorite Things while waiting for a storm to pass at Gulf Side.
Sand dollars, starfish and conchs of all kinds.
Kitten paws, scallops are some common finds.
Sunglasses, sunscreen and lip balm galore,
Keep you from burning so you can shell more.
Lions paws, tulips, junonia's so fine.
Worm shells and murex are also good finds.
Blind Pass and Bowmans and Gulf Side seashore,
These are the beaches we shellers adore!
When the rain comes,
When the waves crash,
We don't even mind.
We'll keep on shelling for our favorite finds.
We must be out of……
Our minds.
Happy shelling!"
I love this! Thank you Penny and Denise! You inspired me and made it fun to start sorting my SCALLOPS.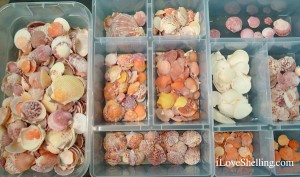 Read More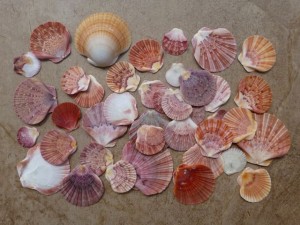 I've never thought much about those beautiful FLAT SCALLOPS we find on the Sanibel beaches beyond their beautiful colors, their patterns and how unusual their shape is…. which is very… uhhh… flat. I've always called it a FLAT but now that I think about it, I'm not really sure if I made that up or not (I do that a lot- oops). I think most shellers call it a FAN SHELL or more appropriately, the ZIGZAG SCALLOP which is what the Bailey-Matthews Shell Museum calls it.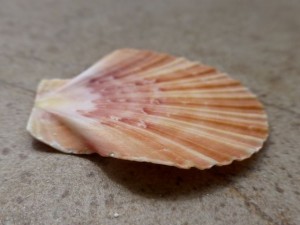 But remember, a SCALLOP is a BIVALVE … it has two valves. So think about it, both sides to this SCALLOP can't be flat. Hmmmm… Why don't we find the other side? A couple of weeks ago Clark and I were visiting Naples with some friends so while walking the beach Clark picked up a SCALLOP and showed it to me.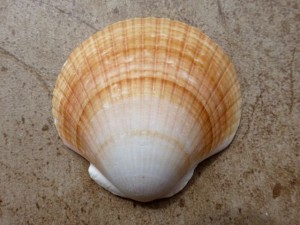 It wasn't a FLAT, CALICO SCALLOP, ROUGH SCALLOP  and def not a LION'S PAW. My first instinct was that it was a non-native species so I told him that someone probably bought shells from the store to spread on the beach for a wedding or party. That's how most shells that aren't native to this area end up in someone's shell bag … thought of as a rare shell. I put it in my pocket any way to maybe research it later.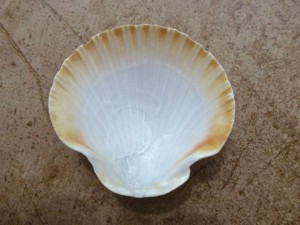 When I went to the Shell Museum to have Dr Jose Leal look at the FULGURATOR OLIVE, I took this shell too. Yes! He said it was the right valve of a FLAT! Our first one ever! He told me that since the convex shape of this valve is so inflated, it catches the water current differently than the flat valve so it travels in a different direction. Look at the bulge on this baby…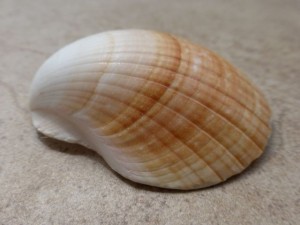 Notice that I didn't say that he positively identified this as a ZIGZAG SCALLOP valve. Dr Leal said this could actually be a RAVENELI SCALLOP which is a very similar shell that has a flat valve and a convex valve…. but whichever it is, I'm very tickled to have finally seen the other half of a FLAT (I'm sticking with calling it just a plain old FLAT). I just want to find one like Super Sheller Clark. Way to go Clark! Do they show up more in Naples and Marco? hmmmm. Have you seen them on any other SouthWest Florida beach?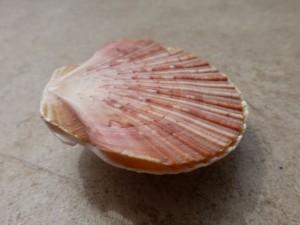 One quick message about the shelling this week… The beach by the jetty rocks at Blind Pass Captiva wasn't showing many shells but I heard you had to get in the water to find anything. I walked down the beach to the point in the next photo and found lots of OLIVES and a few other good shells rolling the in the surf line. It was pretty good!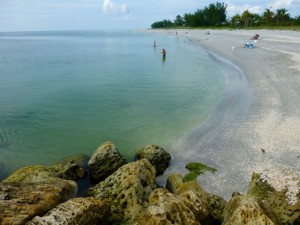 We went to the Lighthouse Beach Last night but didn't find gobs of shells in the water. I didn't look up in the high tide wrack line… which I have a feeling I would have found more shells but I am happy with just the few I found that weren't occupied. Always happy to find candy but I think I might go back to Bowman's and head towards Blind Pass.. that's been the best spot for us lately!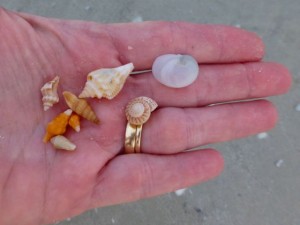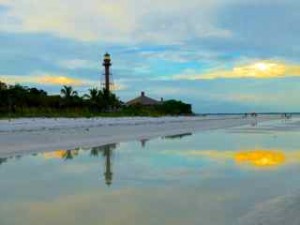 Read More