Archive for Mangrove Periwinkle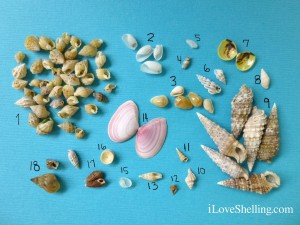 Looking at this top picture you will see most of the shells I found last evening at Fort Myers' Bunche Beach. Can you identify most of them? While you try to figure out each of the shells… Wanna go on a little CYBER SHELLING hunt for shells with me? All righty then let's play a little "I Spy"! Don't mind the "dirty" bling (a mix of peat and other good stuff that gives food to so many living organisms)… just look for some of those sweet little minis that we all love by clicking on the next image to enlarge…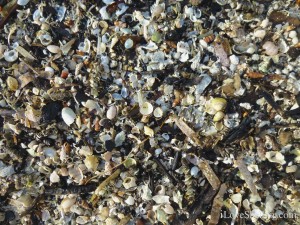 This will give you an idea of how "big" those little gems are by looking at my handful of sweet somethings…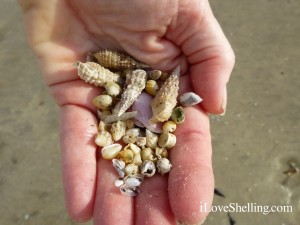 As much fun as it was collecting minis, I was tickled pink when Clark showed me his fave find… A ROSEATE SPOONBILL FEATHER.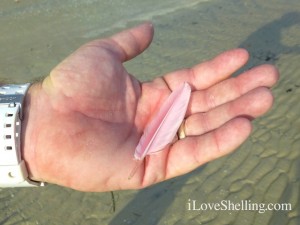 We didn't see any ROSEATE SPOONBILL birds but we did see immature WHITE IBIS birds. Ibis juveniles are mostly brown but these guys have started molting out of their plumage becoming adults.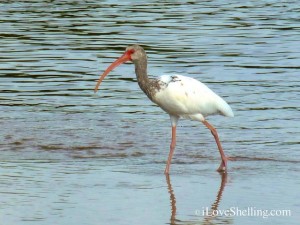 Here are four immature WHITE IBISES hanging out with a SNOWY EGRET and a BLUE HERON.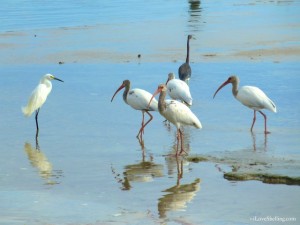 It was a bird lovers paradise last night. I even saw the dance of the REDDISH EGRET…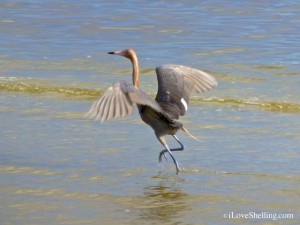 Before it got dark, we stopped at Sanibel Lighthouse Beach just in time to catch a beautiful RAINBOW…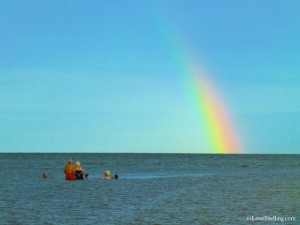 Samuel, Sheila, Gene, Freida (Cape Coral, FL) and their family in the photo above must have hit the pot of gold under the rainbow. They found all of these in the water…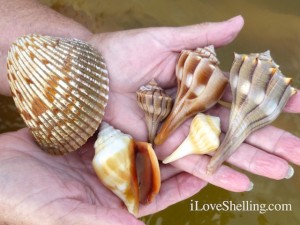 I found another pot of gold under the rainbow when I met Bill, Jody, Brooke, Brandon, Laura Beth and Gramma Kaye. A golden family of shellers from Alabama.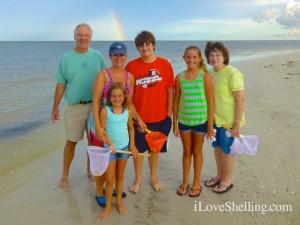 Okay, did y'all identify most of the shells in the top picture? Errrr….I have to confess, once I got going on my own I.D.s (and put my reader glasses on), I realized that some of these shells weren't as obvious as I thought. There were a few that I had to look up… like the PAPER BUBBLE and TURRET. I failed my own test! hahaha I hope you do better than I did! I know the photo doesn't show both sides of the shell, but if you know what #8 is by looking at this photo or you have a better idea if I misidentified anything, please let me know. Whoops! How embarrassing! LOL (blush, blush)
8.   Ummm. Why did I put that in there? I have no idea what it is. LOL Best guess?
10. Pitted Murex
11. Turret
12. Oh geez- I'm just going with baby whelk so cute!
16.  Fish Vertebra
Do you love shelling? Would you like to meet other shellers who love the beach and its treasures just as much as you do?  Do you want to learn more about shelling in Sanibel and the out island islands? Join us for Shellabaloo 3!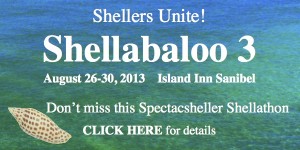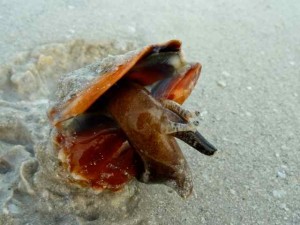 Hundreds of live FIGHTING CONCHS raised out of the sand at Lighthouse Beach yesterday to take a look around as the tide was going out.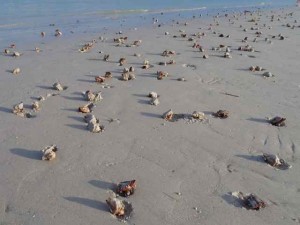 I found one of the FIGHTING CONCHS hanging out in a tidal pool… but wait… I noticed something in the water beside it…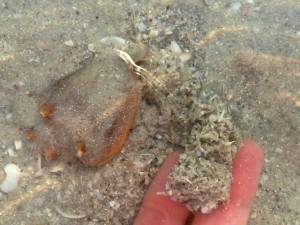 This FLORIDA FIGHTING CONCH was laying EGGS! The eggs are released in a gelatinous egg string then sand adheres to its thick jelly-like sheath.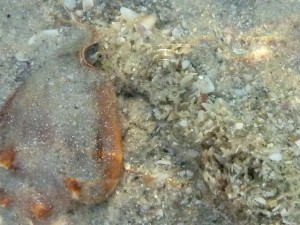 I tried to get close enough to see how the eggs are released without disturbing this busy gal. If you look closely, you can see them shooting out! It's that spout perpendicular to the eye. Go Momma! Raise some more shells!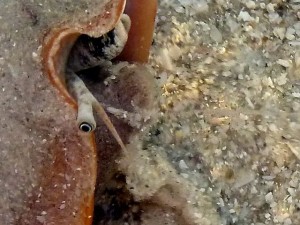 I think this is a FIGHTING CONCH EGG STRING as well…. but why would she lay her eggs without being in the water? I followed the trail from the string to a healthy FIGHTING CONCH about a yard away. Hmmm. Maybe that jelly like sheath protects them when the tide recedes. I dunno, but I hope she raises healthy shells and I sure love to find new things like this!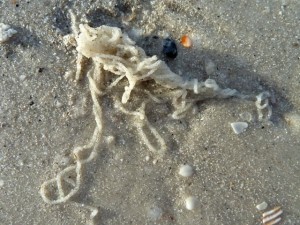 Speaking of "raising shell"…. We met the Shell Raisers (The Shell Raisers on Facebook) at Blind Pass Sanibel! These 2 brothers, Eric and Chris, have been shelling all their lives and they even witnessed a BANDED TULIP laying eggs in their live shell tank.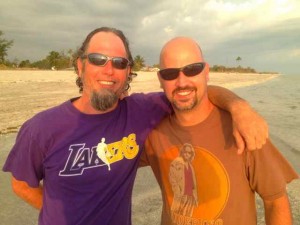 Chris found that huge WHELK but put it back in the water since was occupied by a monster HERMIT CRAB. They were vacationing on Sanibel with their family from the east coast of Florida . Here are Chris and Eric with (from left to right) their mom Cheryl, Sarah, Amelia and Ava.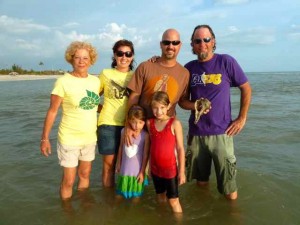 Back at the Sanibel lighthouse, Linda (Pensacola, FL) was busy finding the mini shells…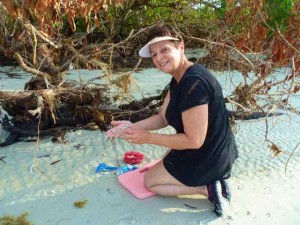 She found a mega WENTLETRAP along with some other sweet minis…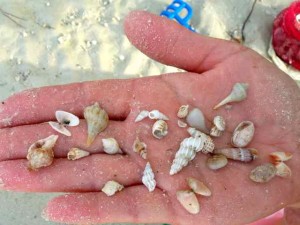 Her best find was this gorgeous MANGROVE PERIWINKLE…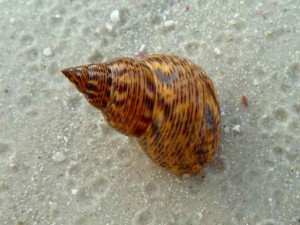 If you look closely you can see a beautiful purple lip…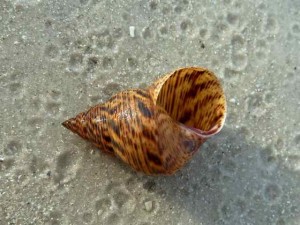 Bobby (Houston TX) finally found what he was looking for…WENTLETRAPS!!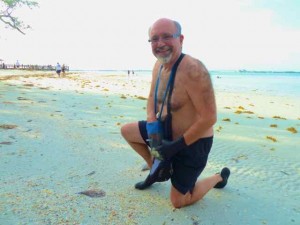 I was asked a question on I Love Shelling Facebook page by Diane F  about a shell I.D. It was that ROSE WOLF SNAIL again! I told y'all I keep forgetting the name of that shell but now that I can remember the name,  I completely forgot to put it on my SEASHELL IDENTIFICATION page. This shell keeps stumping me some how! Thanks Diane for asking about this shell and sending such a beautiful picture of it. I'm going to use photo for my I.D page- Thank you!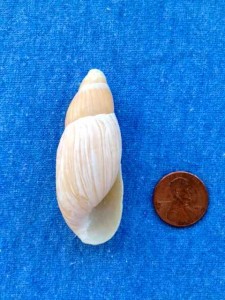 Okay, one more thing… I saw the dolphins playing near the pier last night and I just happened to video them racing along the shoreline in front of an unsuspecting family. This is no fancy video…just a little clip of our own little Sanibel Sea World…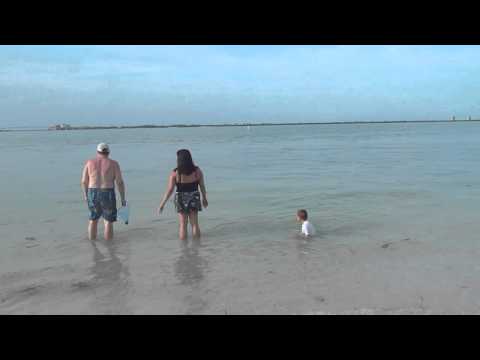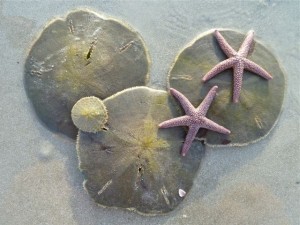 The weather conditions and last night's full moon caused an extreme high tide that washed up lots of live creatures on the beach. Unfortunately for them, an extreme low tide left them with no where to hide.  Fortunately for Cory from Cape Coral (and me), he got to see a tiny live SAND DOLLAR with a few mature beauties as well as several live STARFISH at the Sanibel Lighthouse Beach then he put them back in the water.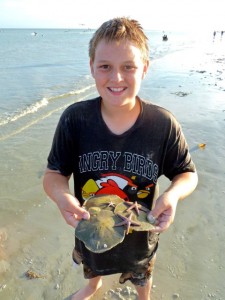 I saw several live TRUE TULIPS hiding inside a STIFF PEN SHELL.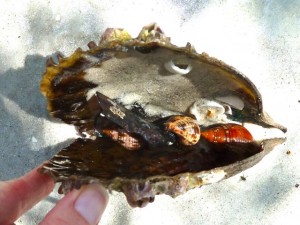 I did spot one empty bright orange TRUE TULIP hiding under one of those PEN SHELLS. A keeper! Yippee!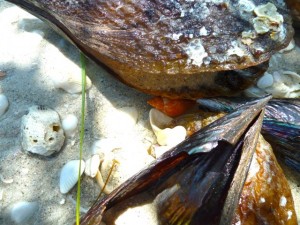 Along with a WORMIE and CHESTNUT TURBAN…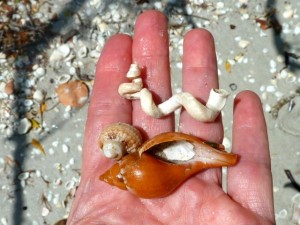 Caroline and Jennifer (Atlanta) are long time "wentlers" so they knew just where to look to find dozens of WENTLETRAPS.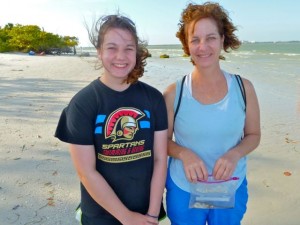 Jennifer found all of these WENTLETRAPS within an hour and a half…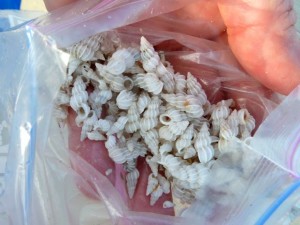 Her daughter Caroline has the WENTLE-eye too …and the KING'S CROWN-eye and the BABY'S EAR-eye!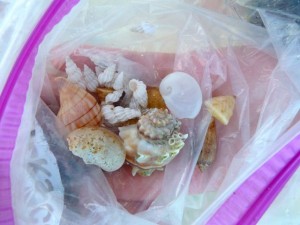 Guess who I met! …. Sanibelle! If you read a lot of my post comments, you might have read one of Sanibelle's comments. She rocks! …well she "shells" …but you know what I mean. 😉 It was a pleasure to me you, Sanibelle! This is miss cutie Sanibelle…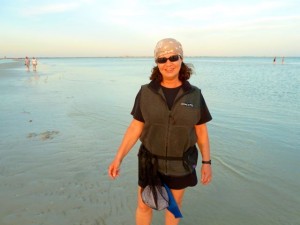 Since there were so many live creatures to ooooh and ahhhh at, it was hard to find many big empty shells besides PEN SHELLS. I talk about PEN SHELLS so often but I rarely ever show them so I found good example of both types that we find here. The one on the left is a STIFF PEN SHELL and the one on the right is a SAW-TOOTH PEN SHELL.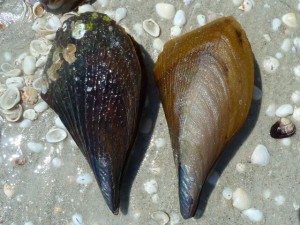 The most unusual shell I saw yesterday was a MANGROVE PERIWINKLE that Clark found yesterday on the gulf side of Lighthouse Beach. We just don't find many of them at that beach.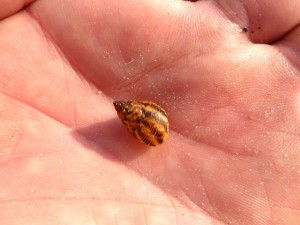 He also found this little army man. I think he'll make good company for my LEGO guy I found in February.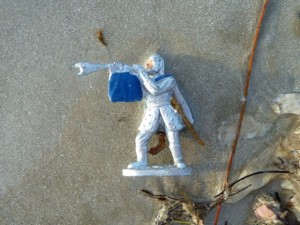 Since there are so many live shells on the beaches right now, I just want to make sure you know that you can't take any live shells, SAND DOLLARS, STARFISH and such. You should gently put it back where you found it or in deeper waters. Lots of people don't know how to tell if a sand dollar is alive or not. Here's the deal… if a SAND DOLLAR is any where near the water and is brownish and looks a little "furry", that means it is happy and healthy so we need to let it live a long time …..so it can breed! This is what live SAND DOLLARS look like. See that "fur"? Those are his feet AND how he breathes. Cool, huh?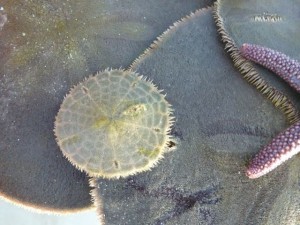 This was the moon rise last night over Fort Myers Beach. I did not change or colorize this photo! It was really that big and colorful! I guess that's why all the living creatures were stirring yesterday.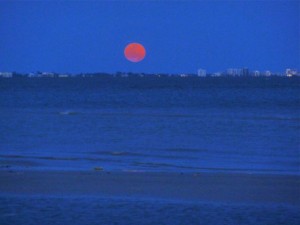 There should be more goodies washing in so for now…. Gone Shelling.