Archive for Paper Fig Egg Case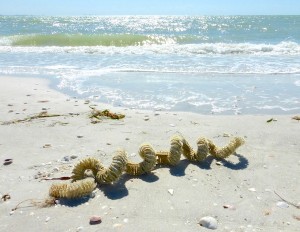 On my beach walk at the Lighthouse Beach today, I saw many different lines of shells and oodles of Beach Bling in lots of different wrack lines to sift through. About half a mile away from the lighthouse on the gulf side, I found lots of fun minis in the high dried tidal pool areas (on the right of the next photo)…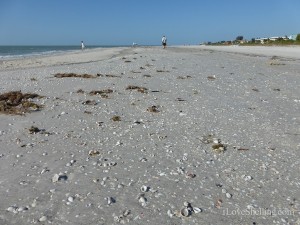 Yes, I love to show photos of minis… But… if you know me…. I love me some BEACH BLING! I was enamored with  all of the different egg casings for the different shells lined up along the shore.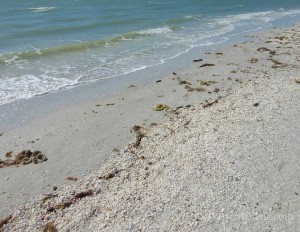 LIGHTNING WHELK EGG CHAINS were everywhere. Female WHELKS produce these long EGG CHAINS which can get up to 33 inches long. There can be up to 145 capsules in each strand and each capsule contains around 45 eggs. That's alot of babies, right? But that's life in the wild- only the strong survive. Mother Nature knows what she's doing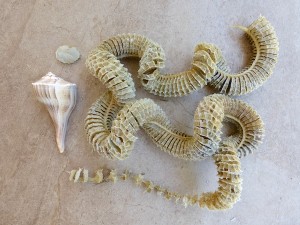 PEAR WHELK EGG CHAINS were a little bit harder to find but I saw about 6 of them.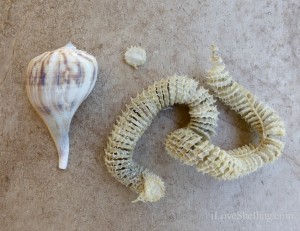 What's the difference between the LIGHTNING WHELK and the PEAR WHELK? Aha! Now you can see for yourself how much smaller and shorter the PEAR chain on the left is compared to the larger LIGHTNING WHELK on the right.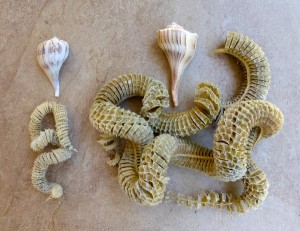 PAPER FIG EGG CASES (or the PAPER FIGS themselves) are never that easy to find but I did see about 3 different ones. They never get to be long chains like the WHELKS but instead they look like little corn cobs that are glued together at the sides.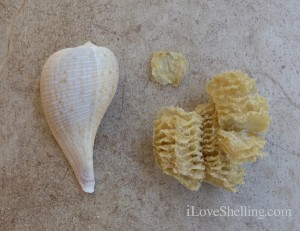 I saw dozens of HORSE CONCH EGG CLUSTERS today too. Most all of the cases I saw washed up on the beach were empty inside each capsule. In each of the photos, I removed one of the capsules of the egg clusters so you could see what shape each of the capsules looked like.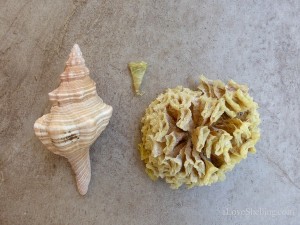 Here is a HORSE CONCH EGG CASING, PEAR WHELK EGG CHAIN and a LIGHTNING WHELK EGG CHAIN all together on the beach. I saw other casings but I'll have to save those for another day…. because….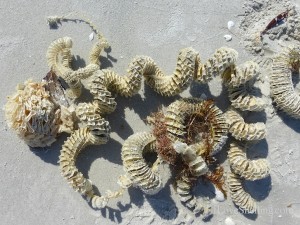 Want to walk the beach with me to see what it looked like when I found all of these EGG CASINGS? I made a video! I've gotten some requests lately from peeps up north "jonesin"  for my beach videos. LOL Love it! I don't want to let you down! Enjoy!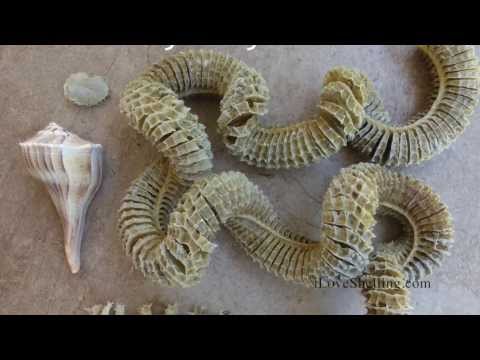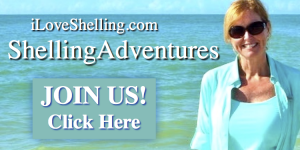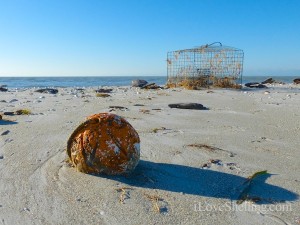 After strong west winds last week, surely we would get some interesting shells and Beach Bling washing up on our shores of Sanibel and Captiva. Yep, lots of Beach Bling lined the beach at Gulfside City Park.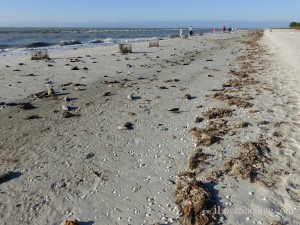 The winds were so strong, the strength of the waves pushed oodles of crab traps with buoys onto the beach. When traps get tossed around by the power of the water, their doors get jostled then spill out the bait for the crabs.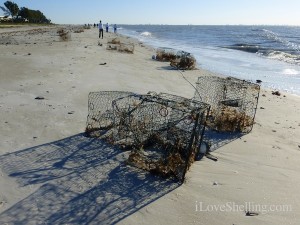 So of course, the bait gets washed up on the beach too. Pigs Feet! Yes, they use PIGS FEET to attract STONE CRABS and BLUE CRABS so that's why you may have seen odd bones washed up on the beach- most of the time its from crab traps. I actually think this one may be a HOGS FOOT. Its weird and humongo! On the beach, I do not like pigs feet or ham, Pam I am.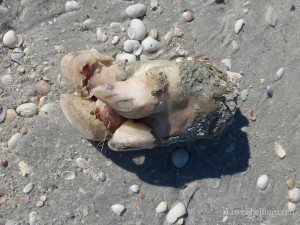 But don't let this PIGS FOOT be confused with this SEA PORK. More ham, Pam I am?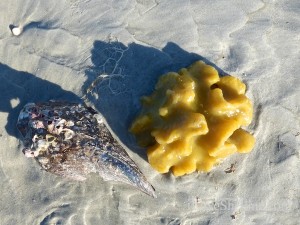 I also found lots of different MOLLUSK EGG CASINGS too like this LIGHTNING WHELK EGG CHAIN…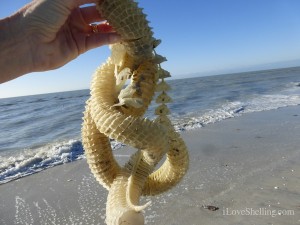 I saw there were little baby shells in their fluid still sealed in each of the disks so I put it back in the water. I'm sure they washed back up on the beach since the water was still pretty rough but … who knows. Maybe they got stuck on something out there in the water and were able to hatch. Dunno, but why not try?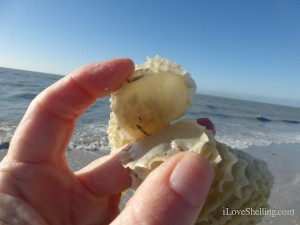 This one is an EGG CASE to a PAPER FIG…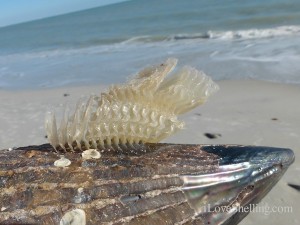 This is a BANDED TULIP…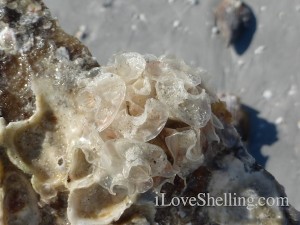 This beauty is a TRUE TULIP EGG CASE…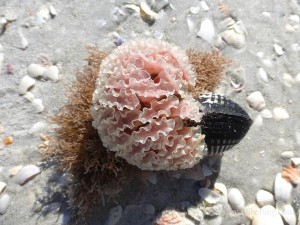 When Clark and I looked a little closer, we saw there were several other EGG CASES that were laid on some of the TRUE TULIP EGG CAPSULES.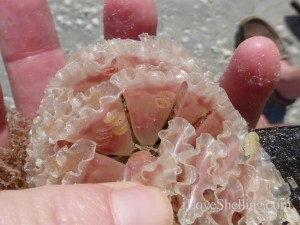 There were lots of MILLIPEDE STARFISH (and PEN SHELLS)…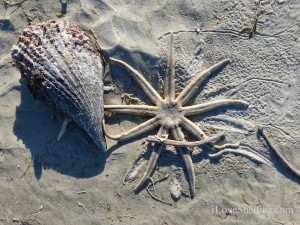 This was a very cool LONG SPINED SEA URCHIN…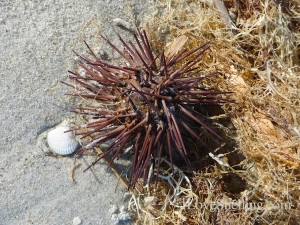 There were hundreds of DOSINIAS that were washed up on the beach as well. I was really thrilled to find both types of our local DOSINIAS scattered along the wrack lines. The top one is the very common DISK DOSINIA and the bottom one is the ELEGANT DOSINIA. I haven't had time to photograph them but I hope to show the detail much better on my next post.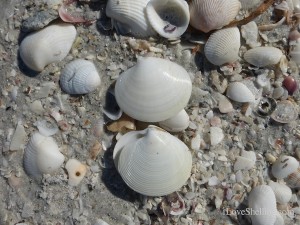 We searched Blind Pass (both sides) and Lighthouse but didn't find huge piles of shells this weekend after the high winds but loved finding all of this cool bling at Gulfside City Park. I'm still hoping the shell piles will come rolling in soon but the birds are happy as clams with so much gourmet food at their beaks.
The birds do like stone crab and clams.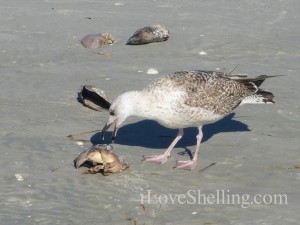 They like them here and there. They like them everywhere.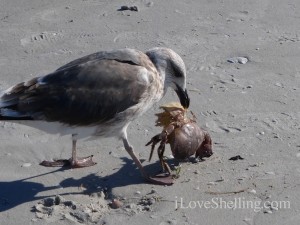 They do so like stone crabs and clams. Go Birds. Go Birds. Pam-I-am.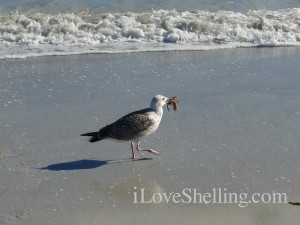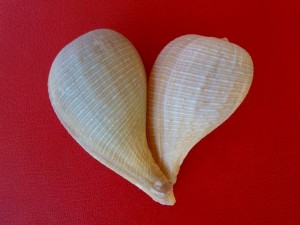 I love paper Valentines. Finding a PAPER FIG Valentine on the beach is even better!  Okay, I didn't find these laying on the beach just like this (especially with a red background- heehee) but I found some very cool Beach Bling that I could not identify…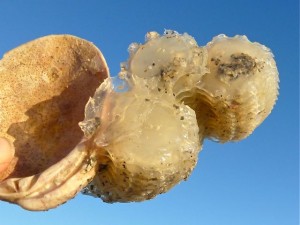 It looked like the gulf had a picnic and the left over corn cobs washed up on the beach. I saw them littered from Middle Gulf Drive to Blind Pass the last two days. They may look like corn cobs but I knew they were mollusk egg cases.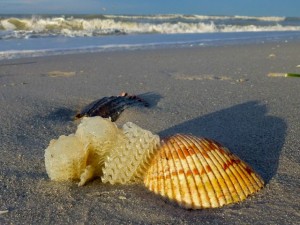 They also look like WHELK egg casing coils that have been chopped every couple of inches. So which shell laid these eggs?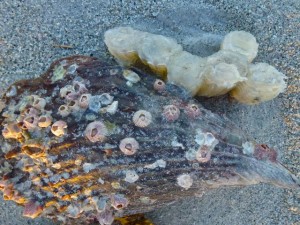 Dr Jose Leal of the Bailey-Matthews Shell Museum identified these as ATLANTIC FIG SNAIL eggs. Oh Cool! PAPER FIGS! Thanks Dr. Leal!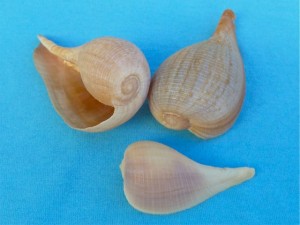 I loooove to notice different things that wash up on the beaches…. so this tickled me to learn what one more mollusk egg casing looked like.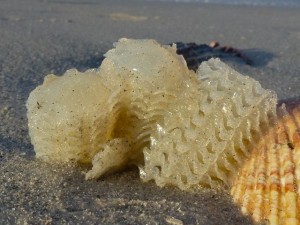 But wait! While I was inspecting one of the PAPER FIG EGG CASES, I saw something else in between the individual egg "disks"…. more eggs! Another mollusk laid eggs on the FIG egg case. Wow!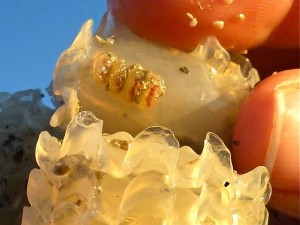 The PAPER FIG egg casings were very sandy but you can see the orangish rows containing little babies from another shell. I have no idea which shell laid these eggs but if you know, please share!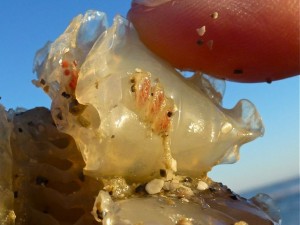 There were so many empty FIG shells lying on the beach too. Annette S. had commented on my last post about how many she found as well. There were oodles of them!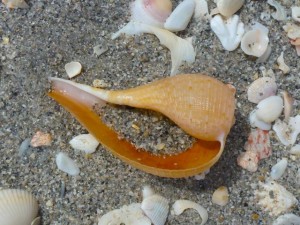 I had to add this photo again of a live PAPER FIG from a previous post…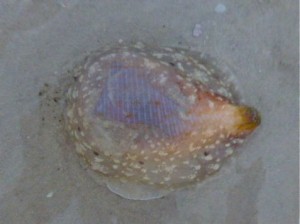 This photo fascinates me to see how far this guy is out of the shell…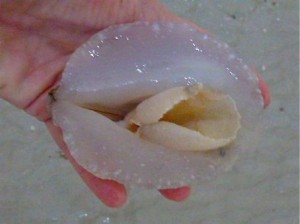 This is the mollusk peaking out of the aperture. And notice, these guys don't have OPERCULUMS…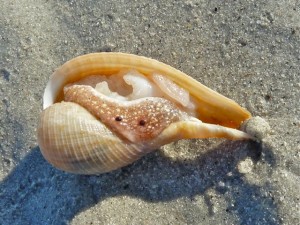 The shells are so fragile, most often they are found broken on the beach but when they are empty and whole, Clark can't help but pick them up. This is one of his fave shells to collect so here's a PAPER FIG Valentine for my honey and all of you other PAPER FIG lovers out there!