Archive for Rice Olive
I took a lovely walk at the lighthouse beach with my friend Susan S. this morning and pointed out a few sand trails leading to live LETTERED OLIVES …
Then she asked me what kind of shell was making this trail…
It looked just like an AUGER trail as I remembered those beautiful tracks I had photographed in 2010 then turned into "AUGER ART" . But I was wrong! It was a DWARF OLIVE. I wonder how many times I had seen them but had just assumed it was an AUGER. I know…never assume.
I like to call these tiny little OLIVES "RICE SHELLS" since they look like grains of rice. Here's a short video of this live little cutie…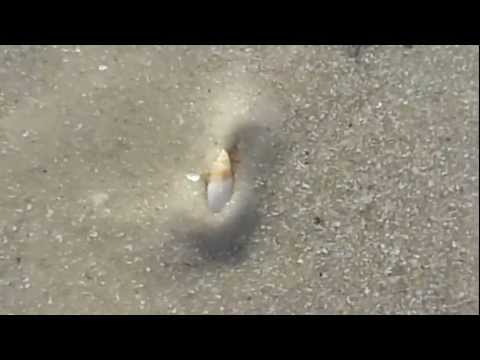 But wait! We saw more live shells. Robyn from Singapore (!) wanted to know what was coming out of this shell that was so bright orange. It's a live HORSE CONCH! And all of that "orange stuff" is the live mollusk that made the shell….. and as I was explaining that, the animal squirted a stream of salty water at us. Ha!
She knew she couldn't keep a live shell so she happily walked it out to the sand bar where she found it.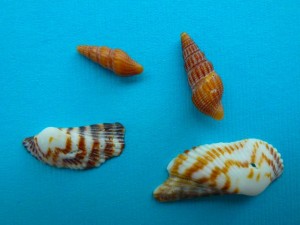 Don't get your taste buds all worked up about TURKEY, RICE or CANDY because I'm talking seashells, of course! We found lots of mini "morsels" at the lighthouse over the weekend including these two TURKEY WINGS  (the biggest one is only about an inch long) and two TAMPA TURRIDS in the photo above and RICE OLIVES and BABY'S EARS in this next photo.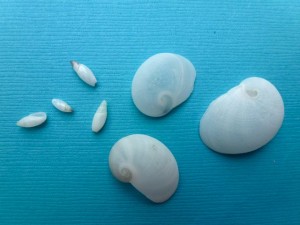 Along with the usual ANGULATE WENTLETRAPS, I found a BROWN BANDED WENTLETRAP too….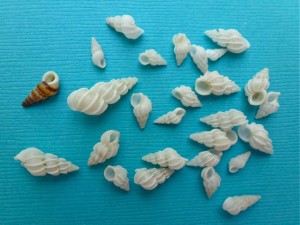 …. And some AUGERS and little FIGHTING CONCHS.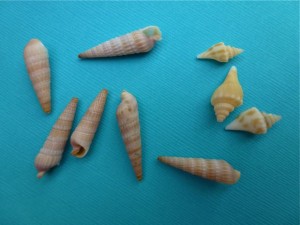 And to top it all off with some sweet candy, we found two HORSE CONCHS and baby ALPHABET CONE.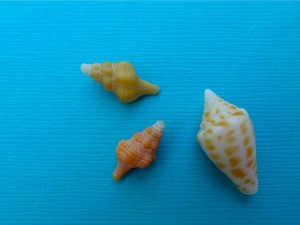 I met William and Melissa (Jacksonville, FL) filling their shells bags with SCALLOP shells, CONCHS and some MUREXES.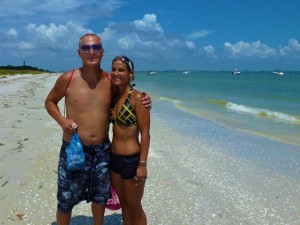 I found out this was their first trip to Sanibel so I showed them how to find WENTLETRAPS too..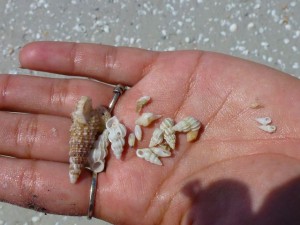 I met another Shelling Sister Sanibel Stooper on the beach too…. this little cutie Lucy! She was having a ball with this COCKLE shell on the beach with her parents Jeff and Tammy.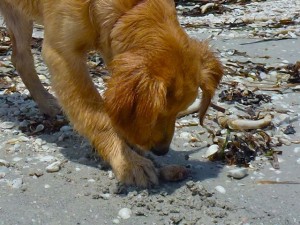 And look what I found again…. a SMOOTH DUCK CLAM. Maybe it isn't that unusual (?)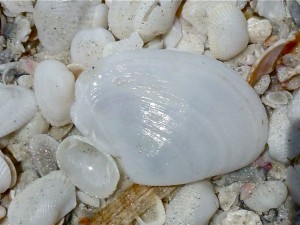 Unfortunately, it's so thin and fragile, it broke when I got it back to the house……oops!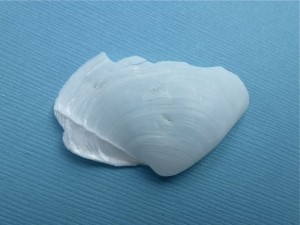 There were so many SAILOR'S EARS, I bunched a few together and that's when I saw the SMOOTH DUCK CLAM too.
Just a reminder- If you haven't entered the  Susick Sea Shell Sifter Giveaway yet, CLICK HERE to win!