Archive for Jellyfish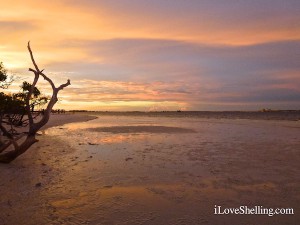 If you were outside last night in Southwest Florida, you were lucky to witness a gorgeous cool evening that started with colorful overcast September summer sky …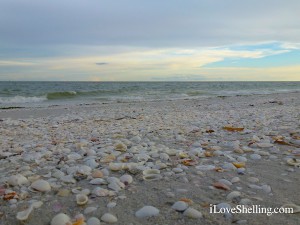 At Lighthouse Beach on Sanibel, there were scattered lines of common white CLAM and SCALLOP shells on the beach and in the surf… but… it was hard to look any further after seeing hundreds of MOON JELLYFISH (Aurelia aurita).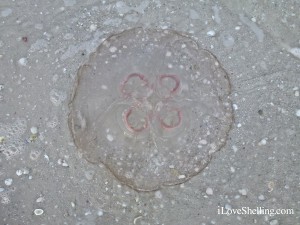 It was a little creepy to see so many in the water and washing up on the beach since I've been stung before (CLICK HERE) but after the initial shock of seeing the MOON JELLY masses and remembering this one doesn't sting humans, it was so cool to stop and see really how beautiful they are.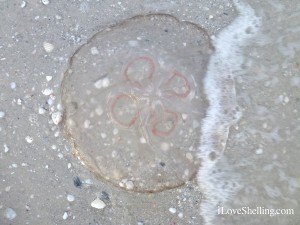 Then I looked up at the sky when I turned the corner to see the Sanibel Pier.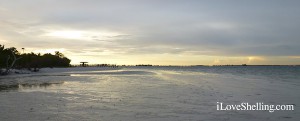 I found just a few minis (a few BUBBLES, juvie CONCHS, juvie OLIVES and one TINTED CANTHARUS) and as I looked up again the sky changed to lavender…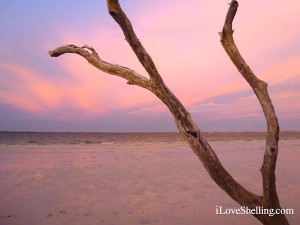 Then it changed to a deeper purple…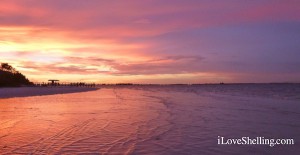 Then to orange…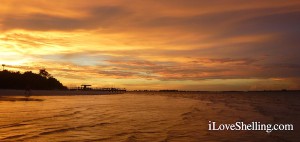 Although I didn't collect many shells… the evening was magical with a feast for the eyes.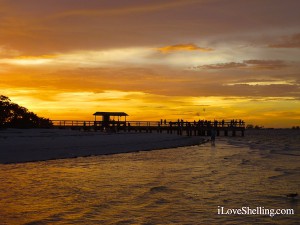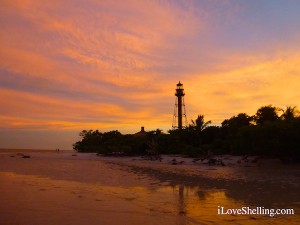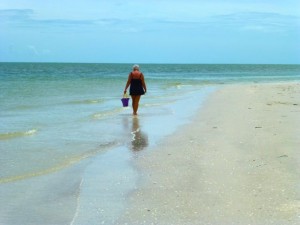 As I was walking along the gulf's edge looking somewhat like this beachcomber… minding my own business looking for shells like this…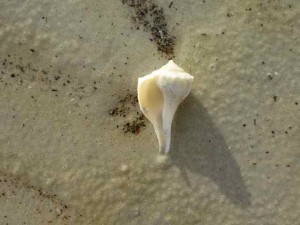 I was enjoying all of the sites around me like this BLACK CROWNED NIGHT HERON…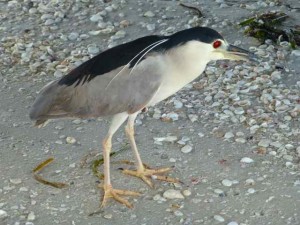 Then I decided to take a little dip in the water to change the view and look for other interesting treasures in the gulf.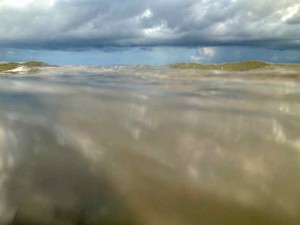 AAACCCKKKK! I got stung! Ouch! Something just brushed up on my ankle and stung me! Geez! All I see is a piece of SEAWEED. I got stung by something that looks like SEAWEED floating in the Gulf Of Mexico? So I picked it up to see what it was. Hmmmm… it didn't burn me this time.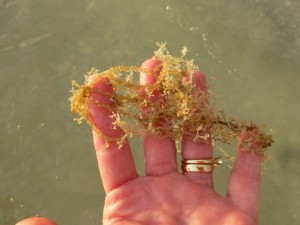 I put it on the sand to take this next photo… then I saw it move. It's alive! The "seaweed" is still alive! Maybe it's not a plant after all. Clark reminded me that he's been stung by this same thing before but I never got a good picture of it.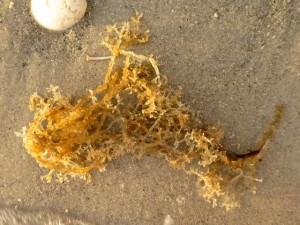 So this time, I had to do some research to find out what the heck this thing is since I did get a good picture of it this time. I thumbed through all of my books and found what I think this thing that stung me was a
HYDROID
.  This is part of the reproductive cycle of a JELLYFISH! OMG This is so cool!  Hydroids are
colonies of tiny stinging jellies
, best described as hundreds of inverted 
JELLYFISH
  attached to a feather- or seaweed-like base. This, my friends, is what stung me. This is what I believe is a POLYPOID which will invert at some time and turn into a JELLYFISH. It's a JELLYFISH in its pupal stage. It's this long tube looking thing with tentacles on the end in this next picture.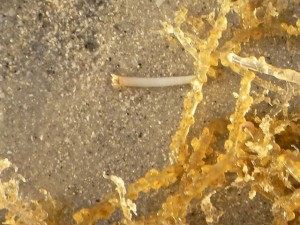 Yall remember I'm not a scientist. So what I read from the book "Reef Creatures" by Humann and DeLoach is "Hydroids are usually colonial, and have a branched skeleton that generally grows in patterns resembling feathers or ferns. Individual polyps are attached to this structure". So it looks to me like this whole structure is the HYDROID and there is my little mean POLYP (attached) that stung me even before he grows into big goopy JELLYFISH. I'm just learning this as I go so I've added links (wherever you see bolded/highlighted words) to the sites I've researched as well. I just think this is so awesome to know what to look for if this happens again so I thought you would enjoy knowing all of this too.
My sting (which felt like a burn and seemed worse in the beginning because it startled me) only lasted for about 30 minutes and the rash went away soon after but it made me VERY curious. And guess what… I got a video of this POLYP (or POLYPOID) moving its tentacles. Ready? don't worry, it won't sting you too.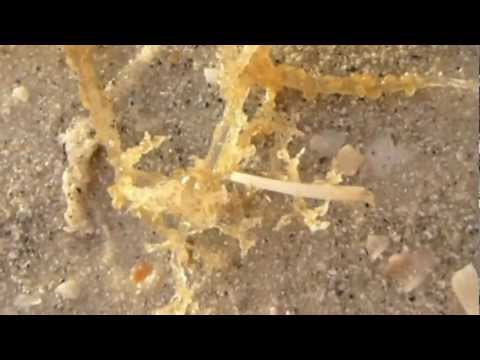 Even if you get stung by a POLYP on a HYDROID one day… it goes away quickly and I really wouldn't even call it "hurting", it just caused some discomfort. No biggie. It was well worth it to learn all of this cool stuff!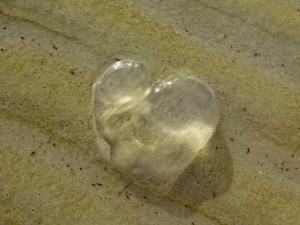 The big shells weren't any where to be found at the Lighthouse- the MOON JELLYFISH have taken over. They are up to 12 inches (or even bigger!) and washing up all along the shoreline. They are quite beautiful and not the stinging kind so it was interesting to have them out on the beach….if you are just taking a stroll.
Along with the JELLYFISH are lots of STARFISH. They are all alive so we threw them out into the water as far as possible to help them survive but the gulf at the point is still very choppy at the point so all we can do its hope for the best.
In this picture, Joan from Old Lyme, CT was visiting Kelli in Gulfport, FL by St Pete and decided to come to Sanibel for a few days to shell. Joan is showing a tiny CONCH as her only find…..yet. Like I said, the pickings were slim for the nice size shells since we've had the crowds out after the storm and now it is calmer in the gulf.Of course, I sent them down to Turner Beach at Blind Pass to hit the shell mound. The sand is covering up a lot of the shells now but there is still some good shelling in those piles.  Take a drink, a towel to sit on, plop down on the mound, sift, chat, get some sun (after you load up on sun screen) and enjoy the scenery. Ahhhh. What gets better? Have fun Joan and Kelli…and good luck!
P.S.- Since we didn't see the big shells, we started looking for WENTLETRAPS. We found 18 of them but Clark found  a MacDaddy! We usually find the size on the left but the other one is the biggest one we've found. I know, it's still tiny but that's a WENTLETRAP for you.