Archive for Freak Shells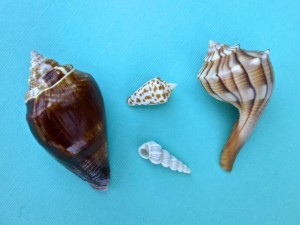 We learned about Donnie The Shellinator (it tickles me every time I write that- heehee) and his PLASTERED WENTLETRAP on my last post, but I didn't have time to mention the other shells he and Alyssa took to show the folks at the Bailey-Matthews Shell Museum…. FREAKS!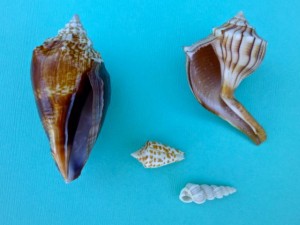 I know your eyes went right to the crooked LIGHTNING WHELK, didn't it? I know, I love a good FREAK shell too but they didn't find these last week, they collected these in the last year but since we got to see the real experts it was the perfect time to show the coolness.  It looks like this WHELK was involved in some sort of trauma that clipped his "tail" (siphonal canal) but he was strong enough to rebuild his shell any way he could… and this time it was sideways.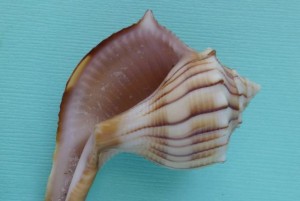 On the left of the photo is a FREAK KNOBLESS FIGHTING CONCH. But "knobless" isn't the only thing that is freaky about it. The aperture is so narrow with an unusual shape and it looks like the shoulder grew back up on the spire of the shell too.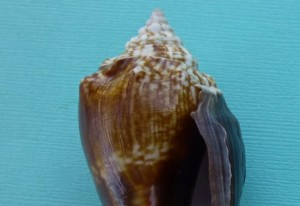 Believe it or not, we don't find many juvenile ALPHABET CONES on our beaches so Donnie donated his to Smokey of the Shell Museum who wants to complete a growth display. Nice, huh? Maybe it be added to a display like this?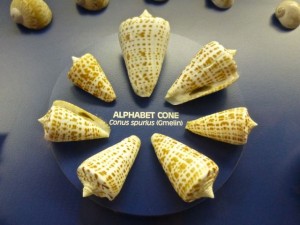 It was such a pleasure to listen to the shell experts tell us what they look for to correctly identify different seashells and how to figure out what makes them FREAKS. I caught a small part of Smokey Payson on video explaining what could have happened to this FREAK LIGHTING WHELK to make his tail grow sideways. Sorry this clip is so fuzzy and unsteady… really, it's not a great video but I really think you'll like to hear Smokey's take on these FREAKS.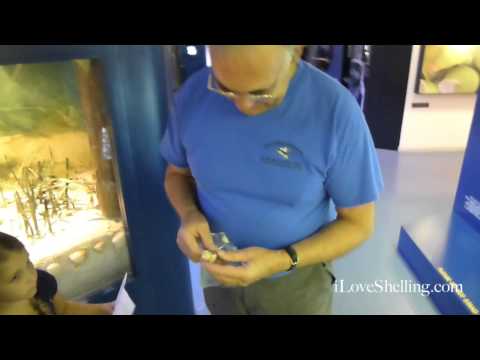 Don't forget to book your reservations to join us on an iLoveShelling ShellingAdventure!
For info, click on the next image…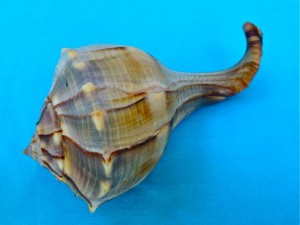 Ahhhhh Freak Out! Le Freak. C'est Chic. Freak Out! … Remember that song? Wouldn't you freak if you found this FREAK LIGHTNING WHELK?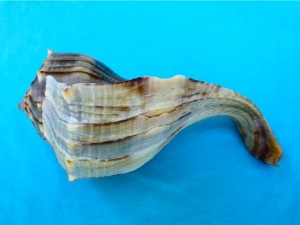 Martine (from my last post) introduced me to her Periwinkle Park neighbors Ron and Lucienne because they too love to shell. As soon as I saw their picnic table loaded with shells, I spotted this LIGHTNING WHELK. I freaked out when I saw the curly tail on this guy!
What's a FREAK shell? As I understand it, it's a shell with an abnormal structure, albinism, dwarf, giant or some sort of growth defect or maybe even a strange color pattern. This is Lucienne proudly displaying her FREAK WHELK…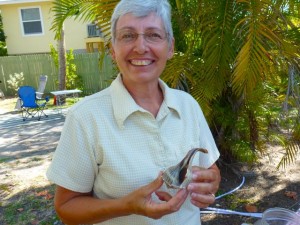 After I calmed down about the curly tailed freak, I spotted something else. Another freakin' FREAK?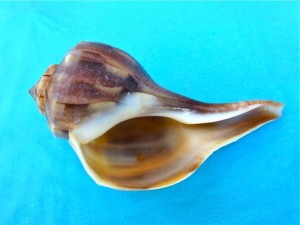 Looks like a PEAR WHELK, right? I know, but I don't think it is (although I could be wrong). I guess it could be a left handed PEAR WHELK with a strange apex but I what ever it is, it's a FREAK! In my humble opinion, I think it's a LIGHTNING WHELK that is a "Knobless Wonder" in a WHELK version instead of a HORSE CONCH. Look! It doesn't have the spines that LIGHTNING WHELKS normally have. Believe it or not, they had two of these they found the same day.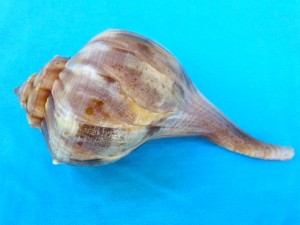 Lucienne's husband Ron was especially proud of this huge, beautiful KING'S CROWN he found as well. Wow! gorgeous…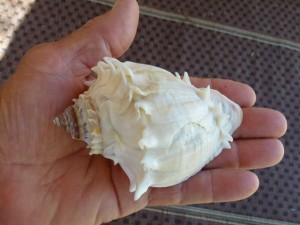 Even this one looks like it is a little unusual (not to mention the size of it!) because of a second row of spines…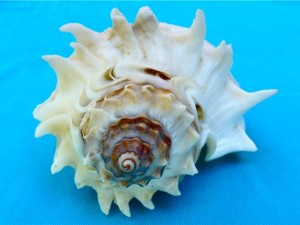 I wouldn't consider this one to be a FREAK but this LIGHTNING WHELK had a slight bend to the base (or what I like to call the "tail"). And look at the color on this baby- fabulous!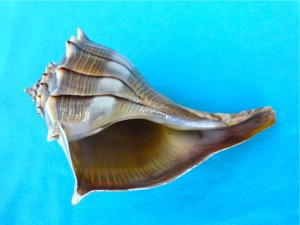 Look at all these beauties!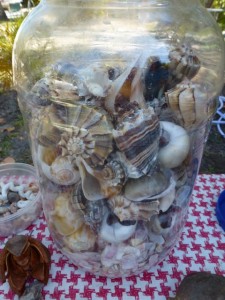 I asked Ron and Lucienne where they find their best shells. They told me they love to shell in the bays around Sanibel in their homemade kayaks. Yes, you heard that right. They made both of these beautiful kayaks!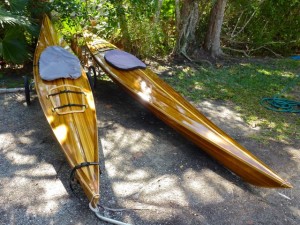 Thank you for sharing your treasures, Ron and Lucienne. I had an incredible time drooling over your incredible shell collection… especially those FREAKS! I'm still freaked! It's hard to say what causes mollusks to have abnormal growth patterns like "Curly Tail" but there could be many reasons including lack of food, healing after damage by predators, water quality (red tide maybe!) or who knows…. it could be just in the DNA. Whatever it is, i LOVE FREAK SHELLS!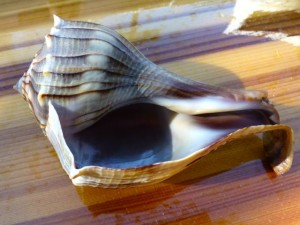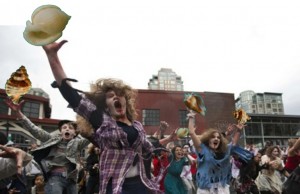 I was welcomed home from my Virginia Beach visit to Sanibel by a bunch of FREAKS!! Shell freaks, that is. And I'm not even saying that we are a bunch of shell freaks (errr, although I guess we are). What I'm talking about are seashells that have odd growth patterns or defects that cause them to have weird shapes or colors that aren't typical for the species. Look at this one….
This is the SCOTCH BONNET Clark found last weekend that he didn't really mention all that much because he was so busy ribbing me about his JUNONIA – heehee. I saw this one in his picture and I thought it looked a little funny so I couldn't wait to get my paws on it. Oooooh… So Cool! Do you see anything strange about this shell?
Now do you see it? It's got a second "lip" where it doesn't belong! Otherwise it is in fantastic shape! Here's a look again at the SCOTCH BONNET I found in January along with the FREAK….
There is a category at the Sanibel Shell Fair and Show for "Unusual Variants- Albinos, Freaks, etc". I think Clark should enter this one!!! It's a Super Freak by Super Sheller Clark!
Clark had sent a photo of this next FIGHTING CONCH FREAK he found on the same day but the photo was so blurry, I couldn't really tell what it was, much less post it.
Yep! This is a juvenile FIGHTING CONCH that maybe thought he was a COWRIE.
Is that wild, or what! Here's a side by side picture of another "regular" FIGHTING CONCH with this FREAK FIGHTING CONCH.
This next picture of an APPLE MUREX isn't what I'd call a real FREAK but the coloring is so cool that it gives an optical illusion. This shell was in Clark's photo in A Plate Stuffed With Shells and Cheri had commented that "It looks like a cross between a murex (texture) and a fighting conch (color)!!". It does! It's just the coloring (it doesn't show it as much as the original photo) so I'd say this one was a just little "freakish".
PS- I couldn't help but imagine those freaks in Michael Jackson's Thriller video when I wrote the headline "The Freaks Come Out On Sanibel". Ha! So I googled the song and saw that top photo and laughed when I thought of them all holding freak shells. I never put anybody else's photos on my blog without asking permission from the photographer and giving them credit. Well, I didn't get permission for this photo because of the time restraints so I hope it's okay with the photographer Andy Clark. It's a great photo but I just had to embellish it just a tad with my own FREAKS.
PSS- Mom seems be doing okay! Thank you again for all of you good wishes- it's working!