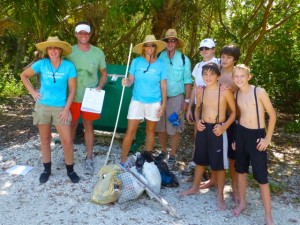 As part of the Ocean Conservancy's 2012 International Coastal Cleanup, Dee Serage of the Sanibel Captiva Conservation Foundation (SCCF) organized volunteers to pick up and document litter on our beaches and coastlines this past Saturday. So the beach on Sanibel from Blind Pass to Bowman's is free and clear of any trash because of our fun little cleanup crew in the photo above from left to right… Susan (Soul Sister Susan), Daron who was our efficient record keeper, me, Super Sheller Clark, Judy, Grant, Cameron and Berringer.
We spread out and literally combed the beach.. or should I say "litteraly".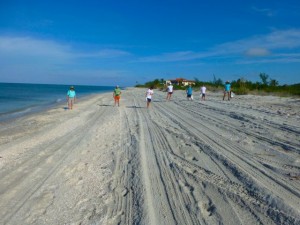 We searched high on the beach for trash…
…and we searched low on the beach for litter. We had to leave these big shells piles for another day but couldn't help but look for something unusual.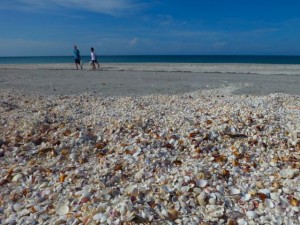 Berringer did find a few unusal shells. Oh, and remember the SPOTTED EAGLE RAY I showed on my last video? Clark had "spotted" the ray in the water and told everybody to come look at it but Berringer is the one who knew exactly what it was right away. "Look! It's an EAGLE RAY!" (you see why I like him?)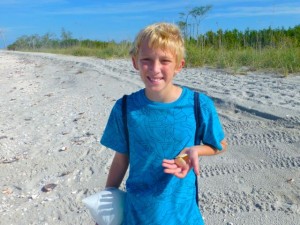 He found a beautiful yellow ALTERNATE TELLIN pair…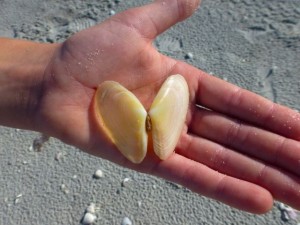 And look at the bright purple color of this SOUTHERN HORSE MUSSEL !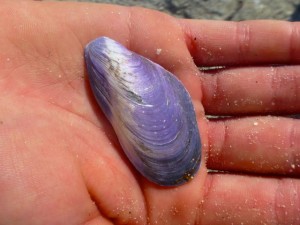 It even has purple in the interior…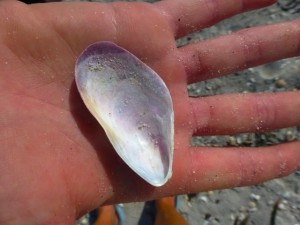 Grant found this very cool completely dried PUFFER FISH…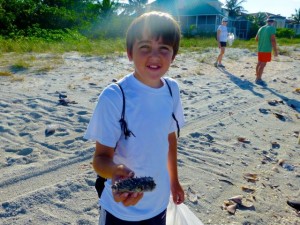 This is what I call cool BEACH BLING…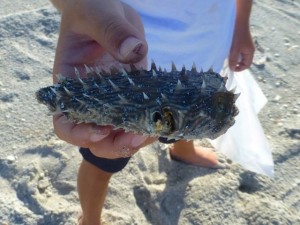 Grant also found this sweet little SEA URCHIN…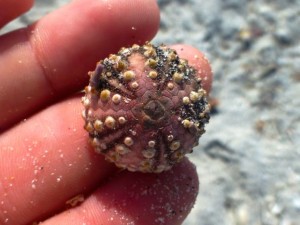 Yes, there were lots of shell piles like I showed you  in the cyber shelling photo on my last post with but we were on a mission to pick up trash and we had a very long walk so we only picked up the cool unusual things that didn't weigh much… like this ROSEATE SPOONBILL FEATHER! We rarely find these…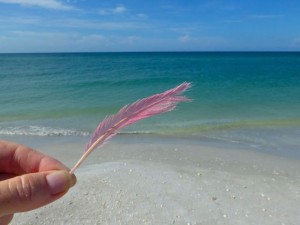 Clark brought home this aqua buoy. We couldn't throw that away!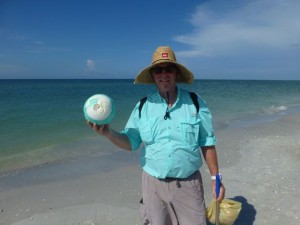 But back to the main reason we were there… to rid the beach of any trash. Cigarettes, plastic bottles, plastic caps, more and more plastic were the top items found but I was so surprised to see so many balloons with ribbons on the beach. Balloons are a huge NO-NO to bring to the beach! They can get swallowed or wrapped around wildlife so please never take balloons to the beach for any occasion.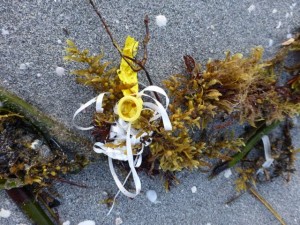 Fortunately, our beaches aren't terribly littered so I think we only filled up 7 fairly small bags which is not so bad for a 2 and 1/2 mile walk. But Clark didn't stop there. He even saw trash thrown over the beach access boardwalk so he fished it out under the rail. Go Super Sheller Clark!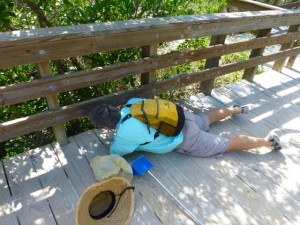 I'm sure yall do this already, but just a reminder while we are shelling… let's pick up any trash and put it in our shell bag until we can find a trash can or dumpster to dispose of it. Okay, So… lets recap what we do as "shellers". On our beach walks we can get exercise, find treasure, explore, learn about wildlife and the creatures of the sea AND save the planet AND spread peace on earth. LOL Yes! Shellers save the planet! We are the Super Shellers!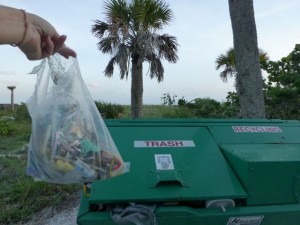 Read More
This is a rare photo.  I can't help it- I'm just not a morning gal so I rarely get to the beach to see sunrise. I know, I'm not your usual sheller but this isn't your usual shelling day either. Colder temperatures (low fifties this morning), high winds, new moon and very low tide make for excellent shelling so I couldn't resist being an early bird (ok, the time change helped). So check out all of the early bird specials!
Molly and Jill had to share a bucket since they were finding so many fantastic shells. I was so tickled that Molly told me that she follows my blog (!) and before they went to the lighthouse yesterday, she made Jill watch my WENTLETRAP VIDEO so she would know what to look for. She called it "Finding Wentletraps 101".  ;)
Another blog buddy, Leisa! She is another shelling sister that has contributed to iLoveShelling with her comments. She was filling up her bucket with TULIPS (BANDED and TRUE), LIGHTNING WHELKS, OLIVES, CONCHS and of course this shellicious ALPHABET CONE.
This was the 4th huge live TRUE TULIP I saw this weekend. Leisa found one too.
I met a boy named Dale that showed me this PUFFER FISH. Thank you Mr. Puffer Fish for the pretty pose for my photo. Oh, and Happy Birthday, Dale!
Look how long these arms are on this SERPENT STARFISH! Carol showed this starfish to me and also gave me one of her California SAND DOLLARS that she packages and gives away while she is in Sanibel. Thank you, Carol, I love it!
Read More