Archive for Snowy Plover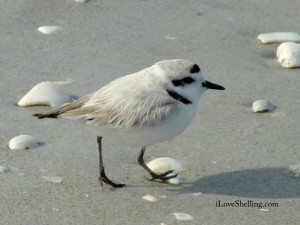 Top of the mornin' to ya! Wouldn't you feel luckier seeing a "Four Cleat Plover" rather than a "Four Leaf Clover"? Well, I did!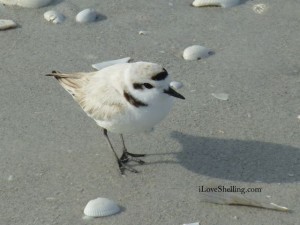 I felt lucky and charmed when I spotted this cutie little SNOWY PLOVER while walking the beach at Gulfside City Park. Ok, maybe one doesn't normally call his four little toes on each foot "cleats" but for the sake of St Paddy's day, I'm taking creative license with this one. heehee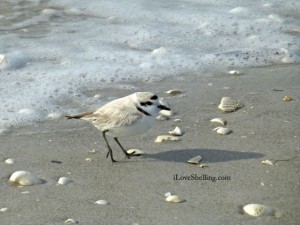 May your day be filled with luck and charm as well! Happy St Patricks Day!
Our iLoveShelling cruise to Cayo Costa was EXSHELLENT yesterday! I'll have photos coming up soon but until then I have one more lucky charm… here's a four leaf clover too!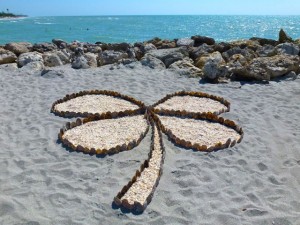 The sky was brilliant blue with white fluffy clouds. The wind was calm so the gulf was like a sheet of glass but just enough breeze to cool the air. It was just like a tropical paradise. Ahhhh. Here are some photos of shells and some other island treasures that I ran into…..all this weekend.
While I was shelling on the east end of Sanibel, Margie from Rochester, NY showed me this cute baby SNOWY PLOVER closely watched by it's parents. This is an endangered bird so it's very exciting to see new healthy babies.
From Blind Pass on Captiva to the lighthouse on Sanibel, to boating to North Captiva then back to the east end of Sanibel, the islands were alive, healthy and the prettiest I've seen them. Not a bad weekend, I'd say.