Archive for Sandwich Tern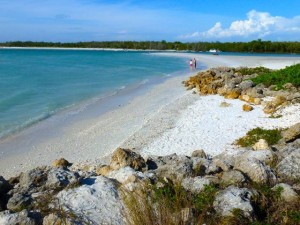 This past weekend we drove 35 minutes from Sanibel to Little Hickory Beach in Bonita Springs, Florida in search of seashells.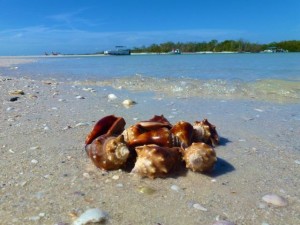 Walking north to the pass from the public parking lot (a bargain price of $2 for 2 hours) only took about 15 minutes to find loads of FIGHTING CONCHS.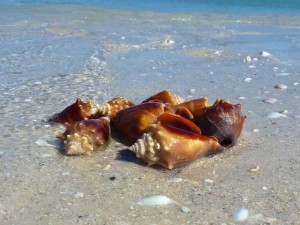 After a few minutes more, Clark found a SAND DOLLAR…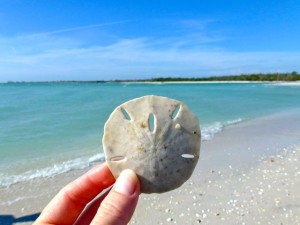 I couldn't get over how many MOSSY ARKS were washed up on the beach mixed in with a few pieces of CORAL and my fave of all faves… WORM SHELLS! They were only tips of WORMIES but any piece is a good piece in my book.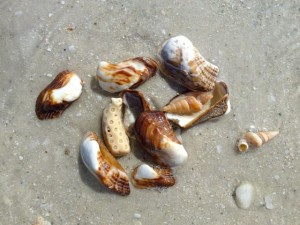 I don't think I have ever seen so many MOSSY ARKS in one place on any beach before so I gathered a few together to show you exactly what they look like.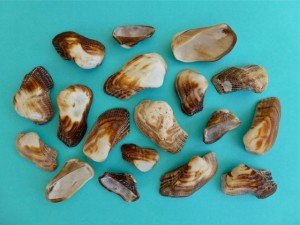 I know, I know…. not the prettiest of shells but I don't see them all that often on Sanibel so I was intrigued with them.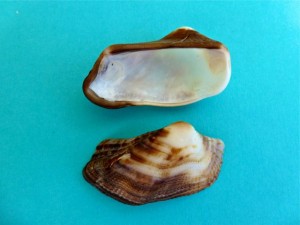 Did I read your mind and know that it reminds you of another shell? It looks like  the TURKEY WING! The TURKEY WING and the MOSSY are both ARK shells so they are very similar but unfortunately, I think the MOSSY ARK got the short end of the stick when it comes to looks. ;( Here's a comparison so you can see them side by side. The TURKEY WING is on the left…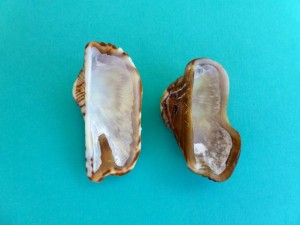 Oops! I switched them in this next exterior photo, the MOSSY ARK is now on the left in this photo. You can now see how similar they are!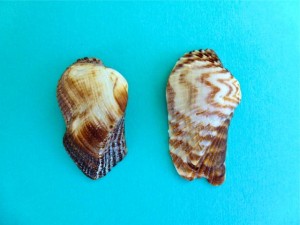 We had a wonderful day walking the beach and seeing different shells and the beautiful SANDWICH TERNS  and BLACK SKIMMERS…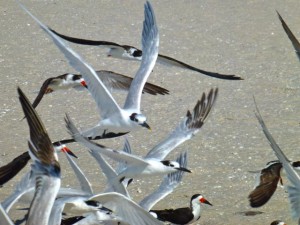 Along with the SAND DOLLAR, sweet Clark gave me a yellow DAISY that he found on the beach…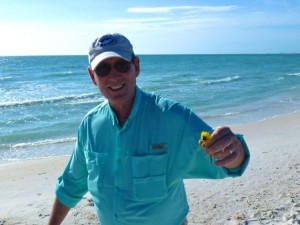 We weren't the only ones who enjoyed the beautiful day in Little Hickory…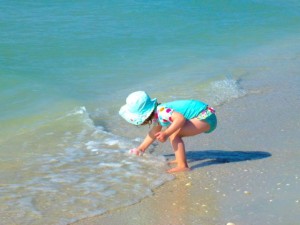 Okay, while we are on the subject of Bonita Beach, I have to show you an article about iLoveShelling.com that was published in Coastal Life magazine of the News Press. Weehoo! Click on the logo to read it!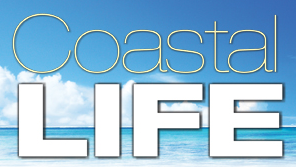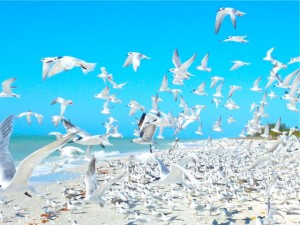 It's snowing on Sanibel! Well…. maybe not that typical cold stuff but it sure looks like a snow blizzard to me.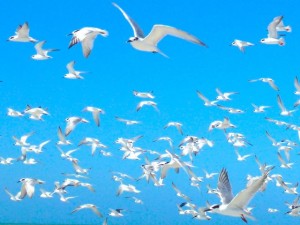 It was like the movie "The Birds" for a minute or two while SS Kelly, her daughter Brianne and I were walking the beach when billions of birds crowded the beach. Brianne took the first brave steps to clear the path…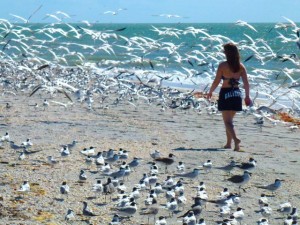 They weren't afraid of anybody, they were hanging out on the beach just like we were…waiting for some shell action.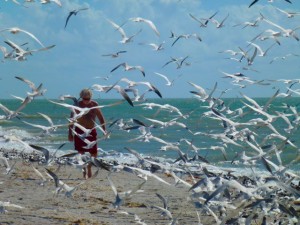 Then Kelly caught one! LOL No, no, no… Just kidding. She was getting out her video camera so I took a picture of her. That SANDWICH TERN looks like it is in her hand!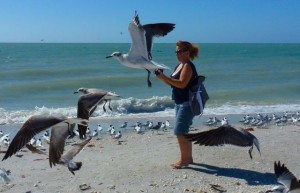 Take a look at the very cool video Kelly took of these "Snow Birds"…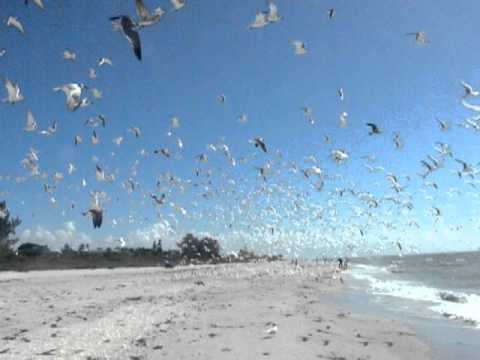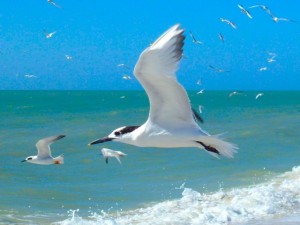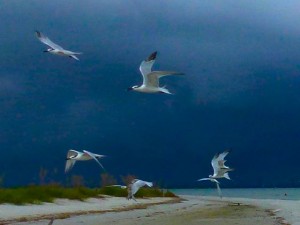 The Sanibel sky turned black with rain clouds and turned white SANDWICH TERNS soaring by. The sky was such a beautiful back drop for them.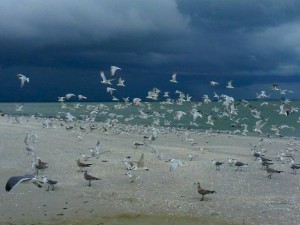 There were ROYAL TERNS and LAUGHING GULLS joining in on the fun too.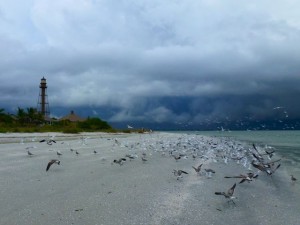 We didn't stay on the beach long since that sky looked a little frightful and we weren't seeing loads of shells other than this cute little LACE MUREX (or lacie), a few WENTLETRAPS and minis.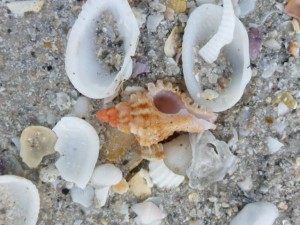 Up high on the beach was a wide wrack line of what I call "beach bling". Yes, I made up the phrase! Here's my definition…. Beach Bling: noun- (beech-bling) 1. anything that washes up on the beach other than seashells. 2. Collectable and/or noncollectable debris washed up on any shore.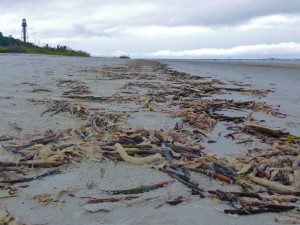 Doesn't "Beach Bling" even make PARCHMENT WORMS sound better?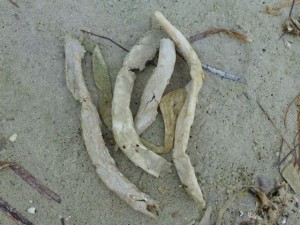 More Beach Bling in the wrack line like BLACK MANGROVE SEEDS which are the little split green lima bean looking things in this next photo…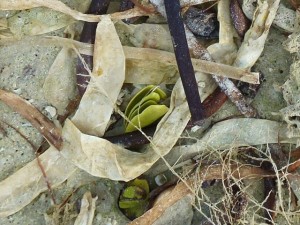 …and the RED MANGROVE SEED PODS mixed in…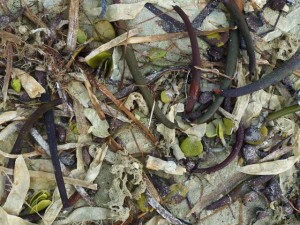 This baby BLUE CRAB shell would fall into this category too…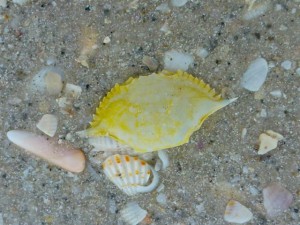 But still the best thing to watch was the beautiful birds soaring and swirling in the stormy sky. They definitely stole the show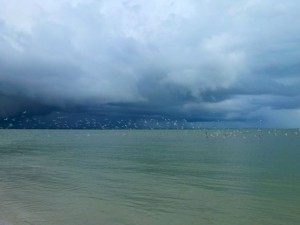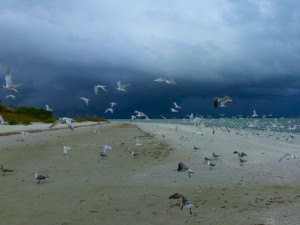 …