Archive for Royal Tern
When I have a question about birds, I ask my friend Bonnie….. a birder. When we have traveled together, I have seen her (on many occasions) quickly digging binoculars out of her handbag to try to identify a bird in flight. I love that! A couple of years ago on Cape Cod, we both watched a bird doing something funny and I said "Look at the funny sea gull!". That's when I learned that there is NOT one bird that has the name of "Sea Gull". Weird, huh? So she is my go-to-girl when I have a question about a bird.
This is not a "Sea Gull" it's a Ring-billed Gull. I know this now because Bonnie met me on the beach at Gulf Side City Park to teach me about birding. We made a deal …. if I would teach her a little about shelling, she would teach me a little about birding. What a deal!!
She brought her binoculars and her Sibley Field Guide To Birds book to give me my first lesson on shore birds. So when we saw the Ring-billed Gull, she whipped out the Sibley and flipped to this page to show me this……(click it to enlarge)
Then we saw a Ruddy Turnstone….
Then she quickly turned to this page…but notice how many different changes and colors the Ruddy Turnstone goes through as it matures.
Then we saw a Laughing Gull.  They really sound like they are laughing when they communicate.
Here is the Sibley page for Laughing Gull (again, notice the color changes!)…
So when we came across the next bird, Bonnie had to use process of elimination to figure out what bird this was. Notice the reddish color of the inside of the beak, the orange legs and the rest of the coloration.
The conclusion was that this is an adult nonbreeding Common Tern that is in a maturing stage to an adult breeding Common Tern. This was so much fun to figure out! You have to look at every detail of beak, legs and color patterns through the binoculars. It's a puzzle.
This is one of my favorites to see on the beach. I love that little spiky hair-do ( okay, it's really called a shaggy crest) . I think it was extra spiky since the fog was so thick and everything got damp so quickly… so it was even cuter.  This is the Royal Tern…
Here are the details…
See? Birding is so similar to shelling. We identify both of them through patterns, colors, destinations, process of elimination ….and both of these beautiful sites are found by just taking a walk along the beach at any given time of day on Sanibel or Captiva. Here are just a few photos of the shells. I really was so much into the birds, I'm not sure I held up my end of the bargain to teach her about shells. Oops! Well, I'll have another good reason to get together with Bonnie.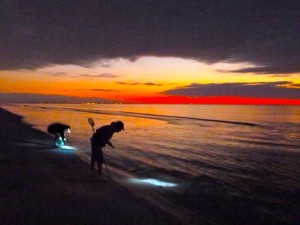 Extreme early morning low tides means break out the flash lights before day break.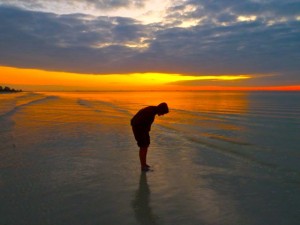 My buddy Ellen and I were out on the beach and in the cold water by 6:30.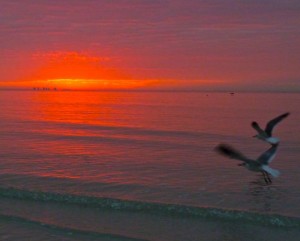 The birds were shellebrating a new day.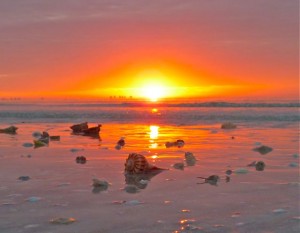 And so were we.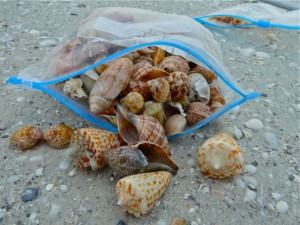 I saw Kay on the beach with her shell bags overflowing. She wouldn't let me take her picture but she wasn't shy about letting me take a picture of her shell bag. I guess not- Look at that haul!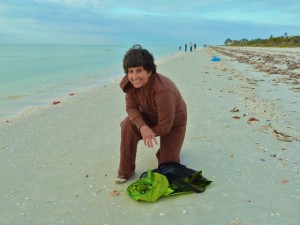 It doesn't look like Ellen got a lot of goodies….. but she sure did. She found some candy! Little HORSE CONCHS and all sorts of miniatures were all that she had her eyes set on and she found what she wanted.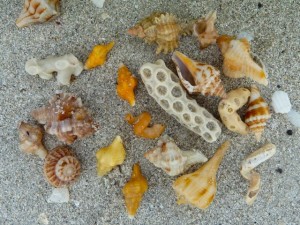 That baby LACE MUREX (top middle) in the photo above is de-gorgeous!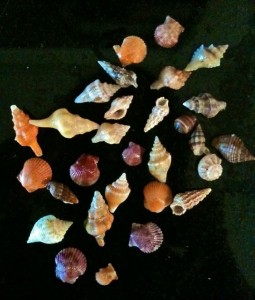 She sent this photo to me of even more minis she found.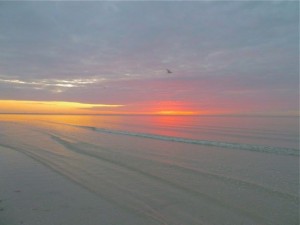 I found a few goodies today but I forgot to take pictures of mine. The sunrise was so magnificent, I couldn't help but enjoy every part of witnessing such beauty on the beach and hanging out with my good friend. A good day.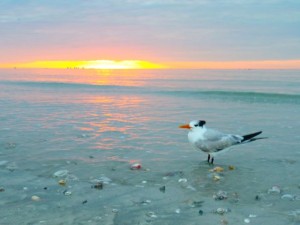 The sky was brilliant blue with white fluffy clouds. The wind was calm so the gulf was like a sheet of glass but just enough breeze to cool the air. It was just like a tropical paradise. Ahhhh. Here are some photos of shells and some other island treasures that I ran into…..all this weekend.
While I was shelling on the east end of Sanibel, Margie from Rochester, NY showed me this cute baby SNOWY PLOVER closely watched by it's parents. This is an endangered bird so it's very exciting to see new healthy babies.
From Blind Pass on Captiva to the lighthouse on Sanibel, to boating to North Captiva then back to the east end of Sanibel, the islands were alive, healthy and the prettiest I've seen them. Not a bad weekend, I'd say.